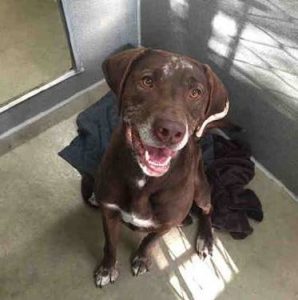 Angus is a lucky dog.  He was found after the fires in Santa Rosa with a few scars but unfazed by the events.  The shelter took great care of him hoping that his family would come find him, however nobody has. Angus is around 5 years old and weighs 74lbs, he appears to be a GSP mix.  He's a lovable guy that really hopes to find a fantastic family.
Animal ID: A362686
If you are interested in adopting him contact Sonoma County Animal Services
1247 Century Court
Santa Rosa, CA 95403
(707) 565-7100
Shelter Hours:
Tuesday – Saturday – 12 – 5pm
Phones open at 9am
This is a shelter dog that may be in danger of being euthanized. Please contact the shelter directly for more information. You do not need to fill out our adoption questionnaire as you will be working directly with the shelter. Once a shelter dog has been adopted or placed into foster care, s/he will be removed from this listing section.
Location: Santa Rosa, CA