Hello Henri! This charming and cute 1 year-old boy just landed in rescue. We're working to get him well (see more info below on his medical issues) and he'll be available for adoption in May or June.
| | | |
| --- | --- | --- |
| Status: Adoption pending | Location: Mendocino County, CA | Adoption $:  $310 with $50 rebate after completing positive reinforcement training |
| Weight: 45 pounds | Age: 1 year | Kids: 6 and up |
| Other dogs: Multiple OK | Cats: Very dog savvy cats only, no unsupervised interactions | Hunting: Unknown |

Handsome Henri is in need of your help! He contracted aspiration pneumonia and underwent treatment for the better part of December and January. His next obstacle? Addressing a chronic dislocation of his elbow. Poor Henri is enduring this all with a smile on his face, but he can't wait until he feels fully well and can run and play.
Henri is being assessed by specialists to determine the best plan for his elbow, tricky because the injury is so old. Reconstruction is an option but is often unsuccessful or leads to complications over time; amputation is also an option (don't gasp – sometimes this is the best option for a young GSP as he will be able to run and play without constant pain). His next appointment is early February, at which point we'll be getting a true estimate for his treatment and surgery. Right now we are guesstimating it will be in the $2,000 to $4,000 range, depending on which option the orthopedists believe will give Henri the best and most normal outcome. But it could also be much more. We'll post an update once we know. Please consider donating to Henri's medical fund to help him get the care he needs!
Update March 1, 2018
Henri will undergo surgery in early March to fuse his limb, as this will give him the best outcome and eliminate his pain! Recovery will be about 10 weeks, and the cost estimate is $4,000.
Update March 23, 2018
Henri had two surgeries to fuse the leg with proper bone alignment – difficult surgeries because of the extensive old damage that caused muscle, ligament and tendon contractures. His staples are out now and his foster home is working with him multiple times a day on stretching exercises to gain extension in his foot. The goal is for him to begin to use the leg in the near future. He'll have at least two more vet visits and X-rays in April and May to assess his recovery. The good news? His pain is gone!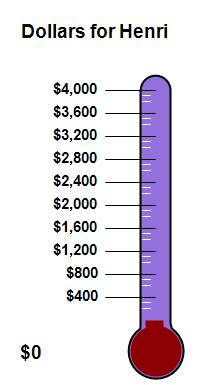 Thank you to Henri's sponsors!
Erica D. – Get better, Henri!
Matthew N.
Jean McC.
Robert R.
Katherine S.
Paul P.
Michael N.
Dianne G.
Eric & Alexia H.
Quyen T.
Vicki & Bruce R.
Patricia & James W.
Anthony M. – in honor of Razzi, our 8 1/2 yo female we just lost.
Lucas C.
Rolands G. – I hope you get him back on all fours!
Craig S. – Get well soon Henri!
Suzie GSP
Sean L.
Marilyn A.
Connie P.
Won't you sponsor Henri too?