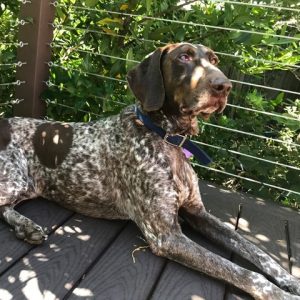 This is a courtesy posting for Rocket Dog Rescue. 
Jumper is a handsome, intelligent and very special ~6 yr old GSP who is looking for the perfect home!  Jumper recently made a very long trip to Rocket Dog all the way from Lebanon. Yes, Lebanon, the country! He has already won over the hearts of the Rocket Dog volunteers and have made new dog friends at the Sanctuary too. While he loves spending time with everyone that comes to visit him, he can be very shy at first.
Back in Lebanon Jumper was a hunting dog and suffered an accident where he may have been shot in the eye.  Jumper's eye is still red but its all healed now and does not bother him at all though my vision is not perfect and may possibly decline. Due to his vision problems he relies on his ears a lot and is easily startled by loud sounds.  Jumper would love a big, quiet backyard to run around in and a forever family that will give me the stable home he's looking for.
Once he feels comfortable Jumper loves nothing more than to rest his head in a lap and get an ear massage – it's pretty easy to do since his ears are so soft!
You do not need to fill out our adoption questionnaire since Jumper is not in our foster program and you will be working directly with Rocket Dog Rescue. If you are interested in more information or would like to set up a time to meet Jumper, please contact Kristen with Rocket Dog Rescue: kristenaconnelly@mac.com.
Location: San Francisco, CA
This listing is a referral or courtesy for other rescue organizations or families needing to find their dog a new home. Please note that we have not evaluated these dogs nor do we make any representation as to their health or temperament, nor have we validated any of the information provided by the parties.