Lillian is in our Forever Foster program. She will be living out the rest of her days in the comfort and safety of one of our Forever Foster homes. Learn more about becoming a Forever Foster home.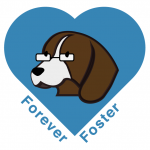 Lillian is a sweet, senior gal who came to us after her family could not take her with them when they moved.  She hasn't let that bring her down though! Her foster family says she's full of energy and a happy girl, always wagging her tail. She loves blankets and dog beds and has proven to get along just fine with other dogs. She's house-trained and likes car rides, too!  She came into our program with significant tumors that turned out to be advanced cancer. The tumors have been removed, but the vet says she has only months left to live. In the meantime, Lillian is happy to be in a loving foster home, getting all the care and TLC she needs!

Donate to Lillian's Medical Fund!

Thank you to Lillian's sponsors!
Katie O.
Nancy B.
Catherine T. and Skye
James H.
Vicki and Bruce R.