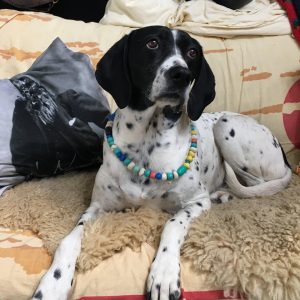 Lyla is an exceedingly sweet 55 lb, 6 year old GSP/EP mix. She was found as a stray about 3 years ago, by a Good Samaritan who has tried to find her owners but then attempted to keep her. Unfortunately Lyla has been diagnosed by veterinary assessment to have separation anxiety. Lyla initially had no socialization and was in rough shape in the past few years she's come a very long way. She is now physically healthy, house trained, good off leash, knows basic commands and is much more secure and well adjusted than when she was first found; however she will need a forever home willing to work on and manage her separation anxiety.
She's a gentle, loving, hilarious, unique dog with human-like soulful eyes, and connects very deeply with people. Lyla's the type of dog that will walk right up to anyone and win their heart immediately. She's not a barker. She's very active and loves to run around in open spaces with you. She's happy going anywhere with her person, and once she's bonded to you, you will be her whole world.
She's has no aggression or prey drive, is afraid of loud noises, and would not make a good hunter. She is great with cats and all other animals, but she feels threatened by small children that move erratically near her or rush at her, so she's not the ideal candidate for a house with children under 5.
She's very well-behaved and quiet and can be taken just about anywhere, but leaving her at home will not work, not even with another dog, though there is hope that she could bond to another dog and learn to be alone with them eventually.  Her forever family would need to be dedicated to working on separation anxiety training techniques that would allow her to be left alone (or with another dog) for longer periods of time.  For the right family, Lyla would be absolutely worth it!
Lyla is spayed, and up to date on her shots.
Lyla's videos:
You do not need to fill out our adoption questionnaire since Lyla is not in our foster program and you will be working directly with her owner and our Owner Assistance Coordinator.
If you are interested in more information or would like to set up a time to meet Lyla, please contact our Owner Assistance Team at rehoming@norcalgsprescue.org
Location: Bolinas, CA
This listing is referral or courtesy for other rescue organizations or families needing to find their dog a new home. Please note that we have not evaluated these dogs nor do we make any representation as to their health or temperament, nor have we validated any of the information provided by the parties.