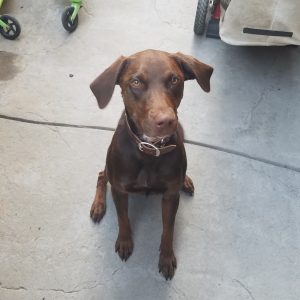 Macie is a young female GSP hound mix. She's had a rough go of it and really needs a patient home that can work with her.  She was originally a shelter puppy, she just turned 2 and has lived in 6 residences already; the stress of moving has been too much for her.  The last 3 residences were with her current owners who loves her dearly however Macie is stressed by the moves and needs to be in a single dog household.  Macie has a fun loving spirit that is hard to not fall in love with.  She has a strong eagerness to please and is an extremely fast learner.
Macie is very agile and athletic. She loves going to the lake to swim and fetch; however she will not swim in a pool.  She's great to go running with and does a great job on the leash and as well as learning new tricks. She's really good with staying off the furniture. She loves cuddles and kisses. She is food driven. Doesn't matter what it is she loves all treats. She responds well to verbal and hand signals.
Macie is on the petite and slender side weighing just 50lbs; she's up to date on all shots, and spayed.
Macie would do well in a stable home that has no other dogs, and can provide her with lots to do. She'd make a great agility dog; or hiking buddy! She'd do well with older kids and has lived with a cat before.
You do not need to fill out our adoption questionnaire since Macie is not in our foster program and you will be working directly with her owner. If you are interested in Macie please send an email about your family to her owner at scain317@gmail.com  Rehoming fee is $150.
Location: Rocklin, CA
This listing is a referral or courtesy for other rescue organizations or families needing to find their dog a new home. Please note that we have not evaluated these dogs nor do we make any representation as to their health or temperament, nor have we validated any of the information provided by the parties.