Maximus is in our Forever Foster program. He will be living out the rest of his days in the comfort and safety of one of our Forever Foster homes. Learn more about becoming a Forever Foster home.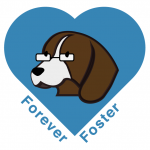 Maximus is one happy Shorthair! After ending up in the shelter, he's now practicing the fine art of living the good life by eating lots of good food and stretching out in bliss on the comfy couch. This is one dog who likes his luxury! And who can blame him after his time in doggie jail? He's a love-bug with people, very good with other dogs, and is even cat-friendly. It appears that he is mostly blind, although he is getting around great. He has learned to use his feet and his ears to guide him through the world! He figured out the dog door on the first day in his foster home. Not bad for a blind senior! He's loving life in his Forever Foster home!
Thank you to Maximus's sponsors!
Sponsored by Guardian Angel donors Rhonda and John Schulke in loving memory of Franz.
Happy Valentine's Day NorCal GSP Rescue. Love Suzie.
Sponsored by Jonathan F.
Sponsored by Jeralyn T.
Sponsored by Janie S.
Sponsored by Tracy L.
Sponsored by Angela F.