---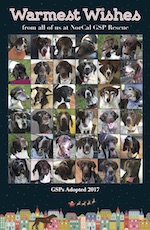 Happy Holidays!
Your gift helps GSPs find their forever homes! Happy holidays from all the GSPs adopted this year, and those that are still waiting.
Make your tax-deductible donation now
---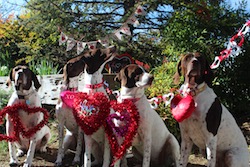 2018 GSP Calendar!
A GSP For Every Season is a fun-filled calendar of German Shorthaired Pointers in their finest attire! You'll get an entertaining photo each month.
---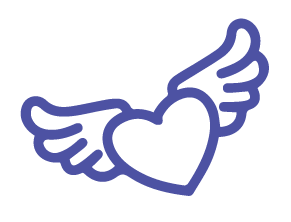 Become a Guardian Angel now
The dogs can never have too many Guardian Angels. Join our monthly giving program and you can be a GSP hero all year long!
>>Sign up today!
---
Welcome to NorCal GSP Rescue!
We're an all-volunteer group dedicated to the rescue and re-homing of adoptable German Shorthaired Pointers in northern California. We invite you to check out our site and to come back often!
You'll find information about the breed, our adoption process, and dogs available for adoption under our Adopt tab.
If you'd like to donate, check out the options via our Donate tab. There are many ways to help, including some that cost you nothing at all. Every dollar is appreciated and helps us help the dogs – we couldn't do it without the help of people like you.
Volunteers are the heart of our organization. Whether you have an hour here and there or are ready to open your home to foster a GSP in need, we can use your help. Read more about our volunteer opportunities through our Volunteer tab.