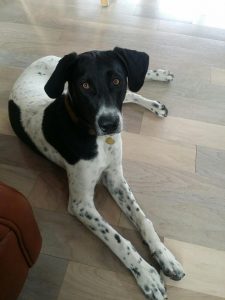 Play, play, play…Oh the life of a puppy!
Zuma
is an adorable black and white 8 month old male GSP mix who is a friendly presence when inside and is mellow in the house. This goofy pup likes to be silly but he is also attentive to everyone's words and body language and he calms down when needed. This well mannered young boy has been busy learning all about being part of a family. He is now house trained, crate trained and knows a few basic obedience commands. Zuma has "excellent" leash manners according to his foster home. He does well when meeting new people and is very good around small children and other dogs.
Zuma loves stuffed animals. He would love to have toy box full just for him. He likes to throw them up in the air himself and then try to catch them. He will also bring the stuffed animals over to the other dogs and try to engage them into a game of chase. He is a lovable, friendly pup that, although shy at first, gets along well with other dogs. Always ready and willing to play, Zuma knows how to settle down when it's time. He loves human companionship and bonds easily with the people around him. Zuma is well on his way to becoming someone's best friend.  Could that be you?
| | | |
| --- | --- | --- |
| Status: Available | Location: San Francisco Bay Area, CA | Adoption $: $360.00 with a $50.00 refund upon completion of a basic positive-reinforcement training class from a trainer on our training list, or approved by us in advance. |
| Weight: 55 pounds | Age: 8 months | Kids: 6 and up |
| Other dogs: Good with other dogs | Cats: No | Hunting: Unknown |
Thank you to Zuma's sponsors!
Won't you sponsor Zuma?