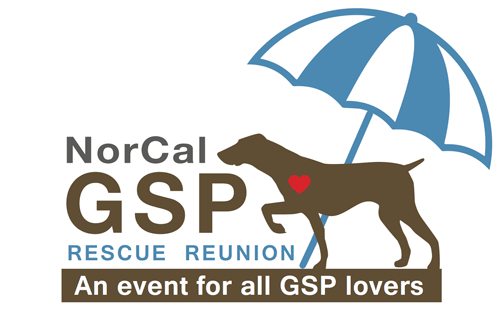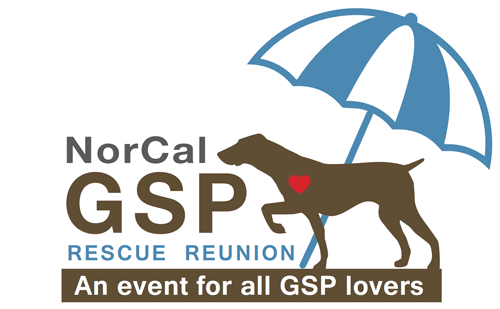 When: Saturday, September 23, 2017 from 1-4 PM
Where: Marlin Park, Redwood Shores, CA
Find us at the corner of Neptune and Cringle
Join us for food, fun, games, and prizes!
We are calling all GSP lovers to join us for an afternoon of fun. So many GSPs all in one place! There will be lunch and beverages, a group photo, door prizes, goodie bags, GSP merchandise, and over $3,000 worth of great prizes in the Pick-A-Prize drawing – including an online option below for those who can't be present to win or want to get a head start.
You can participate in the games and the ever popular Bobbing for Hot Dogs with your dog, or just hang out with fellow GSP lovers. Bring blankets or chairs to relax and enjoy the day. Sunscreen and hats are a good idea, and toss a sweater in your car in case the fog comes in. Note: All dogs must be on leashes or long leads during the entire event.
Marlin Park is conveniently located off Hwy 101 on the SF Peninsula. There's plenty of free street parking. We'll be near the picnic tables and restrooms – you'll find us in the adjacent grassy area playing with our GSPs!
---
PRIZES! PRIZES! PRIZES!
We have some awesome prizes this year! Get your tickets now and/or at the reunion. Buy tickets just for the prizes that appeal to you! Tickets are only $2 each ($10 for Best in Show special prize), so get lots. You do not need to be present to win. We will mail the items to the winners (except for the prizes as noted, where you will need to make arrangements to pick them up in Menlo Park or designate someone attending the reunion to be your go-fer).
The reunion has come and gone with a great turn-out and great fun! Prize winners are posted below. Thank you for your support.
---
Best in Show–Special Hot Pink Ticket $10 each




Disneyland – Four One-Day Park Hopper Tickets – value $628
Winner Imee Chan and Albert Lai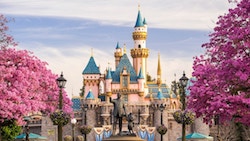 Take the whole family to the Happiest Place on Earth! This prize includes four 1-day Park Hopper tickets for entrance to both Disneyland Park and Disney California Adventure Park in Anaheim, CA.
Details:
•Valid through June 8, 2019.
•Cannot be upgraded or applied toward a package.
•No replacements for lost or expired tickets.
•May not be sold for profit.
•Not valid from December 25-31 of any year, through expiration date.
Sponsor: Disneyland
---
YMCA Camp Campbell Getaway Weekend – value up to $528 – winner Emily Stone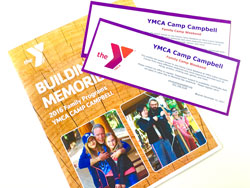 TWO gift certificates for your choice of a family camp weekend at YMCA Camp Campbell in the beautiful Santa Cruz mountains (near Boulder Creek), including the well-known Women's Wellness Weekend. Women's Wellness Weekend is offered in April and November, see schedule for other camp options and dates.
Certificates are valid through December 31, 2019. Registration subject to availability, exclusions may apply.
Sponsor:  YMCA Camp Campbell is branch of the YMCA of Silicon Valley. Our Mission – To strengthen our community by improving the quality of life and inspiring individuals and families to develop their fullest potential in spirit, mind and body. We are a leading nonprofit committed to strengthening communities through youth development, healthy living and social responsibility. Since 1936, we have provided meaningful outdoor experiences to thousands of children, families, and adults. We help people everywhere develop the skills and relationships they need to be healthy, confident and connected to others.
---
Night in the City at Hotel Kabuki – value up to $490 – winner Eddy & Lisa Francisco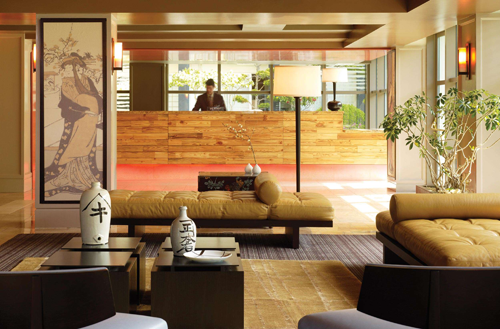 An overnight getaway for two at the fabulous Hotel Kabuki in San Francisco! Whether you just kick back and enjoy all the hotel has to offer, or step out the door into San Francisco's Japantown and nearby neighborhoods to explore the great cafes, boutiques, clubs and restaurants, you'll enjoy some fun and relaxation. Stay in a beautiful Western-style room with Japanese accents.
Redeem by September 23, 2018. Not valid on New Year's Eve or during high occupancy periods.
Sponsor: Hotel Kabuki. With its prime San Francisco location and unique blend of Eastern and Western influences, the Hotel Kabuki offers a calm and serene ambiance that is sure to please business and leisure travelers alike. The Hotel Kabuki is a pet friendly hotel. Please indicate Pet Room needed when making reservations.
---
Custom Pencil Drawing of Your Pooch, and Bling – value $101 – winner Eddy & Lisa Francisco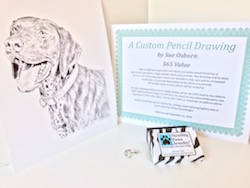 Wow! Your own pooch immortalized in a custom 11 x 14" black and white pencil drawing. You'll provide a high-quality photo and the artist will prepare a one-of-a-kind head-and-shoulders portrait suitable for framing. A wonderful treat for you!
Redeem by September 23, 2018. Valid for one or two pets in the portrait. Sample image is of NorCal GSP Rescue alum Axel and is smaller (8.5 x 11") than the actual portrait you will receive (11 x 14")
Added to that is a little bling–a size 10, sterling silver dog bone ring from Dazzling Paws Jewelry. Also included is a 15% off coupon for your next purchase from Dazzling Paws Jewelry.
Sponsors: Sue Osborn – illustrator and NorCal GSP Rescue volunteer (also check out her Etsy shop – if you commission a portrait of your pet, Sue will donate 15% of the proceeds to NorCal GSP Rescue!), and Dazzling Paws Jewelry.
---
Pet Food Express Dog Kit – value $124 – winner Wendy Jacobson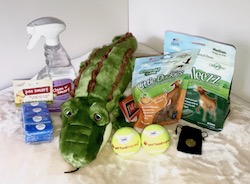 A great starter kit for a new dog, or to refresh your current dog's everyday items. Includes a luxury 30 x 40" memory foam dog bed that makes nap time stylish and cozy, Little Duckies treats and Smileezz dental chews, a bottle of Clean n' Smart stain and odor remover, a 4-pack of Poo Smart dog bags, two tennis balls, a Fluff & Tuff Georgia the Gator plush toy, and a token for a pet wash at Pet Food Express.
Sponsor: Pet Food Express – a long-time supporter of rescue! Visit their website and Facebook page
---
Loma Prieta Winery Tasting & Wines – value up to $95 – winner Ana Cerrato Quintero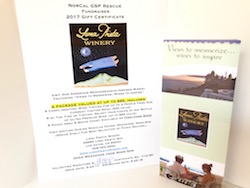 A wine tasting package that includes tasting for 4, plus you get to select a bottle of ultra-premium wine at the time of the tasting! Located in the beautiful Santa Cruz Mountains, CA. Winery is dog-friendly and kid-friendly with a lovely outdoor tasting and picnic area.
Redeem before September 23, 2018.
Sponsor: Loma Prieta Winery You may recognize the Loma Prieta name from the famous earthquake of 1989, but the Santa Cruz Mountains also play host to America's premier mountain vineyard area. Located at about 2,300 feet in these mountains, the winery offers spectacular views of Santa Cruz and Monterey and offers handcrafted wines produced in small lots and barrel aged in the finest oak. Kid-friendly and dog-friendly. Follow them on Facebook.
---
Stella & Chewy's Nom Noms #1- value $105 – winner Melissa Argue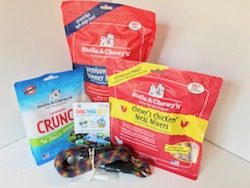 Fill your favorite pooch's tummy with Stella & Chewy's Venison Blend Dinner Patties, Chewy's Chicken Meal Mixers, and Carnivore Crunch. Custom design a dog tag from Dog Tag Art and take your dog on a stroll with your new 4-foot brown leash from Dog Patch SF.
Sponsors: Stella & Chewy's, Dog Patch SF, and Dog Tag Art
---
Stella & Chewy's Nom Noms #2 – value $105 – winner Cathy Olson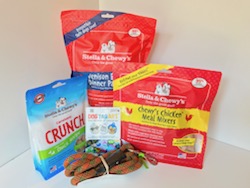 Fill your favorite pooch's tummy with Stella & Chewy's Venison Blend Dinner Patties, Chewy's Chicken Meal Mixers, and Carnivore Crunch. Custom design a dog tag from Dog Tag Art and take your dog on a stroll with your new 4-foot striped leash from Dog Patch SF.
Sponsors: Stella & Chewy's, Dog Patch SF, and Dog Tag Art
---
Sterling Silver Journey Pendant – value $80 – winner Claire DeCamp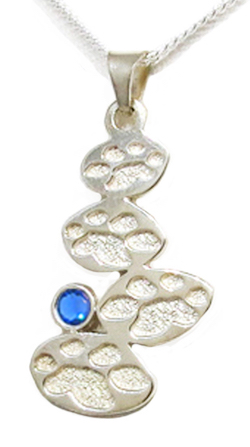 Wow, just wow! This is a Sterling Silver Journey Pendant that holds a 3mm Swarovski crystal. This pendant is individually created, casted one at a time, and is a certified original 4 Paws Forever design. The 1 1/4″ x 1/2″ pendant is placed on an 18" sterling silver chain imported from Italy. Photo enlarged to show details.
Sponsor: 4 Paws Forever
---
Walking in the Rain – value $134 – winner Maggie Carter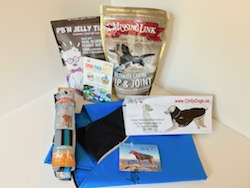 There are sooooo many goodies in this prize! Keep your sweet woofie dry with a Chilly Dogs Rain Slicker (chest girth 25"-28") while you're strolling in the neighborhood using your Kurgo 6-in-1 5-foot leash. Adding to your style is your custom designed dog tag from Dog Tag Art. When you get home you can treat your dog to Einstein Treats and Missing Link hip and joint supplement to keep them walking comfortably for another rainy day.
Sponsors: Chilly Dogs, Kurgo, Dog Tag Art
---
Travel in Comfort and Style – value $137 – winner Ana Cerrato Quintero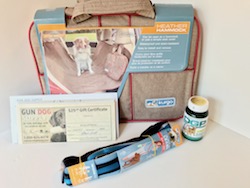 Keep your car protected with a Kurgo Heather Hammock. When you get to your destination, leash up your buddy with a Kurgo 6-in-1, 5- foot leash. Before you leave you can do a little online shopping and spend your $25 Gun Dog Supply gift certificate. And you can keep your buddy flexible and mobile with American BioSciences DGP Supplements.
Sponsors: Kurgo, Gun Dog Supply, Harmony Company
---
Read, Watch, and Chill- value $83 – winner Sheri Jacobszoon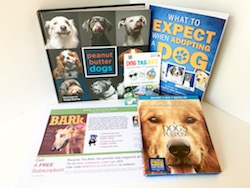 We all love to hang out with our dogs! Cozy up on the couch with the What to Expect When Adopting a Dog and Peanut Butter Dogs books. Enjoy your free subscription of The BARK magazine. When you feel like you want to watch a little TV you can pop your copy of A Dog's Purpose into the DVD player. All this time your dog will be stylin' in her custom designed Dog Tag Art dog tag. Spending time with your dog–it's the best!
Sponsors: The BARK – The Ultimate Dog Magazine, Dog Tag Art
---
Gorgeous Handmade Quilt – value $200 – winner Feb Sansaneeyakiat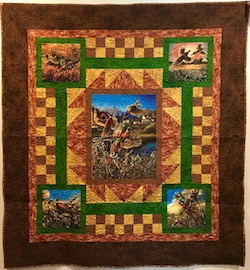 This exquisite handmade quilt has pheasants surrounded by the colors of fall. Made with 100% quilt shop quality cotton fabrics, it measures 68 ½" x 62" and would work perfectly as a wall hanging, sofa throw, or bed topper. A wonderful gift for any GSP lover, or win it for yourself!
Sponsor: Jody Schaaf
---
Blue Dog Bakery Treat Bonanza – value $96 – winner Eric & Alexia Heckers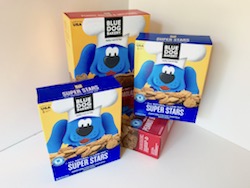 Twelve boxes of treats for your favorite dog! Yes, that's right, practically a year's worth of treats. Doesn't your best friend deserve a little something special now and then?
Sponsor: Blue Dog Bakery
---
Mealtime and More – value $115 – winner Claire DeCamp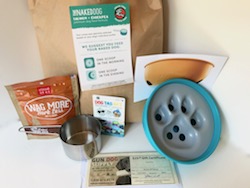 Enjoy a two-week supply of Naked Dog Salmon and Chickpea Premium Dog Food (grain and potato free) in the Paw 5 Rock 'N Bowl. Also included is a Dog Tag Art dog tag gift card, Cloud Star treats and a $25 gift certificate to Gun Dog Supply.
Sponsors: Dog Tag Art, Gun Dog Supply
---
Keep it Clean – value $132 – winner Janelle & Doug Schneider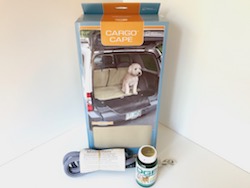 Picture this: Your dog's joints are feeling great because you've given him American BioSciences DGP Supplement. You have a new 4-foot leash Dog Patch SF you won in this drawing. You want to go on an adventure, but you don't want your car to get dirty. Never fear, when you win this prize you also win a Kurgo Cargo Cape to keep your car looking spiffy. We have you covered!
Sponsors: Harmony Company, Dog Patch SF, Kurgo
---
Bissell Total Floors Upright Vacuum Cleaner – value $150 – winner Sandy & Roy Amundsen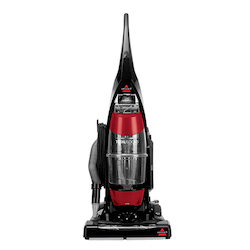 You need it, you want it! This Bissell vacuum cleaner is perfect for homes with multiple flooring types and is just what every pet-lover needs.
The BISSELL Total Floors® Complete upright vacuum features scatter-free suction on hard floors by switching the brush-roll off when you move from carpet to hard floors. A convenient Edge Cleaning Port holds the included crevice tool for you to clean along edges without having to bend over. Clean hard-to-reach areas with a 6-foot deluxe stretch hose, and TurboBrush® Tool. The clean you want for every surface in your home. Model 1617.
Sponsor: Bissell's Partners for Pets
Note: Rescue Reunion or Menlo Park pick up only (we cannot ship this item)
---
Lava Cap Wine Tour & Tasting for 4, Plus Wine – value $125 – winner Mac MacNaughton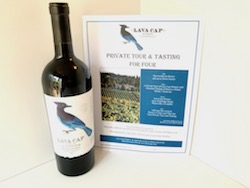 This prize is a package that includes a tour & tasting for 4, plus a bottle of Lava Cap Zinfandel. Lava Cap is a third generation family farm located in Placerville, CA, high in the Sierra Nevada foothills. The winery is kid and dog-friendly and you can enjoy a picnic in the gardens overlooking the vineyards.
Sponsor: Lava Cap Winery
Note: Rescue Reunion or Menlo Park pick up only (we cannot ship this item)
---
---
Your goody bag is sponsored by:
Pet Food Express – online and on Facebook
Stella & Chewy's – online and on Facebook
Lola and Sancho's Closet – online and on Facebook
Zuke's – online and on Facebook
DGP The Harmony Company – online and on Facebook
4Imprint – check out their website
AKC – We are a participant in the 2017 AKC Responsible Dog Ownership Days
---
Door prizes are sponsored by:
The BARK – The Ultimate Dog Magazine
BioFog – Super Concentrated Odor Eliminator SCOE 10x
---
Coffeecake Sponsor: Hobee's California Restaurants – check out their website, Facebook, and Twitter
---
Individual sponsors:  Anna Burkholder, Carol Ezovski
---
The small print: to comply with state and federal regulations, you may request one drawing ticket at no charge.