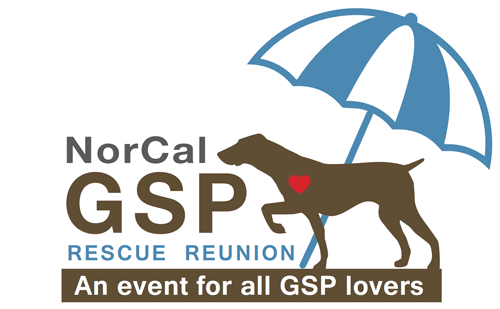 GSP Meet-Up and Rescue Reunion Event
When: Sunday, October 1, 2023, from 1 - 4 PM
Where: Amador Valley Community Park, Pleasanton, CA
It's time for the 25th Anniversary edition of the GSP Meet-Up and Rescue Reunion! Join us for a casual gathering open to all GSP lovers to celebrate 25 years of saving GSPs! Bring your picnic lunch and relax for a fun afternoon. So many GSPs all in one place! Don't worry, there will be the crowd favorites of hot dog bobbing, GSP merchandise, group photo, adoptable foster dogs, our annual online silent auction (you'll be able to bid electronically at the event or wherever you happen to be) which will close at 3:30 pm during the Reunion.
New this year - a wine pull! $25 gets you a mystery bottle of wine (red, white, or bubbly). We have outstanding wines ranging from $18 - $85 in value, many from private collections or no longer available for purchase. You won't be disappointed!
Bring blankets or chairs along with your picnic lunch. We'll be providing some small bites and beverages. Sunscreen and hats are a good idea and toss a sweater in your car in case it gets chilly. Note: All dogs must be on leashes or long leads during the entire event, and this is a prong, choke, and shock-collar-free event.
The park is conveniently located near freeway access and has plenty of free parking. We'll be near the Group Picnic Area - you'll find us near the picnic tables and in the adjacent grassy area playing with our GSPs!
This FREE event is open to all GSP lovers!

Schedule of Events
1:00 - 2:15: Guests Arrive
1:00 - 3:30: Wine Pull Tickets and Merchandise Available for Purchase
1:30 - 3:00: Hot Dog Bobbing Game for Dogs
1:30 - 2:30: Photo Booth Open
1:30 - 3:00: Periodic Door Prize Drawings
3:00 - 3:30: Group Photo and Last Call for Wine Pull Purchases
3:15: Last Call for Auction Bidding
3:30: Online Auction Closes and Wine Pull Begins
3:30 - 4:00: Online Auction Check-out
4:00: Rescue Reunion Event Ends
---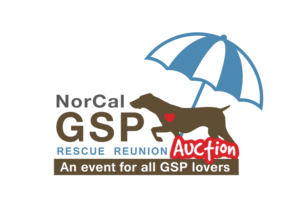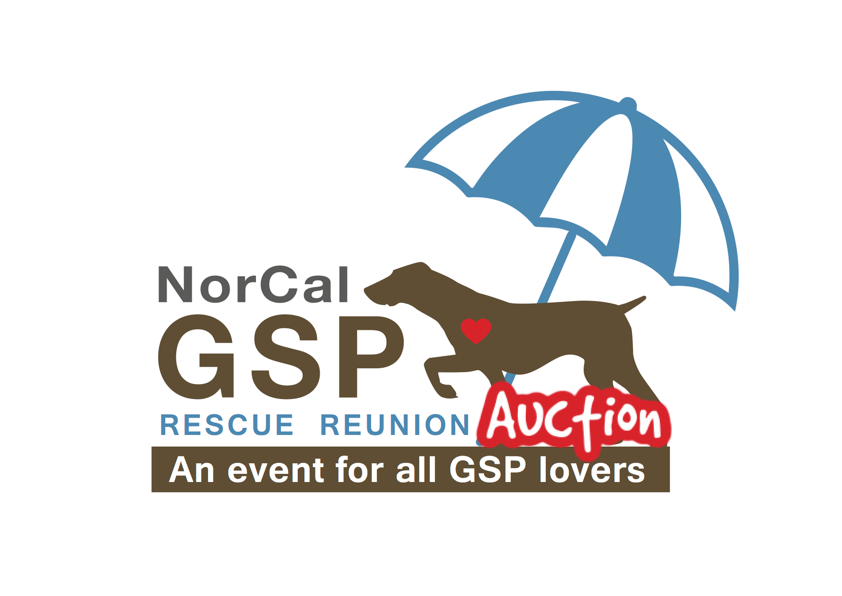 The Online Silent Auction
The Rescue Reunion online silent auction opens on Saturday, September 23 at 9 a.m. PDT and closes on Sunday, October 1 at 3:30 p.m. PDT during the live event.


This link will be live once the auction begins!
Whether you attend the reunion event or not, you can participate in the auction! Everyone will be bidding online from the auction site.
If you're attending the reunion event, bring your phone to bid. The auction items will be available to view, and if you are the highest bidder, complete your checkout and you can take your winnings home with you. If you are a remote winner, your prizes will be mailed to you (some exceptions apply, read the item descriptions carefully).
Exciting prizes you might win include jewelry sets, dog goodies, AirPods, wine baskets, beer gifts, dog toys, quilts, wine tastings, doggie blankets, olive oil, a TransK9 dog crate, and much much more!
Questions? Don't hesitate to get in touch with Tina at ttuma@norcalgsprescue.org