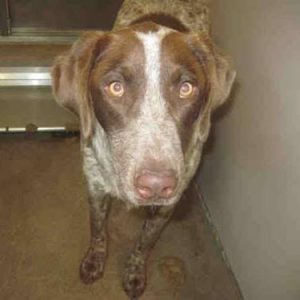 Oops! Someone had me listed as a Catahoula Hound?! My friends at NorCal GSP think I'm much more GSP! They're hoping to find more about my age and what I like in life from the staff caring for me but no word yet – they do know however that I'm sad here and looking for my forever home! If you're looking for a new guy in your life, please come meet me!
edit: I'm estimated to be 2 years old, and I'm reportedly timid of other dogs. No health issues! And I do have a full tail!
If you are interested in adopting him, contact the Merced County Animal Control and reference animal ID A173348.
Merced County Animal Control
2150 Shuttle Dr
Atwater, CA 95301
Phone: 209-385-7436
Shelter hours:
Monday – Friday 9:30 – 4:30pm
Saturday 10 am – 3pm
This is a shelter dog that may be in danger of being euthanized. Please contact the shelter directly for more information. You do not need to fill out our adoption questionnaire as you will be working directly with the shelter. Once a shelter dog has been adopted or placed into foster care, s/he will be removed from this listing section.
Location: Atwater, CA