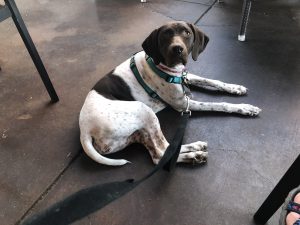 Meet Addy!
This sweet little girl loves her toys! She also loves people and gets along great with other dogs. We're still getting to know Addy and will post more soon.
| | | |
| --- | --- | --- |
| Status: Medical Hold | Location: San Francisco Bay Area, CA | Adoption $: $360 with $50 training rebate |
| Weight: 45 pounds | Age: 1 year | Kids: 6 and up |
| Other dogs: OK | Cats: Unknown | Hunting: Unknown |
Donate to Addy's Medical Fund!


A dangerously high fever & head tremors sent Addy to the ER. After some inconclusive tests and getting some fluids and antibiotics, Addy was better, but not out of the woods. Addy went home, but was admitted to the hospital 12 hours later because her fever was up again and she was very lethargic. More tests were performed and we still don't know what caused her fever and head tremors. They call it "fever of unknown origin". Her fever would go down a bit, then spike back up. Addy was under observation with fluids and antibiotics for 2 days. After giving her some prednisone, Addy's fever went down so she was able to go home. She'll be on antibiotics & prednisone for 2 weeks and will be closely monitored.
Addy's medical expenses total around $4,800 so far and she's not out of the woods yet. Please consider a donation to Addy's Fund to get her back to her happy self. Thank you!
Thank you to Addy's sponsors!
Addy, hope you're better soon! Love Deno and Delilah
Dina W
Lara S
Lauren M – prayers for Addy
Frankie J – for precious Addy
Ron G – give her a hug for me
Eric and Alexia H
Won't you sponsor Addy too?