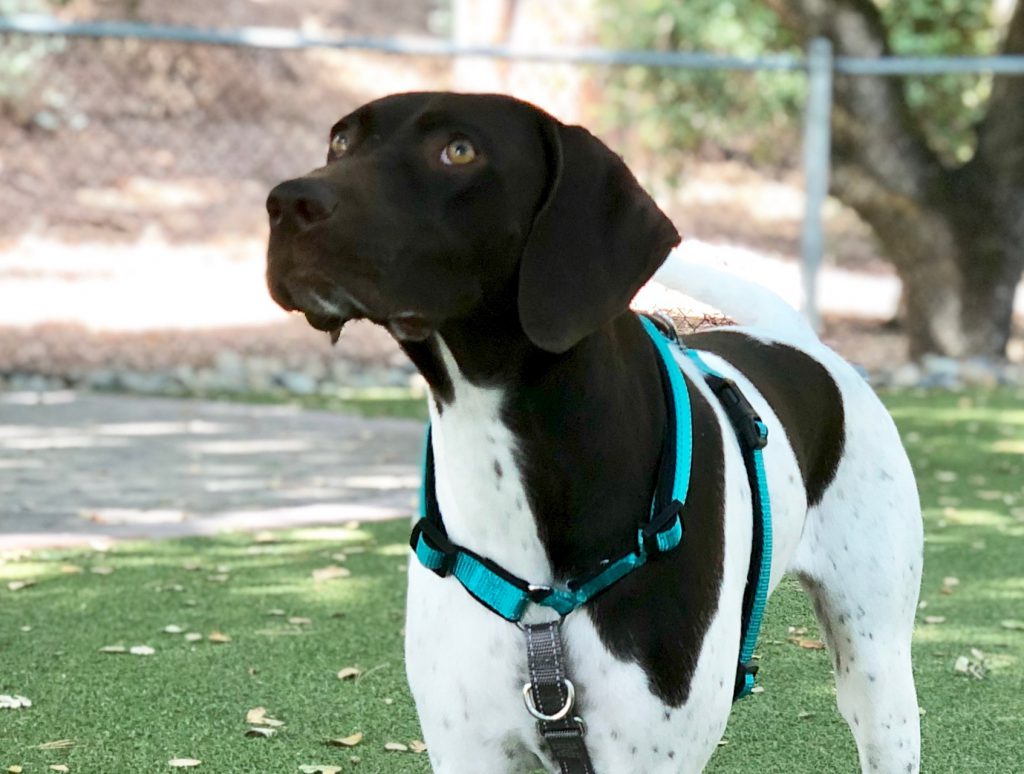 Meet Addy!
This sweet little girl has had a rough couple of months after being rescued from a life of being chained in the back yard all day and night. She has been in and out of the hospital a couple of times, but has recovered nicely and is now ready to find her forever home. Addy is very affectionate and playful. She loves playing ball and getting other dogs to play with her. Addy doesn't like being left alone so she's hoping to find a home where someone is home most of the time or is able to take her to work. If this sounds like you, Addy would love to meet you!
| | | |
| --- | --- | --- |
| Status: Available | Location: Sacramento area, CA | Adoption $: $360 with $50 training rebate |
| Weight: 45 pounds | Age: 1 year | Kids: 6 and up |
| Other dogs: OK | Cats: Unknown | Hunting: Unknown |
Donate to Addy's Medical Fund!


A dangerously high fever & head tremors sent Addy to the ER. After some inconclusive tests and getting some fluids and antibiotics, Addy was better, but not out of the woods. Addy went home, but was admitted to the hospital 12 hours later because her fever was up again and she was very lethargic. More tests were performed and we still don't know what caused her fever and head tremors. They call it "fever of unknown origin". Her fever would go down a bit, then spike back up. Addy was under observation with fluids and antibiotics for 2 days. After giving her some prednisone, Addy's fever went down so she was able to go home. She'll be on antibiotics & prednisone for 2 weeks and will be closely monitored.
Almost a month after a trip to the ER, poor Addy once again had a fever, was lethargic, had no appetite, and had a hard time breathing, after doing so well for a couple of weeks. Again there were more tests, more fluids, and more medications. Swelling was discovered around her larynx, but the biopsy only indicated inflammation and necrosis (dead cells) of the larynx. There were no obvious signs of infection or cancer cells. At the recheck on Oct. 3, the inflammatory mass was gone. It is assumed that the fever was from the necrotizing mass and the head tremors were likely fever related. Addy is now doing well.
Addy's medical expenses to get her back to her happy self total around $8,500. Please consider a donation to Addy's Fund. Thank you!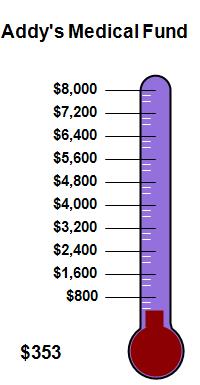 Thank you to Addy's sponsors!
Addy, hope you're better soon! Love Deno and Delilah
Dina W
Lara S
Lauren M – prayers for Addy
Frankie J – for precious Addy
Ron G – give her a hug for me
Eric and Alexia H
Vicki & Bruce R
Patrick C
Won't you sponsor Addy too?