Adopter Finds Love with Older GSP

I fell instantly in love, especially when he placed his front paws on my shoulders and laid his face against mine. I wanted an older dog. They have so much love to give.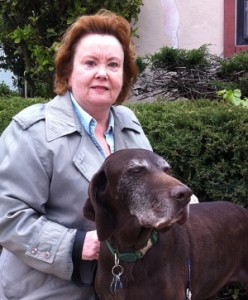 I named him Ruairhdri (pronounced like the name "Rory"), which is Scottish Gaelic for red king, for his lovely reddish brown color. He is definitely the king of the house.
Rory knew he had arrived at his forever home and got comfortable right away. He discovered the joy of constantly looking out the windows at home, especially the picture window in the living room.  He looks like quite the distinguished older gentleman! But don't let that fool you: He's full of energy and loves to run around in our big yard.
Rory goes to doggie day care every day while I'm at work and he LOVES it! On our walks, Rory is wonderful with other dogs. He greets them quietly and is very even tempered. During our Sunday morning walk at the park, I sit on the bench and he leans on me, rests his chin on my knees and looks up with those gorgeous big brown eyes.
Rory is an absolute joy to have around. NorCal GSP Rescue will never get him back.  He's my baby!
Catherine Tumilty of South San Francisco fell in love the instant she met Ollie at his foster home in the fall of 2009. His age and history of seizures didn't deter her. She saw "a beautiful creature that needed a person all to himself," she says. "He stole my heart that day!" 
Read more about adopting an adult dog.
---