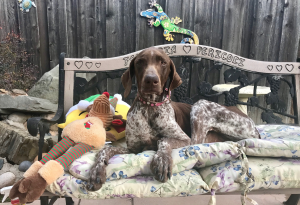 Greeting from Annalise!  This sweet girl found herself in a shelter after getting picked up as a stray.  We don't know anything about her history or how she came by the injury to her leg but we welcome the chance to give her a much brighter future.  Annalise is happily settling in at her new foster home and is quickly responding to the care and attention she receives there. She is smart, enormously loving and yet has a serious side to her personality.  Annalise was delighted when she discovered a toy box and she cleverly creates a game with each toy she chooses. Because of her limited mobility she spends a lot of time just watching out the window.  Her foster has described her as child looking out a window watching the other children play and wishing she could play too.
| | | |
| --- | --- | --- |
| Status: Adoption Pending | Location: East Bay | Adoption $:  $310 with $50 rebate after completing training |
| Weight: 57 pounds | Age: 3 years | Kids: 6 and up |
| Other dogs: Multiple OK | Cats: Unknown, but not likely | Hunting: Unknown |

Special Medical Appeal:
Annalise

 would love to be able to play, and with your help, we can make that happen. With your support, 

Annalise

 will get the medical treatment she needs so she can have a normal, active and pain-free future.  
What we know: 

Annalise

 came to us with number of serious health problems including pneumonia and a carpal deformity on her left front leg.  While in the shelter, she contracted kennel cough which developed into pneumonia.  X-rays taken while at the emergency vet detailed the extent of the pneumonia and 

Annalise

 began a ten day course of antibiotics.  X-rays taken at a subsequent recheck appointment confirmed that she still had pneumonia and needed a second round of antibiotics. As soon as 

Annalise

 is strong enough to have surgery, she'll have the deformity on her leg repaired by an orthopedic surgeon.  After surgery she'll need weeks of checkups and bandage changes, and possibly rehabilitation therapy.  

Annalise

 will require about 6 months of convalescence to fully recover. 
What it will cost: The estimated total for 

Annalise

 comes to $9,500.
Won't you please sponsor 

Annalise

 so that she can once again walk, run, and play like all the other dogs? Every donation helps, large or small, so that she will no longer have to sit on the sidelines!
Update: Annalise underwent surgery on January 9th and is now recovering comfortably at her foster home. The surgeon is hopeful for an almost full recovery and use of the leg after 6 months. Her recovery period will also include frequent bandage changes and check-ups to ensure the leg is healing properly. Luckily for her, her foster home is letting her lounge on the king-sized bed while she rests and recovers!
Thank you to all our supporters who made this possible!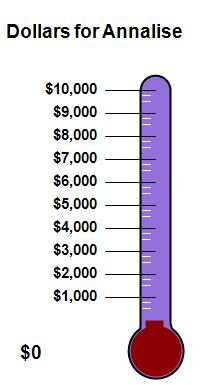 Thank you to Annalise's sponsors!
Sponsored by:
Peter T.
Suzie GSP
Eric and Alexia H.
Vicki & Bruce R.
Jacquie S. & Bruno
Carolyn K.
Joy B.
Anna B.
Yvette R.
Pippy & Invisible Point
Gail W.
Liz E.
Gina S.
Lacey N.
Kathleen B.
Carol & Mike G.
Linda M.
Vicki B.
Holly E.
Heidi R.
Julie M.
Tom B.
Joni S.
Giselle J.
Eloy A.
Audrey W.
Jamie L.
Sandra R.
Mary T.
Tiffany D.
Brooke C.
Frank A.
Spencer F.
Josh W.
Ioana P.
The Animal Den Pet Resort
Bethany M.
Sandra Jacks
Faith R.
Nanette J.
Frankie J.
Cindy D.
Taylor H.
Allen S.
Team Rescue Project
Manda P.
Patricia H.
Charlotte H.
Bruce C.
Sandra S.
Marie T.
Katie M.
Sheri J.
Brett M.
Susan L.
Alison E.
Jill L.
Lauren M.
Danielle B.
Richard W.
Matthew N.
Megan C.
Kimberlee P.
Patty C.
Tye C.
Joshua W.
Brendan D.
Andrea C.
Sean V.
Erin K.
Lucas B.
Erin U.
Katherine S.
Wendy W.
Cassaundra McG.
Brett W.
Audrey G.
Bridget S.
Brooke M.
Kara S.
Lourdes D.
Mike S.
Holly W.
Jazzercise Menlo Park
Michael S.
Ann K.
Michelle H.
Mara F and Deborah G
Peggy & Walt S.
Pamela G.
Marcus N.
Joseph R.
Barry R.
Brad B.
Perry T.
John S. and Heidi M. and Abby
Robert R.
Charlotte K.
Tyler M.
Candace R.
Nancy S. – Good luck, Annalise! You sound like a beautiful dog for the right family.
Won't you please sponsor Annalise too?