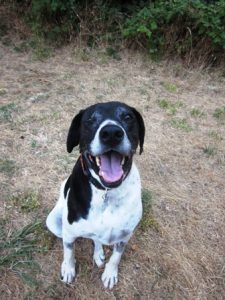 Meet Archer!
Archer is a sweet GSP mix who loves to chase squirrels, help out with chores, and just hang out with his people.   He does have a tendency to roam, which is why he ended up stuck at the shelter.  There, it was discovered that he wasn't able to see out of his right eye & that he was in some pain.  So, that eye was removed, but that hasn't slowed him down at all!  He has no right eye, but it's hardly noticeable when you look at his cute, smiling face.  If you're looking for a buddy to hang out with and if you love to give belly rubs, Archer would love to meet you!
Archer is currently on Medical Hold. 
Medical update 9/6/18:  Archer has a cruciate ligament tear in his right stifle.  He will be having surgery soon to repair his leg.  We will update his status as he recovers from the surgery.
Medical update 10/19/18: Archer had TPLO surgery this past week to repair the tear and is recovering well! He has a few weeks of rest and recovery ahead of him.
| | | |
| --- | --- | --- |
| Status: Medical Hold | Location: Sacramento Area, CA | Adoption $: $255 |
| Weight: 75 pounds | Age: 7 years | Kids: 6 and up |
| Other dogs: OK | Cats: No | Hunting: Unknown |
Thank you to Archer's sponsors!
Eric & Alexia H. – from your pals Buster and Camo
Won't you sponsor Archer too?