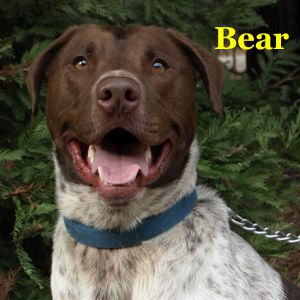 More info on Bear: https://www.mendocinohumane.org/pets_spon.php?sel=D
Just throw a stick and watch Bear go! Bear needs to learn some manners regarding how to show his enthusiasm. But he is a hoot to watch and the volunteers that work with him love him dearly.
From the beginning, Bear has been, well, a Bear. If he was smaller, his exuberant antics would be cute. But at 80+ lbs, Bear is a real handful of canine energy. As a volunteer, I took him on because it is clear he needs exercise and attention and I have learned to love him dearly. He tries so hard to be a good boy. And the thing he has with sticks is so funny. When Bear feels happy, he expresses it by grabbing the nearest stick and wrestling around with it. He's also a great swimmer and will chase a stick far out into a pond.
For dogs with very high energy, like Bear, the kennel is a stressful environment. The noises, smells and confinement cause him anxiety which Bear exhibits by "spinning" in his kennel and jumping on people. He intimidates other dogs because he will run right up to them and want to play. But if the other dog lets him know he's too rough, Bear will retreat.
When he is in a class environment, Bear shines. He knows sit, down and heel. He loves the discipline and attention. When Bear is on a walk, he is easy to handle once away from the shelter grounds and if he gets too excited, a cookie helps him to find his focus again. Bear needs consistent daily training and someone to keep him up on his manners. He needs a active home and due to his high energy might do best in a only dog household with older respectful kids.
You do not need to fill out our adoption questionnaire since Bear is not in our foster program. If you are interested in adopting Bear, please contact:
Mendocino Coast Humane Society
Adoption Center
19691 Summers Lane
Fort Bragg, CA 95437
707.964.SPAY
Tu-Sa 12-5
Location: Fort Bragg, CA
This listing is a referral or courtesy for other rescue organizations or families needing to find their dog a new home. Please note that we have not evaluated these dogs nor do we make any representation as to their health or temperament, nor have we validated any of the information provided by the parties.