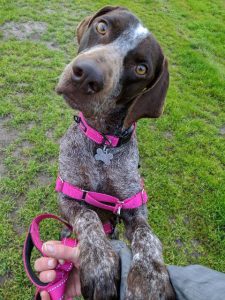 It's hard to resist the cuteness of Cassiopeia. She came to us in our massive Super Snow Moon rescue effort as a scared, nervous young pup. Cassiopeia (nickname Sash) is doing so much better, but a new environment, tiny noises, new places, and people still can scare her. She will do best in a home where someone is home with her most of the time to gain that trust and give her the confidence she needs. She's living with another dog right now and loves to play with her all day long. She needs a lot of exercise, as any young GSP does! She loves going for walks once she gets used to her surroundings. She also will do best in a home that will continue her training to help her adjust to this big scary world. If you are ready to give Cassiopeia the loving and safe home she needs, she guarantees that the rewards will be totally worth it!
Due to a severe lack of proper socialization early in life, Cassiopeia requires an adoptive home experienced with GSPs and willing to put in the time needed to continue her socialization and training. Training will also be required as a condition of adoption.
| | | |
| --- | --- | --- |
| Status: Available | Location: San Francisco Bay Area, CA | Adoption $: $360.00 with a $50.00 refund upon completion of a positive-reinforcement training class from a trainer on our training list, or approved by us in advance. Training is required for dogs ages one to three years old. |
| Weight: 47 pounds | Age: 2 years | Kids: 16 years of age and older |
| Other dogs: Good with other dogs | Cats: Unknown | Hunting: Unknown, likely not |
Thank you to Cassiopeia's sponsors!
Won't you sponsor Cassiopeia?