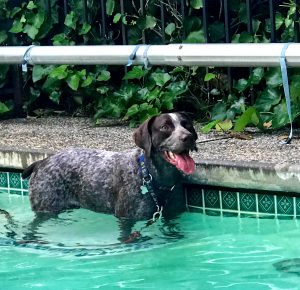 Please don't listen to anything my foster-brother tells you…. I consider myself to be kinda' the perfect GSP!  I mean, look at this list of qualities: 
I'm super cute & smart as a whip!  I am crate trained, love to run and wrestle with the playful dogs in my neighborhood, and  I don't even chase cats.  I know things like sit, down, place, leave-it, and I'm even learning "shake".  I'm getting pretty good on my recall and I'll (usually) walk nicely when you are leashed to me.
Oh, did I tell you how CUTE I am??
The thing is, I simply have so much energy that I'd really like a calm presence at home to help me relax while I learn.  But if you don't keep me active and teach me new things, I will totally find some fun things to learn about on my own. I prefer the term, "mischievous" and "curious".
It's also my curiosity that drives me to thoroughly check out all new people, places, and dogs.  I merely want to investigate first on my own terms; then I am able to relax and please. Most of all, a devoted human in my life is so precious. As long as I get that, I will be happy as the only dog or as the sibling to a calm, confident canine.
And one last thing:  I will give priority to someone who can give me a cool place to swim. I love the water. I'm healthy, happy, and ready to jump in to a new family.  1-2-3-GO!
Note: Due to a severe lack of proper socialization early in life, Cassiopeia requires an adoptive home experienced with GSPs and willing to put in the time needed to continue her socialization and training. Training will also be required as a condition of adoption.
| | | |
| --- | --- | --- |
| Status: Adoption pending | Location: Sacramento  Area, CA | Adoption $: $360.00 with a $50.00 refund upon completion of a positive-reinforcement training class from a trainer on our training list, or approved by us in advance. Training is required for dogs ages one to three years old. |
| Weight: 47 pounds | Age: 2 years | Kids: 16 years of age and older |
| Other dogs: Good with other dogs | Cats: Unknown | Hunting: Unknown, likely not |
Thank you to Cassiopeia's sponsors!
Brian and Dorothy