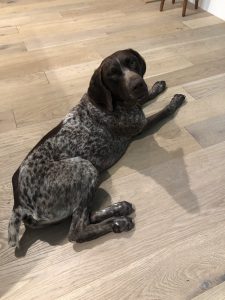 Comet is one special dog! He's part of the Super Moon pack we rescued and has shown to be a loving, fun guy.  He's ~2 years old and is gradually learning about the good life and what it means to be in a loving home.  His favorite things to do are play with his foster sister, another young GSP, go exploring around the yard, and just cuddle up with his humans.  He has a very active brain and would love a space where he can roam and run around!  He would also make a great hiking buddy.  He has done well with all humans and dogs alike, but does require a warming up period to know he can trust a new face.  Once he knows you are his person though, he will give you lots of love and be one amazing companion.
Comet would do best in a home that has someone around often and would benefit from another dog in the house. He is currently getting training and is slowly learning commands and how to be a good canine citizen!  He sleeps in his crate at night and even knows how to use the doggie door!  Comet is certainly out of this world and deserves a loving home– could that be you?!
Due to a severe lack of proper socialization early in life, Comet requires an adoptive home experienced with GSPs and willing to put in the time needed to continue his socialization and training. Training will also be required as a condition of adoption.
| | | |
| --- | --- | --- |
| Status: Available | Location: Sacramento Area, CA | Adoption $: $360.00 with a $50.00 refund upon completion of a positive-reinforcement training class from a trainer on our training list, or approved by us in advance. Training is required for dogs ages one to three years old. |
| Weight: 50 pounds | Age: 2 years | Kids: 16 years of age and older |
| Other dogs: Good with other dogs | Cats: Unlikely, but unknown | Hunting: N0 |
Thank you to Comet's sponsors!
Won't you sponsor Comet?