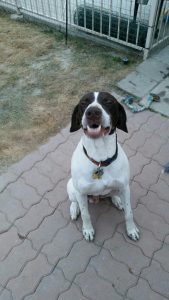 Oh Dasher, how did we name you? Let us count the ways….. We thought your name was apt because you were found en-flight at the time Santa was making his rounds with Dancer and Prancer and the others. But laying eyes upon you, we realize it is your dashing good looks that provided the name. However you have shown us that, like every young, vibrant GSP, you are always on the ready to dash away, dash away, when your human is not keeping a close eye on you. Luckily you are so jolly and playful that humans and canine friends fall in love with you immediately.
Dasher's most endearing quality is his playfulness with other dogs – whether big or small. He has been living with multiple dogs and they get along great. He has also cohabited with cats (gasp!) with nary more than a sniff of interest. And, one of his foster parents even took him out on a test hunt for pheasant. Dasher was not gun shy and he was able to find a couple of birds.
Dasher's foster parent says that he is "very trainable." He is crate trained and house trained!  He also spent the holidays in a house with a child and nicely behaved himself. With all these talents, Dasher is ready to settle in to his new forever home. Could it be yours?

| | | |
| --- | --- | --- |
| Status: Available | Location: Yolo County, CA | Adoption $:$310.00 with a $50.00 refund upon completion of a positive-reinforcement training class from a trainer on our training list, or approved by us in advance. |
| Weight: 67 pounds | Age: 3 years | Kids: 6 and up |
| Other dogs: Multiple OK | Cats:  Yes | Hunting:  Unknown, but possibly |
Thank you to Dasher's sponsors!
Won't you sponsor Dasher?