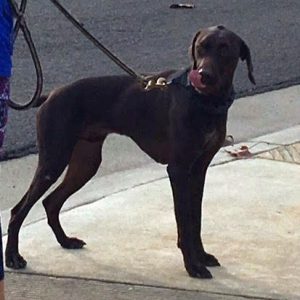 "Example" is a highly energetic 4 year old male GSP looking for a new home. At just 40 pounds he's on the small side, which is good since he has a lot of energy. Example is very sweet and gets a long with other dogs and is great with children, he also gets along well with cats.  He is crate trained and used to sleeping in his crate at night, but of course he would like some snuggle time with his people too. Example loves to play in the water and also loves to play ball and run. This young boy needs a family who can give him plenty of exercise, typical of a GSP, so he can be a good family member. You can see by the pictures he is a beautiful all liver colored GSP.
Example recently had a full vet work up; he is up to date on his shots and neutered.  (Basic info here, neutered, microchipped, recent vet work, on flea/heartworm meds or not, etc)
You do not need to fill out our adoption questionnaire since Example is not in our foster program and you will be working directly with his owner. If you are interested in more information or would like to set up a time to meet Example, please contact (owners name) at (owners email address). Rehoming fee is $____.
Location: City, CA
This listing is a referral or courtesy for other rescue organizations or families needing to find their dog a new home. Please note that we have not evaluated these dogs nor do we make any representation as to their health or temperament, nor have we validated any of the information provided by the parties.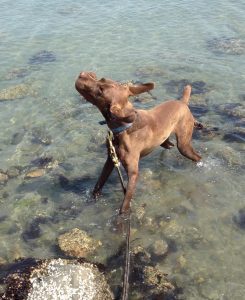 (more photos is better!)