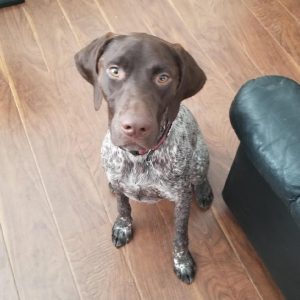 *PENDING*
Gunner's had a rough year – he wound up in a local shelter and shortly thereafter was adopted by a super awesome couple.  He was so happy to have a Mom and Dad.  However life changes happen and now it's just Gunner and Dad.  Dad is unable to give him enough exercise with his job.  So he's decided to find him a forever home at last!  Despite the tough year Gunner is an easy going, energetic young dog (~2yrs) that rolls with the punches! He has a natural hunting instinct, he runs with his nose on the ground picking up scents. He has done well on trails off leash, he will recall and check in with a "far enough" command.  He also plays well with other dogs, takes the submissive roll yet will take the lead in a game of chase! One on one he is a snuggler, will curl up next you on the couch if you let him. He has the sweetest face!  We do not know how he would react to cats, because of his energy level he is not recommend for a home with small children. He would do well in an active household, that can give him all the love and attention he deserves.
Gunner is crate trained, house trained, neutered, microchipped and up to date on shots.
You do not need to fill out our adoption questionnaire since Gunner is not in our foster program and you will be working directly with his owner. If you are interested in him please email a little bit about your family and what Gunner's life would be like in your home to Meagan at: Meagan_clarky55@yahoo.com
Rehoming fee of $150, 100 will be donated to rescue.
Location:  Citrus Heights, CA
This listing is a referral or courtesy for other rescue organizations or families needing to find their dog a new home. Please note that we have not evaluated these dogs nor do we make any representation as to their health or temperament, nor have we validated any of the information provided by the parties.