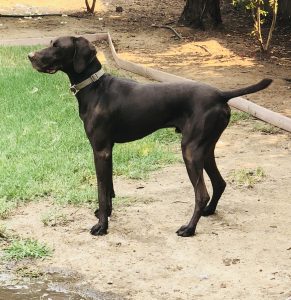 Hank has had a rough go of it, bouncing from home to home until he found this great family who understands GSPs.  He's enjoyed the past 3 years with them but with a bundle of kids they realize time is an issue and it isn't the perfect fit and would like to make sure this handsome guy finds the right wingman to care for him.  Hank can be outgoing and this is what he's got to say about himself!:
Hi my name is Hank.  I'm tall dark and handsome.
I'm not afraid of commitment and I've been accused of being a stage 5-clinger, but I prefer enthusiastic sidekick. I really just LOVE people. I'm a busy body and love to get out and go! I love using my nose to find out what everyone is the neighborhood is having for dinner, the family behind us loves to BBQ! I don't mind other dogs and I'm really good at keeping cats and birds out of the back yard! Currently my best friends are 3 children, mainly because they throw the ball for me! I'm not good with little kids though because I kind of forget they are there…and knock them over.  My ideal day would be going for a run or hike, then coming home and relaxing on the couch with you! My manners are pretty good but sometimes I get a little to loud. I can sit, wait, down, stay and walk on the leash. I love to go camping, it's one of my favorite past times. I'm also pretty well behaved off leash when we go to the lake!
Hank is around 75lbs, crate trained, house trained, neutered, microchipped and up to date on shots.
You do not need to fill out our adoption questionnaire since Hank is not in our foster program and you will be working directly with his owner. If you are interested in him please email a little bit about your family and what Hank's life would be like in your home to Tori at: torilynn57@gmail.com
Rehoming fee of $
Location:  Lincoln, CA
This listing is a referral or courtesy for other rescue organizations or families needing to find their dog a new home. Please note that we have not evaluated these dogs nor do we make any representation as to their health or temperament, nor have we validated any of the information provided by the parties