This is a special section for dogs from or in our rescue who have gone to Rainbow Bridge.
---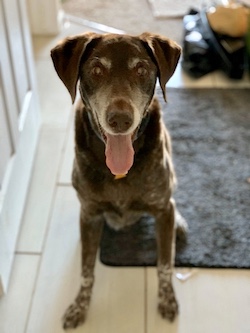 Jake fka Tumbleweed – passed away January 15, 2020
Our sweet Jake passed away very early in the morning on January 15th, 2020. We are all heartbroken, of course, but are also beyond thankful for having had him for 11 of his nearly 13 years of life.
We were enchanted by Jake the minute we saw him, in the spring of 2008. Well, I should say, my husband was, because he was the first one in the door at the foster home, and declared "We'll take him!" before the rest of the family had even seen the little guy! Thank you, Bill & Cheryl Reese, for the wonderful job you did fostering him as he was healing from having been hit by a vehicle and having his hind leg pinned and plated back together. You got him happy and healthy, ready to come to his forever home with us!
Jake was our first GSP. We had fallen in love with the breed through friends who had them, and, with how wonderful Jake made our lives, we now know we will always have a German Shorthair in the house!
Jake was an amazing dog. He had no bad habits to speak of, was affectionate, playful and regal all at the same time. He was always ready for the next adventure, walk, or game of fetch, but was also quite happy to lie at your feet and relax. Over the course of his life he was fascinated by and investigated squirrels, raccoons, at least one opossum, jackrabbits, cottontails, and of course birds, birds, birds! And he was obsessed with large garden snails. Apparently, they make noise, because he would stand over them, nose almost touching, and cock his head back and forth as he listened. He even occasionally snuck them into the house, holding them gently in his mouth.
Jake made friends wherever he went. He survived being hit by a car, hypothyroidism, and Atypical Addison's Disease before cancer ended his life. We all miss him enormously.
-Ron & Suzanne Dailey
---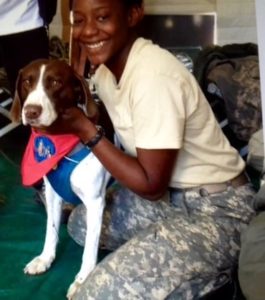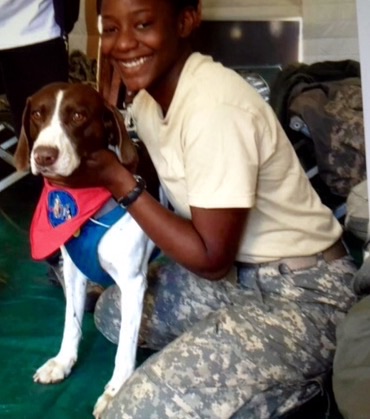 Jodie – passed away September 2019
We adopted Jodie 4-26-2014 and from day one she was a sweetheart – she fit right in with an older GSP and a young Doberman. We took obedience classes together and she passed them all. Her favorite thing was to come to the office with me and visit with the customers. She earned a certificate from Therapy Dogs International and visited the local hospitals and libraries doing reading to the dogs. We talked to the kids about rescue and that she did not have her girlish figure anymore. When Lunamarie the GSP passed away she was in full swing doing therapy dog work. She loved to wrestle with the Doberman, she could outrun him around the tight corners. When the Dobie passed away the first part of this year, a Husky came on board – Jodie was not too sure about her, but one day she came up and whacked the Husky on top of her head and started the crazy wildness! They had a wonderful time. Jodie passed away this last September – it was a shock because she did not act like anything was wrong. She stopped eating and before we got to the vet's she was gone. Her photo shows her visiting the people that fought the fires in Big Sur – she was very friendly and popular. We miss her so much, words can not express how much.
-Dana Walker
---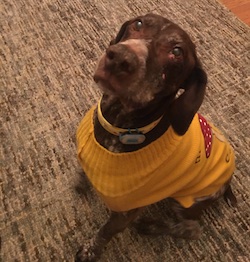 Lucy, formerly Suzy – passed away November 14, 2019
It is with the heaviest heart that I tell you the tumor got the best of my girl last Thursday. My heart aches, I miss her sweet face, her funny antics and how she laid on top of me in the morning digging her elbows into my chest as I gently squeezed her lips and scratched her chin. She loved that. The mornings have been the hardest, I turn in circles because I have no routine. And the house is SO quiet, the silence is deafening. For the last few days I am just pretending she is still here. I even put my bowl on the floor for her to lick after I scrambled my eggs. I told my friend yesterday I guess I have to get used to going to the bathroom by myself now too.
My vet tried so incredibly hard to save her as Lucy just laid there head held high looking into Dr. Kelly's eyes with full trust and courage. They are both angels in my book. I feel blessed that you all trusted me with her to begin with. We had such a good time together. The night before she passed I was reminding her of all the beautiful places we went, all the nice hotels she stayed in and all the friends she got to sit on top of.
I loved that little dog. She was so excited last week because it was finally sweater weather again. I pulled her sweater out to put it on her and she turned a circle (like circus poodle, she did that when she was happy) it was so adorable. She left a paw print on my heart for sure.
I will not wait as long to fill my life with another one. I just need a few months to mourn and honor her. But I am well aware that I am much happier and healthier with a GSP by my side. I actually already looked at your site to see who was available to love me.
I will be making a donation in her name too. Thank you for all you do, please keep me in mind. My friend called me crying over Lucy on Friday, she asked 'please do not adopt an older dog next time' but I probably will. It was one of the sweetest years of my life.
-With love, Kimmy Carter
---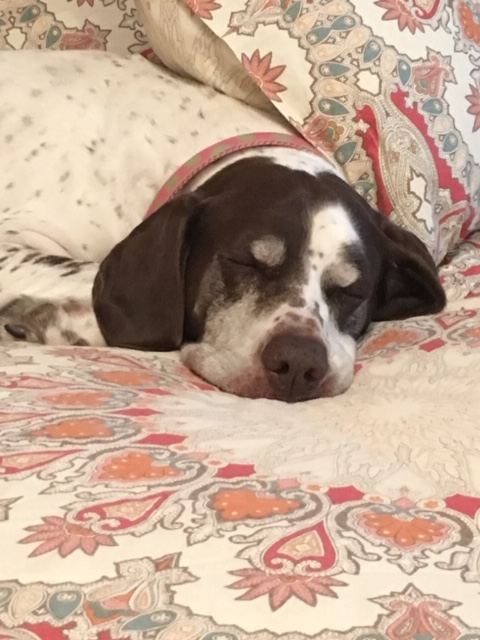 Coco – passed away November 1, 2019
This is so hard for me to write, but I had to say good bye to Coco my companion for last 12 years. On November 1, we said good bye at home in her favorite place right in front of the window with the sun shinning in. She was the most amazing dog, such a fighter with both bouts of Cancer, and she never gave up. She was loved by everyone who met her, she was gentle, loving, and such a cuddle bug. Her favorite things to do were chase/stare down the squirrels on the back fence, go for walks downtown, and go to the dog park. Often times I was asked is she a greyhound because she could run so fast. She loved to ride in the car with her head out the sunroof and then there was all the attention she got because of that.
I would always say she should have been a model, she had long legs and big lips, and oh so beautiful. She didn't mind dressing up for the holidays, she was just a love.
We had a few foster GSPs over the years and she was like their big sister, always teaching them the ropes, how to get treats and a little extra lovin, oh and how to sneak into the bed when no one was looking (they were always on the bed when I got out of the shower).
My house is empty and she is missed everyday. Thank you for allowing her to be in my life. She was the best dog I have ever had.
-Kim G.
---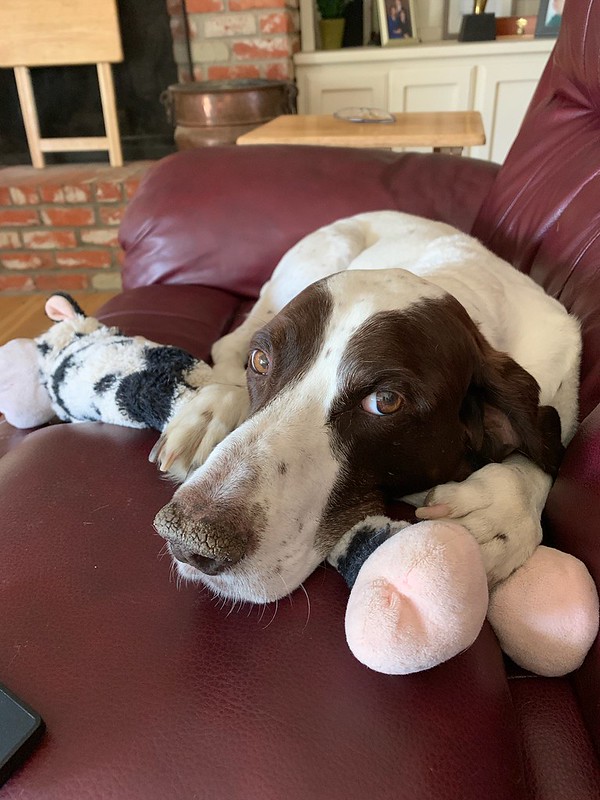 Patch – passed away October 30, 2019
Our adopted boy Patch was having problems, then he would come out of it, but the last few days, he was not well. He had surgery today and they took his spleen and a tumor. He was recovering nicely, but he was weak. He passed away this evening. My heart is hurting as he was my lover boy. We had him for about 10 years. He was our very first foster.
-Charlotte and Al
---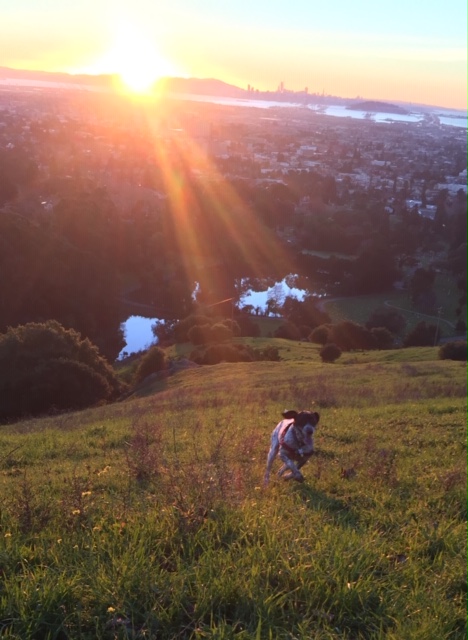 Layla – passed away October 2019
In a word, Layla was delight. She loved everything about life, especially critters. Rather than chilling with mom on the couch to watch television, Layla preferred to patrol the yard. She would sometimes just sit right outside the back door on high alert. Her love and sweetness was abundant, sometimes a little too much for people meeting her for the first time, as she was so forthright with her attention and affection. Layla was an amazing hunter. I once watched her wait for a rat to run between the two backyard fences, she reached in, grabbed him and you know the rest of the story. She was a talker and she loved her routine, she always let me know when I deviated from the way the day was supposed to go. Even when given 2 years, and then only 6 months to live, she never even gave it a second thought. Layla continued to live life with gusto. She had finally received the love and life she deserved, she wasn't about to give it up. Eventually the slow-growing cancer overcame the efforts made to hold it back. Her last event before passing was engaging with a squirrel, the only way to exit for a GSP!
-Serenity
---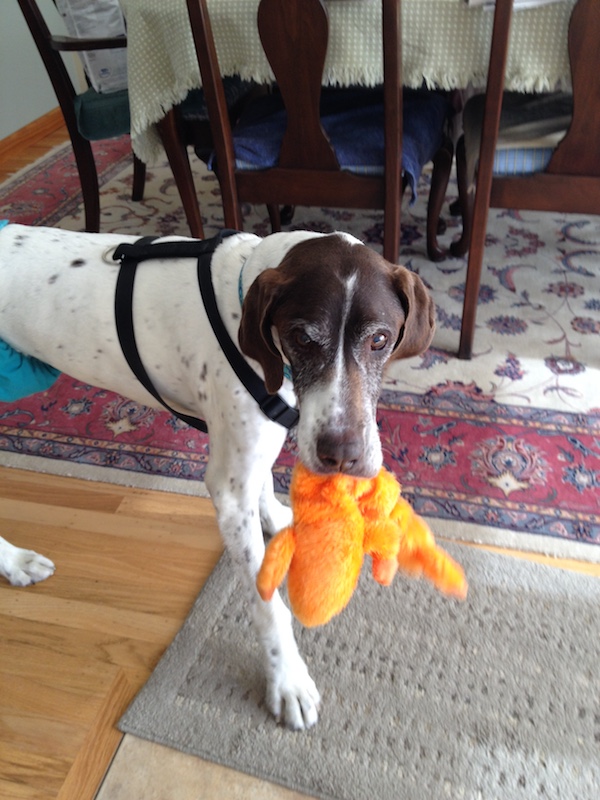 Pinto – passed away October 2019
Pinto came into rescue as a likely neglected, very weak dog but in true GSP style he was determined and powered forward such that in a few short weeks he was able to enjoy long walks and chase after our Sarah as she retrieved a ball. Even as his medical needs increased and his eye sight became very limited toward the end of his life, Pinto seemed to enjoy walking through our orchard and sniffing here and there. He also never lost interest in trying to locate the indoor cats. Such a great nose! One of my fondest times with Pinto was rubbing his head at night as he settled down on his bed. He seemed to really enjoy the massage as he went to sleep. To say the least, we will miss the gentle giant Pinto.
-Mary B.
---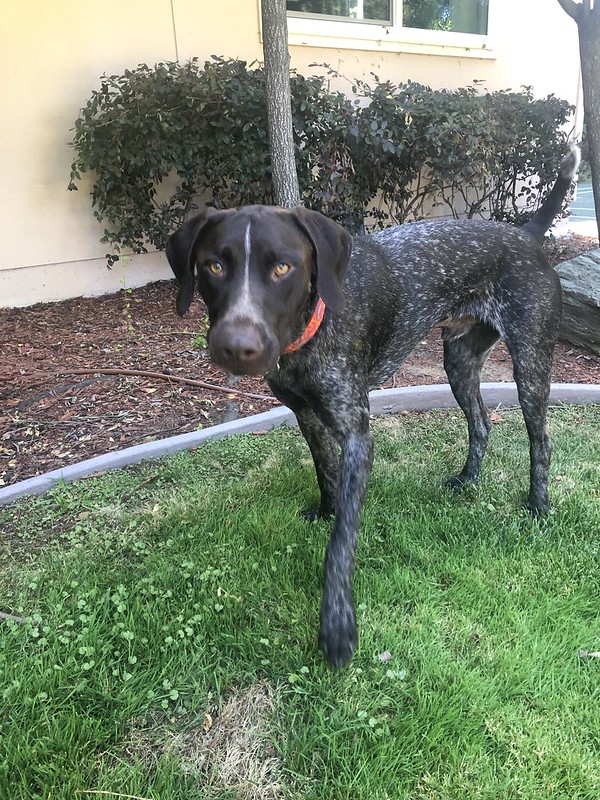 Ayden – passed away September 2019
Ayden was beautiful inside and out, and was with us all too short a time. Each foster home and volunteer who cared for him fell in love and could see his potential. We wish we had found Ayden sooner, but are grateful we could give him the love he deserved for the time he was in our care. Rest in peace, Ayden (aka Rocco/Rocky).
---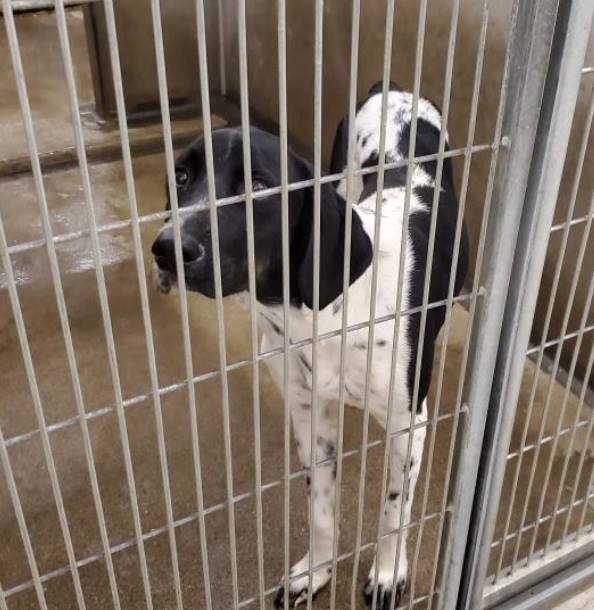 Podrick – passed away September 2019
We're so glad we could rescue you and give you a fighting chance. Rest in peace, Pod.
---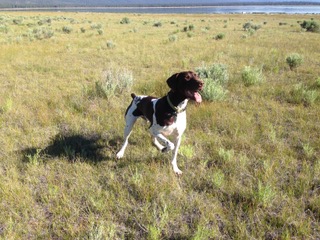 Kato – passed away August 2019
It is with deep sorrow that I announce the passing of our Kato (formally Romeo, adopted 2012). We were fortunate enough to have adopted him and have him part of our family. Kato was a " gentle giant." He was shy and subdued when we brought him home, but we were fortunate enough to watch him blossom. He still remained shy with strangers but always did open up to them and was a kind gentle dog until the end. Two years after Kato joined our family he started having head tremors, then eventually had Grand Mal seizures. After numerous tests including a MRI, ultra sound, etc… it was discovered that Kato had Epilepsy. We also discovered he was older than we thought due to what showed on his lung CXR (you never would have believed it anyway as he was always so full of energy!) At least the mystery was solved…we all felt, no problem, just a little adjustment. He now had his own Neurologist and was started on medications to control the seizures. The only sad part was, he wasn't allowed to swim at the lake ( in case another seizure started) But that didn't stop him, he still kept with his adventures, this time running in knee deep water chasing balls, hiking, chasing gophers, rats or any large bird that made the mistake of landing in our yard. Through the years, his medications needed to be adjusted, he made many friends at the Vets office. One of his favorite past times in our yard, was to stand on the bridge and look into the Koi pond and watch the fish. This eventually spilled over anytime we took him on an adventure near a lake or pond, he would then stand knee deep in the water and slowly walk around and watch the fish. Because, you never know…one might just jump out of the water!!! The years passed, life has been good for Kato and us as well. He gave us so much joy, just to be around him. I cannot tell you how much he was loved. He had a bed in our bedroom, our daughter's room, the kitchen, living room and the truck. So many choices to take a nap. Did I mention his toys? Last year when we were on vacation up at Eagle Lake in Lassen, Kato had problems with his bowels. This prompted an emergency visit with a Vet in Susanville who diagnosed him with Megacolon. We quickly left for home, back to his ER vet and thankfully he was out of the woods, for a while. Kato was diagnosed with severe Fibrosis in his Cecum and was given a guarded prognosis. We thought we had lost him last summer, but with his new Gastroenterologist, medications x3 / day and special food…he was able to live one more year until the disease was too much for him. He passed peacefully, all his favorite people were with him and his favorite Moose toy. We are still adjusting to not having him with us and the so very quiet house. However, we will be forever grateful that we were able to share our lives with Kato and hopefully, he is in Heaven running free playing with all the other GSP's…off leash, of course. To all the volunteers at NorCal GSP Rescue, thank you for everything you do in saving these wonderful GSPs. After our time of grieving, we now know we will be looking forward to adopting or fostering another GSP. – Tom and Diana
---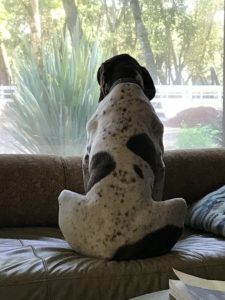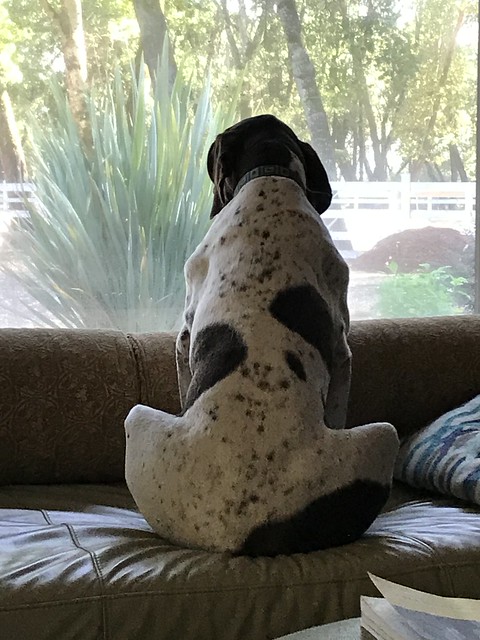 Louie – passed away May 2019
Louie was about the most special dog I ever had. He was unique in every way. He and I had a special bond that will last forever in my memory. I was only blessed to share his last year of his approximately nine years on this earth but I cherish every minute.

I first met Louie (formerly Elmer) around April 13 of 2018. I had just finished fostering Henry (formerly Henri, with the dislocated elbow) and getting him adopted. I wasn't ready for another foster but when I read his story and saw his picture in NorCal GSP Rescue with his frightened eyes, I just knew I needed to foster him.
We gave him his own dog bed in our bedroom and he slept well with the other dogs but was still very reticent about getting too close to us, especially my husband. We soon determined that he would never be fond of men as he barked at every man that came near him. He could be intimidating with that bark and the look in his eyes was wary. I had to be extremely careful when people came to our home. My son was so disappointed as he really wanted Louie to like him but it just never happened. He eventually learned to tolerate my husband and even let him pet him, but only if Louie decided it was ok.
After about three days of this, I swear Louie just looked at me for a moment, something clicked in his brain, and he decided I was his safe person and he acted like a Velcro patch with me from that moment on. He just didn't want me out of his sight and I even had to change the side of the bed I sleep on so he could be near me at night.
Everything went well for a few months until the beginning of August when his lymph nodes enlarged. I took Louie to the vet and after blood work and a biopsy, he was diagnosed with lymphoma. The prognosis with this cancer is very poor and it's treated with steroids and chemotherapy. If not treated, Louie would probably been gone within 30 days of diagnosis.
My husband and I decided on chemotherapy knowing that it would give us 6 months to a year more with Louie. He tolerated the treatment well but never did get into a complete remission. His last chemo was in November of 2018 and he was kept on prednisone daily afterwards. He was ravenously hungry and thirsty on the pred but I knew it was giving him a little more time.
We wondered how the end would come for Louie and I hoped it wouldn't be uncomfortable or painful. In fact, I don't think it was painful for him at all but when he was at the end it happened very quickly. I had taken him with me to visit my mother and I think the trip was hard on him. It was a three-hour car ride each way. She has a grassy lawn and we were there three days total. We came home and he developed a rash on his legs and his tummy after I got home on Sunday night, April 28. The rash looked a little better on Monday morning but by Tuesday morning I decided to take him to the vet to have it looked at. Dr. Goh thought it could be a reaction to the grass. She gave me some antibiotics and gabapentin for the discomfort. I took him home and on Tuesday night he ate a little bit and went to sleep. Wednesday morning he wouldn't eat and by Wednesday afternoon, he passed peacefully lying on our cool floor with me by his side.
I had him cremated and will bury him next to our other dogs in our memorial maple and dogwood tree garden next spring. His tree will undoubtedly grow the largest! – Sheri
---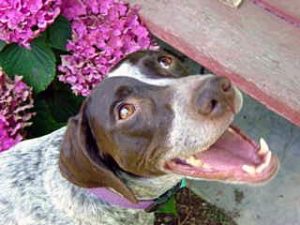 Vera – passed away June 26, 2019
Vera passed on June 26, 2019, about 3:45, in her favorite chair, at home. Estimated to be 15/16 years of age. A great friend and companion, she always wanted to be where the people were. It was easy to forget she wasn't a human. Her favorite things were lying in the sun by the back door in the morning, thrashing through the bushes in the back yard chasing scents, avoiding the lawn entirely, her Kong toy (especially when I filled it with cold cheese tortellini) and meeting other dogs.
One of the funniest memories I have of her was the first day I brought her home. I didn't know she was an expert at slipping her collar… I decided to take her for a walk around the neighborhood… got to the driveway and she spotted two ducks on the lawn (yeah… don't ask), spun around and yanked, next thing I knew I was holding a leash with an empty collar, and she was chasing two airborne ducks. I thought "great, you have the dog for 30 minutes and she runs away. They'll love this." I got in the car, and found her at the end of the street when I pulled around the corner… the house had a tight juniper hedge, groomed to border the sidewalk. Apparently they included a wiggling dog butt in the design. Half of her was in the hedge, the other half standing on the sidewalk, I assume there was a bird or a rat or something in there she was after. I walked over and tapped her on the butt… she backed out of the hedge and looked at me like, "oh, hi." Then she saw the car sitting there and ran over and jumped in, ready to go back home, like this was just everyday stuff for her. The guy that lived there must've loved the hole she left in the bushes… I should have paid more attention when her foster mom told me she spent three hours trying to catch her over at the beach the day before. She's left a hole in my life.
– Ron
---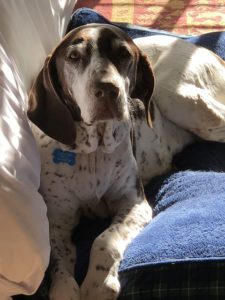 Juanna – passed away May 19, 2019
Juanna, nicknamed Tilly, came to the Rescue a mess. She had been rescued by a Good Samaritan after Tilly, a sick, malnourished senior stray reduced to scavenging around a dumpster, warmed her heart. The Rescue and her foster home stopped at nothing to make the remainder of her life pain-free, with a cushioned bed of her own in every room, a daily walk, unlimited amounts of yummy food, lots and lots of treats and all the love and attention she could possible want. She was an incredibly sweet dog and saw everyone and everything as a friend (except birds, of course). She never barked. She also never passed up an opportunity to demonstrate her affection. She was such a beautiful soul and has been missed terribly.
-Brian, Heather and Tucker
---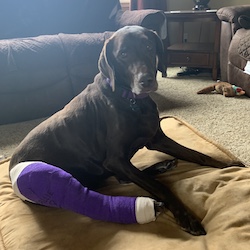 Callie – passed away week of March 25, 2019
We wanted to let you know we lost our sweet Callie last week because of a broken leg due to cancer. We adopted Callie almost three years ago and she was the perfect dog for us. She taught us how to be empty nesters. She enjoyed backyard hunts with her dad and after work walks with her mom. Most of all she loved snuggling on the couch and getting her scratches. She was our constant companion and we will miss her.
-Amy and Fred Hawkins
---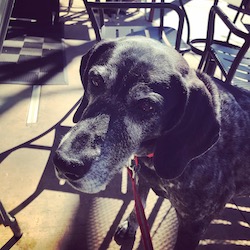 Black Betty (formerly Rita) – passed away March 9, 2019
This weekend we had to say goodbye to Betty. She came to us from NorCal GSP Rescue. We named her Black Betty after the song by Ram Jam because she was the recessive black color, not the typical copper brown. She has the softest ears like a seal pup. Our first meeting she stood straight up on her hind legs and looked me in the eyes and smelled my breath but never touched me. She was a beauty and we took her home not knowing how much she would become a part of our story.
We came to understand why the rescue insisted someone come out to inspect our yard and then proceeded to kick every inch of our fence to make sure it was sound. She quickly lived up to her name. Within 30 minutes of leaving for work the first day, I got a call that she had jumped our 6-foot fence and was sitting in the neighbor's truck ready to go for a ride. Another time she jumped from my sister's car window while parked at a gas station so she could chase the light rail train and proceeded to lead a slow speed chase while the San Jose Police Department tried to help retrieve her. The three police cars stopped when she ran down a driveway . . . her own. She watched over one, then two and finally three kids we brought home from the hospital and loved the transition to solid foods more than they did. She put up with ear pulls, paw holds, and attempts to ride her gracefully with only ever a little warning bark to tell them to cut it out. She was a counter cruising, couch sleeping, escape artist we loved with all our hearts.
We will miss her soft ears and her brushing against our legs as she walks by. We will miss her cleaning up all the food we didn't realize we dropped. We will miss hearing her get on the couch at 10 pm after the lights go out and getting off the couch at 6 am when our alarms go off. We will miss her love of squirrels, birds, and trains. She stopped running long ago but seeing her best a greyhound will still bring happy memories. I hope she is chasing those two chickens she caught before we could stop her in a heaven full of trains squirrels and couches.
-The Laine Family
---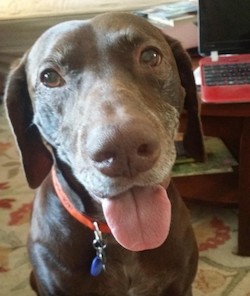 Bandit – passed away February 18, 2019
Today we said goodbye to our sweet dog Bandit. It's never easy saying goodbye and this was especially hard because from the first day I met Bandit, we had a strong connection immediately and he has been very special to me for the last almost 6 years. At our first meeting, he came up and sniffed me and then brought me a toy so that we could play fetch (something he loved to do until the day he went to the hospital).
When we adopted Bandit (at 6 years old), he was a bit of a mess. He had just been cured of very bad mange and had no (to little) hair around his eyes, on his chin, and under his belly. He also had a very bad ear infection. We knew he was going to take a little work but we didn't know just how much work! After we cleared the ear infection up we found out that he had a lot of allergies! So we started to treat that and then he started to have seizures! After an MRI, body scan, spinal tap…it was determined that he just had late onset epilepsy. Of all our rescues…he has been the one with the most pills-16 a day!
He had internal bleeding from cancer that had also spread to his lungs … but in true GSP fashion, he never let on that he was sick until it was really bad. Within 16 hours of taking him to the vet, he could no longer stand and his red blood cell count was at 19%.
Even though he went through a lot in his life, he was always the sweetest, happiest, loving dog who loved a good adventure every day (even if it meant just driving out to the mailbox!). He was also a master negotiator…he would "talk" to you if he wanted something and he always knew when to "apologize" for taking the oven mitt off the counter. And he was also a great big brother to his sister GSP, Zinga, teaching her how to play and also teaching her a lot of bad habits and how to get away with them!
Bandit's last months were filled with fun adventures running on the beach and participating in the Polar Plunge, running in the snow at our house in the country and taking a "boys trip" out to eastern Oregon. He especially loved climbing into my lap to nap or pawing his way under the covers to get warm and cozy at night.
And that's how he passed … on the couch under his blanket with his head on my lap. RIP Bandit. Run pain-free and see you at Rainbow Bridge.
-Diane & Jim Coward
---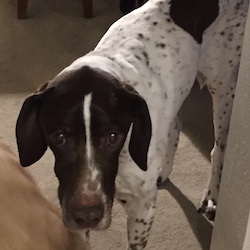 Duke – passed away December 28, 2018
My husband and I wanted to let the rescue group know that "Duke" (adopted Dec. 2015) has been a loving and wonderful companion, and while he has been in hospice care for over the last year the hard decision has come. Duke was the sweetest boy and always seemed to have his head against us. He enjoyed playing with his soccer ball in our backyard.
-Denise & Mike Sanders
---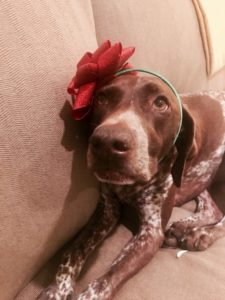 Daisy Mae – passed away December 2018
With extremely heavy heart I wanted to let you know that I had to say goodbye to sweet daisy after over three years with her. She had a tumor on her spleen burst which turned out to be cancerous. We underwent emergency surgery and she was with me and happy for two months following surgery. She had a great adventurous life in Mill Valley and tons of tahoe trips. She loved trail runs off leash, chasing balls in oceans and lakes, and stealing my clothes to lay on every time I left the house. She was quite a character, was my body guard following me wherever I went in and out of the house, and is dearly missed.
-Kristi Appleby
---
Axel – passed away November 2018
I am writing to let you know that Axel has passed away. We adopted Axel from NorCal 6 or 7 years ago after he had been in foster homes for 2+ years and you were getting desperate to find a home for him – mostly because he did not get along well with other dogs. At first Axel could become a neurotic mess, mostly when outside and overstimulated. He could wear a trough in the ground from repeatedly running back and forth over one track. It did not take too long however for him to discover that he was no longer confined to a fenced yard and he began to open his mind to the stimuli in his surroundings. I remember how delighted he would be after a snow when the sun would come out. He would race around under the willows chasing drips and bits of falling snow. Yes, he remained a neurotic goof for several years, at least in my mind an idiot savant. At some point in Axel's life someone got him into the habit of going outside after they put their socks on. Axel has been gone now for a couple of weeks but I still walk around in the morning carrying my socks, delaying putting them on till I am ready to address the energy requirements of an excited boy. Though Axel became a part of the family immediately, his acceptance of our affection continued to progress at a slow pace. Only in the last couple of years did he stop leaning away from hugs, finally getting over the discomfort of accepting overt attention. From all outward appearances, up until his last week, he acted and appeared to be perhaps 5 or 6 years old. He had no grey hairs, no tired eyes, no lessening of his steady 16mph easy gait. Every morning I would get my health check, an in-depth analyzing of my breath, and have confidence I was good for a little bit longer. In the end his heart grew in size and became very irregular. My family and I would like to thank NorCal for the guaranteed laughter he gave us every single day. Every minute spent in his life has added days to ours. We will most certainly adopt again, though how soon we are not yet sure.
-Delmer Cox
---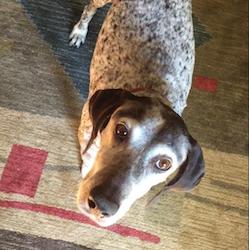 Ruth – passed away November 24, 2018
I'm convinced that Ruth found us . . . A friend of a friend followed a dog rescue in Sonora CA that I became aware of through social media. I started following them. Months later, a courtesy posting with Ruth's picture appeared. She was beautiful! The owner was moving and could not take 11-year-old Ruth with her. Ruth was to be euthanized in just a few days if she didn't find a home. I decided I needed to help her. Never did I think we'd grow our family from 2 to 3 large dogs. But I had to help her somehow. I immediately began searching for a local rescue and found NorCal GSP rescue. I contacted them and within a few hours they said they would rescue her, and asked if we would be able to foster her. I'd never fostered before but agreed. I needed to save her.
Arrangements were made with the owner to meet halfway for the transfer of Ruth to me and my partner Tom. Apparently, she had rarely been in a vehicle so we hoped there would be no issues. She didn't hesitate to get into our car. She was calm. She put her trust in us immediately. It was like she knew she was going home.
We went through the process of health checks and soon learned she had heartworm disease. The treatment regime was complicated, but we were up for the task. We also learned Ruth had no house training, knew no commands and had probably never been inside a house. We had to teach her how to walk through an open sliding glass door! She learned many things quickly. Within about 6 months, she was heartworm free. We adopted her. Was there ever any doubt?
Our experience with many larger dogs is they rarely live more than around 13 years. We expected maybe 2 good years with Ruth. Ruth was 15 years, 6 months old when she passed. We had 4 years, 6 months with her!! But it still wasn't long enough. She adored us as much as we adored her. We loved watching her do GSP things. She loved her long walks, chasing the squirrels, bees, anything moving. Once she was an indoor dog, she'd cautiously look out the door to check the surroundings before venturing outside. She always looked for me when I left the room. She always wanted to be with us.
We miss her so much, but we're so much better because of her presence in our lives. Ruth died in my arms. I wouldn't have had it any other way. It was the least I could do, considering everything she gave to me.
-John Holmes & Tom Connell
---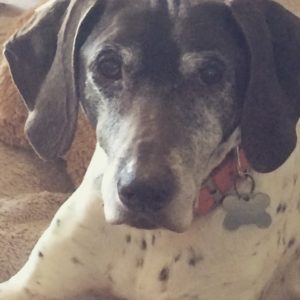 August – passed away November 14, 2018
Augie was a senior dog when we adopted him, at least 10, but with the behavior of a dog much older, and we guessed having lived outside or on his own for a good period of time. He had an eye injury and was neutered just before he came to us, so he was not attractive or a happy camper and our GSP, Fielder, was not into being a friend to him. We brought him to an adoption fair, and all he wanted to do was sit on us, as we sat in camp chairs. He wasn't very attractive to adopters.
With food and warmth, we coaxed him to come inside, but he was always so awkward, not knowing where to go or where he belonged. He only knew he wanted the softest, warmest spot. At my office, that was ON my desk, next to my computer (for being 10 – no shortage of spring). He gave HUGS, which we trained out of him as it was not appropriate for guests! We thought maybe he was blind; his shooting through the needle of our open sliding door proved otherwise. We thought he might be deaf; his perking up with the opening of the treat jar, or a clap (a "come" command) from another room, proved otherwise. He NEVER barked, only in his sleep. And then in his last months, he would bark to correct the puppy that would chew his ears trying to get him to play.
He would never complain, whine or "go" in the house. He always wanted cuddles. He always wanted to go farther than you'd take him so you had to have him on leash (or be prepared for a 10-mile XC run). He never gave up, just insisted we carry him up/down stairs, and without a bark or a whine, got us to hand-feed him in the end.
We will miss his quiet blinking tremendously. I'm so glad we had the chance to love him and get his love every day for how long we could.
-Michelle and family
---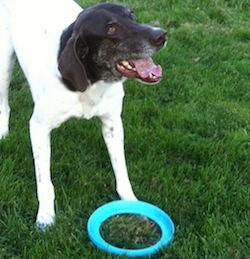 Sancho (formerly Spot) – passed away October 25, 2018
I lost my beloved Sancho on October 25th and life will never be quite the same again.
I didn't choose Sancho. He chose me – by jumping in my forerunner at the end of our first visit. "Time to go home!" he seemed to say.
Sancho taught me the true power of devotion and love. He came as a rescue with a bundle of anxieties and misbehaviors. Separation anxiety cost me many hoses, carpets, and other assorted objects – as well as my sanity! He never quite outgrew it, but it improved, as did his fear of basketballs. It took us years to bond, but in the end, he was the best of companions.
Sancho was Mr. Personality! He was known as "the neighborhood dog" and had trained my next-door neighbors to give him cookies whenever he would trot down and bark for them (which was several times a day!) His favorite thing was chasing the Frisbee, which had a hole in the center where he could put his head through. He also relished chasing dragonflies, hunting moles and had a love affair with a squirrel at the local park. The beach, where in a nanosecond he was a speck on the horizon, was the place he loved most.
I will miss the requisite belly rubs, his head in my lap in the mornings, having to stop constantly to smell bushes on a walk, seeing him contentedly laying in the sun and coming home to his wagging tail on my front couch – and plenty of kisses.
His loss is great, but his love was greater. Until the Rainbow Bridge, my friend. Rest and know I love you.
-Christine "Sancho's mom"
---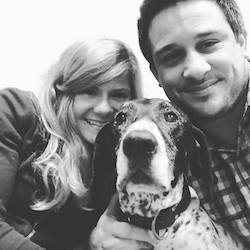 Bennett – passed away October 8, 2018
Said goodbye to an amazing friend today. We'll miss you Bennett. You got us into a ton of fun and helped us learn a lot about ourselves. Thank you. We had some great adventures and we'll never forget you. We'll see you in another life. RIP Bennett ❤️ We fell in love with Bennett the moment we met him, we rescued him at 8 years old and had 6 amazing years together. He was the easiest dog to love but the hardest to say goodbye to 😢 He'll forever have a place in our hearts.
-Joseph & Allison
---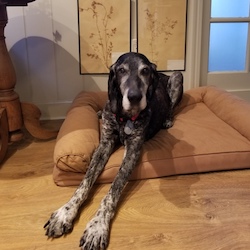 Ace – passed away September 4, 2018
It has been a really sad time for us as we lost our sweet Ace on Tuesday. We had been treating Cushing's disease and last year he had a malignant Melanocytic tumor removed from his mouth. Even with these issues, he persevered and beat the odds.
When we adopted him at 14, we thought we would be lucky to have him a for year, but we were blessed as it turned out to be 3.5 wonderful and unforgettable years. 17.5 years old is really off the charts and probably a gold record holder.
Thank you for allowing us to make him an integral part of our family.
-Brandon & Richard
---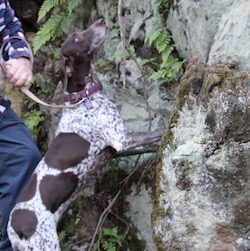 Princess – passed away July 22, 2018
Here is our Princess, always enjoying the outdoors, hiking and pointing. Our hearts will always hold a special spot for this girl. She was the best dog ever. RIP 7/22/18
-Garret B.
---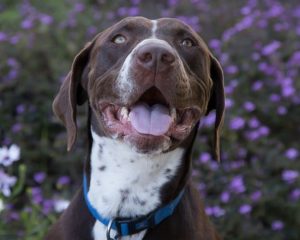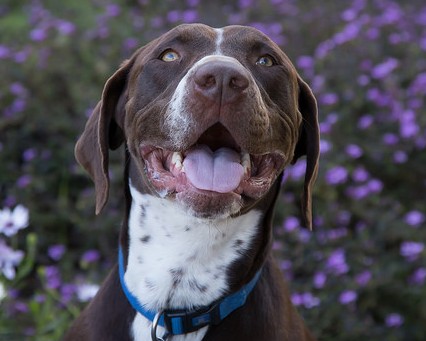 Tyler – passed away June 24, 2018
Tyler had such a presence. The true definition of a handsome, nimble, and instinct driven dog. Literally would fly up our stairs with out making a sound, leaving you wondering where he went. Although a mix, he was pure GSP when it came to our backyard and squirrels and the local fox family living in our neighbor's yard. Such a fun thing to witness, his pure joy at being in nature. He truly was just pure love, when comfortable and at home with our family. Would lay and even sleep on his back, fully relaxed and submissive and eating up any attention given to him. He was all love at heart, and a true beauty.
---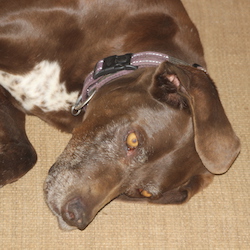 Chuck – passed away June 2018
Chuck came into our lives in November 2007. He wasn't very domesticated when he came to us. Close as we can figure, he was a ranch dog who never came inside until he was rescued. And that certainly showed! But he learned about being a family dog: patient with children who wanted to touch his nose, loving, loyal beyond anything. He had an amazing passion for bread products. Truth is, when we left hamburger and the buns on the counter, he'd take the buns and eat them all. He loved his family fiercely, and his GSP brethren Tracker and Ollie. Every family should be blessed with a Chuck. Our best guess is he was about 16 years old when he left us. Rest now. You are a super good boy.
Ann & Vince
---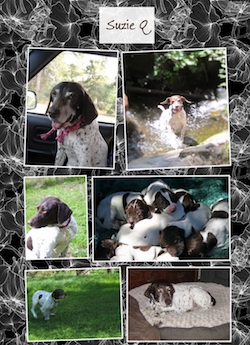 Suzie – passed away July 2, 2018
I accidentally came across petfinder.com while getting shelter information for my sister. I wasn't looking for another dog, but I typed in "german shorthaired pointer." Several listings came up, but one really caught my eye. I saw a scared little girl in a big chair. Her story went something like this: "My name is Suzie. I'm fat, my nipples hang, the breeder was going to euthanize me because he didn't want my puppies. I'm 3 years old and I already had 3 litters. I was mistreated……."
I felt so bad for her and wanted to help her, but she was way down in Fresno. I contacted the shelter anyway and they told me that she had been rescued. I found NorCal GSP Rescue and asked if they had Suzie. They said they did and she just had 8 puppies! I adopted Suzie a couple of months later.
Suzie was very shy, but she also had a goofy side that reminds me of Snoopy. I actually dreamt that she was tap dancing on stage with a top hat and cane. I always laugh when I think about that dream. I miss her so much, but I know that she's not alone. She's now running free with her friends Eddie, Sadie, Case, Annie (aka Vera), Rock (aka Jed), Dottie, Cyrus, Max, Rosie, Buffy (aka Lassen), Addie, Lorelei, Courtney, Rogue, & James Von Miller.
-Be back, little girl. MMM
---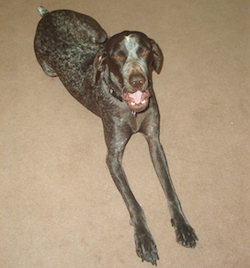 Hope – passed away March 9, 2018
I am sad to say that our sweet Hope passed away on March 9th, 2018. She was eighteen years old. She was such a goof ball. Loved riding in the car, in fact she would jump in anyone's car if they left the door open. She loved to run and enjoyed her walks and of course her food. But most of all she loved her people. The last couple of years she slowed down, yet every once in a while she would take off down the street with us giving chase.
Then she would lay on the couch to rest. She was a great dog and I miss her.
-Linda R.
---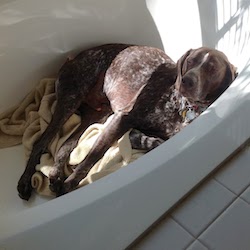 Miles (formerly Andretti) – passed away May 2018
We are heartbroken at having to say goodbye to Miles. We had him for 10 fun-filled years and to this day, it's still hard to believe that someone didn't turn over every corner of the earth to get him back.
He was an incredible dog and we were so lucky to have him in our life. One of his aunts described him as having a "big personality" and he truly did, along with a big heart and generous spirit. He loved napping in the bathtub, retrieving just about anything that wasn't nailed down and like a true pointer, chasing squirrels. Caught a couple, too. He was an awesome friend to all the fosters that came through our door – he played with the ones that could and cuddled with the ones who couldn't. He was the very best big brother to Otto; playing, sleeping and swimming together. We all miss him so much!
-Priscilla & Phil
---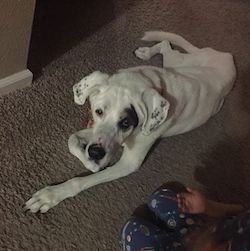 Emmett – passed away May 29, 2018
Hello, I wanted to let your group know that we lost our boy today. He was adopted from your group at 6 weeks old; found as part of a litter near Porterville which was all euthanized. Our Emmett saved himself by hiding and then pointing at his water dish when pointer rescue came to get another dog from the shelter. He was with us for almost 15 years. He was the best boy, jogging buddy, and best friend to our two sons. We will miss him forever. We had to make the hard choice to put him to sleep due to a hemangiosarcoma which had spread to his lungs and liver. We thank you for being able to have him in our lives for the time we did.
-Meridith & Matthew Yeoman
---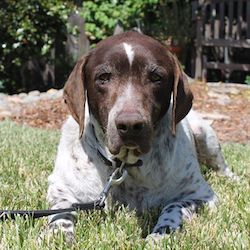 Patterson (formerly Magoo) – passed away May 17, 2018
Dear Patterson,
It is with sad hearts and deep regret that we said goodbye to you yesterday our "big guy" and beloved family member.
Back in August of 2008 they all thought I was crazy when I thought we needed a friend for Lizzie. You had come to NorCal GSP Rescue group after an accident in which you got hit by a truck in Patterson, CA. The off duty firefighter that hit you and his people rallied around you and got you the help you needed to save your life. After losing your right rear leg they looked for your original owner but had no luck. When I saw your story on the rescue group page I knew we had to meet you. Instantly we feel in love and knew you would be a good match for our Lizzie who also is a tripod.
You arrived in our home with an unknown past. You were a sweet and innocent guy. You were full of life, unconditional love and affection. You always had a smile on your face and a wag in your tail. Lizzie welcomed you as her new best friend. We always told people we had a dog and a half since the two of you together only had 6 legs. You made the perfect pair.
You filled our hearts and home with so many memories over the last 10 years. Planting a tomato bush in an accessible spot was a silly idea once you came around, as you thought tomatoes were balls. I remember the first time you howled as a siren went bye. We thought you were a hound dog not a German shorthair pointer. Your love for popcorn was endless. Then there were those times when you would get reprimanded by Mike and you would wait until he least expected it and pee on him. This always caught him off guard because you could do it so slyly without having to lift your leg. You had a thing for leather. We will never forget the night that we returned home to find Mike's brand new pair of shoes you so proudly left at the front door for us. When it came to the many pair of shoes you ate, you would always eat the left shoe and leave the right untouched.
In September of 2011 you were saved yet again after we found you in a lifeless heap one afternoon in the backyard. After an Emergancy trip to the vet it was discovered you had Addison's disease. Never once in the last 7 years did you ever complain that you had to have a daily pill and a monthly shot to keep you alive. Thank you for teaching us about living live to the fullest and to never take for granted a single moment. You were such an inspiration!
In the recent weeks we still got puppy kisses and lots of tail wags but you showed us that your body was starting to get tired and run down. We had some hard decisions to make about your health. It was sad to watch you be so uncomfortable daily. We knew no matter how hard we tried that the day was coming when we wouldn't be able to save you once again. Deep in our hearts we knew it was your time to be free. Free of daily pills, free of monthly shots, free of pain and to be able to run free with all your legs again. You lived the good life as far as dogs go. We will never be able thank you enough for giving us your all, and loving us unconditionally, we will miss you always. We are beyond grateful that the Rescue chose us to be your family.
Goodbye our handsome guy… If love could have saved you, you would have lived forever.
Jennifer & Michael Gile
---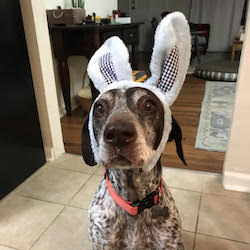 Buckley – passed away April 2018
We are saddened to share that last week Travis and I gained a guardian angel. Buckley (Class of 2016) had two very spoiled retirement years with us (though it seemed like many more) before losing his battle to nasal tumors/cancer at age 11. He loved his routine, long walks with me, grass, tennis balls, "playing lacrosse" with Travis, treats, and naps in his adopted blue armchair. He taught me so much about love, patience, care, and compassion. He gave me a heart for senior pets (the best!). We are so grateful for his rescue from Sacramento SPCA, his fostering by Catherine and Mac, and local friends Janie and Geoff. I can't imagine our home without my little buddy — he left paw prints on my heart. We love you Buck!
-With thanks and hopes to adopt again one day, Corinne
---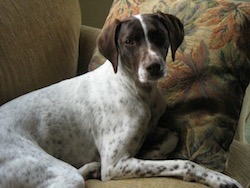 Delia – passed away March 28, 2018
Delia was our much loved companion for fourteen years. She ran like the wind and brought us constant amusement and joy. In typical GSP fashion she had her quirks. She hated walking on grass and would only go on the edge of the lawn; yet never met a cow pie she wouldn't roll in. And why bother to point when you can climb the tree after that turkey?
Even though it seemed as if she lost her hearing as soon as that leash was unclipped and she ran ahead, she always circled back around to meet us. She's running ahead of us again but we're sure she will circle back when the time is right. It seems impossible to have a heart that is broken and full at the same time yet here we are.
Godspeed Miss D! We will never forget you.
-Bryn & Scott
---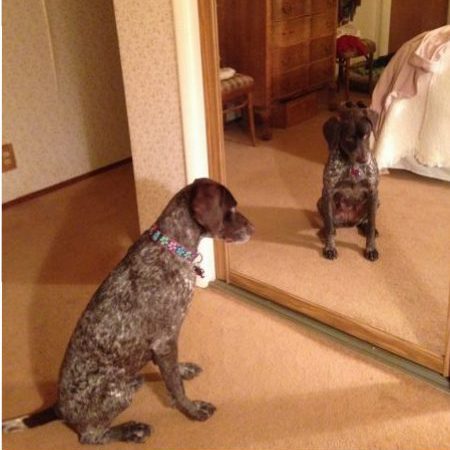 Baylee – passed away February 10, 2018
It was the most wonderful year (with Baylee), we had so much darned fun together, and as nutty as she could be, I loved her with all my heart, she was the pup who needed the most from a rescue-mom and it was worth every minute. It helps to know that I did my absolute very best to be a good adoption-mom for her, daily walks, shopping, runs at the cemetery, I cooked her food, she ate what I ate, veggies & high quality meat and even soup & salad, she loved it all. I never met a more loving dog and if we could find another with that happy, goofball personality, I would love to have her. Her trainer Chris Webb at PetSmart said that BayLee had that "helicopter tail wag" which is the happiest wag any dog could have, so that's some consolation. And now she can see with two eyes.
-Sherry
---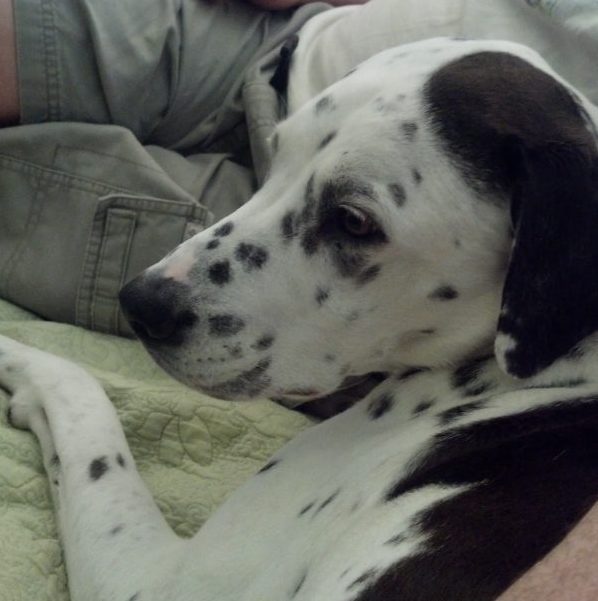 Emma – passed away January 26, 2018
Emma was a Dalmatian-English Pointer mix saved from a kill shelter by NorCal GSP Rescue. She came to us afraid of the world; she would start shaking at the mere sight of another dog or at the sound of the printer whirring. She suffered from fear-based aggression. But with lots of TLC and patience, she grew into a playful pest to her Weimaraner big brother, and a more secure and confident girl who loved the outdoors. Other than two four-legged friends, she didn't care much for other dogs or other people. Yet she was a sweet and affectionate companion to us. She loved to snuggle between us, usually taking up most of the sofa. We truly thought she might die of fright before her first birthday, then she lived to almost 16! She was a project, but we loved her and will always miss her.
-Peri & Brian
---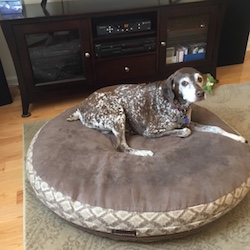 Skye (formerly London) – passed away January 4, 2018
Skye passed to Rainbow Bridge at 12:59 am on January 4, 2018 at home at the age of 11. I held her as she left me. Last year she was diagnosed with arthritis, benign tumors on her liver and spleen, and liver failure. Her vet and I kept her comfortable with medication but we knew it was a matter of time.
She was a gentle mellow soul and loved her people, her doggy friends, her yard and house. Skye loved walkies, treats and her many dog beds around the house. She groomed herself like a cate – she was the cleanest GSP I ever had. She was nicknamed "the princess."
Skye greeted everyone at the front door with one of her many toys in her mouth. Once you got inside she'd get you to follow her to the den and then stare at you to demand a doggy treat. I miss her bouncy walk and lying on the kitchen floor to eat her meals.
Some glorious summer day, she'll be laid to rest under the statue of St. Francis in her yard. She'll join the rest of my pointer kids, Charles Beauregard, Hannah and Rory.
I only had her in my life for about three and a half years – but every day that she graced my life was a gift.
-Catherine T.
---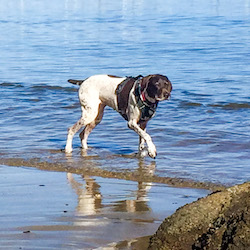 Lillian – passed away January 4, 2018
Lily was one of the happiest dogs I've ever known. The way she would perk up when she would see me or my husband—her big brown eyes would sparkle and her huge elephant like ears would fan out with her constantly wagging tail. She had a way of making you feel like you were the most important thing in the world and like she had been in our lives forever. We had so many great adventures together. We hiked in many dog friendly parks and had our favorite trails that she would zoom along forcing slow people to get out of her way, but she would always stop and check in with me to make sure she hadn't gone too far. We frequented many beaches from Big Sur, Carmel, Monterey, and Moss Landing with several in between. Lily glued herself to my side, following me everywhere in the house and was exceptional off leash outside. She loved playing with the ball, any ball, or just carrying one around and she even had one with her on her last day. I can't even begin to describe how much we miss her. She left an indelible mark on our hearts and we are so happy to have had her in our lives no matter how short it may have been.
-Kelly & Michael
---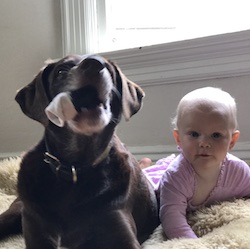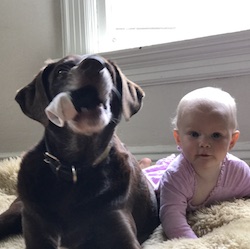 Cody (was Ben) – passed away December 2017
I wanted to let you know that our beloved Cody passed just before the holidays. He was 15, and had a wonderful life, passing peacefully in my arms. In his last two years we welcomed a new family member, our daughter Annalise and they became fast friends. I will always be thankful for you helping bring Cody into my life. I cannot imagine my 20s and 30s without him. We've made a donation in his honor, and will keep him and you in our hearts forever.
-Christian Buss
---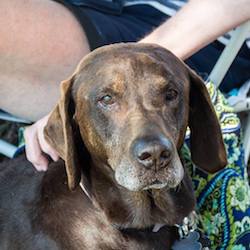 Lorelei – passed away November 19, 2017
I wanted to let you know that Lorelei crossed the rainbow bridge this morning. She woke up yesterday unable to use her back legs, by today it was clear there would be no improvement. Dr. Metzger was on duty, for which we are extremely grateful.
We've learned something from all our dogs, but Lorelei's lesson was particularly timely. She showed us how to age graciously (I won't say gracefully, she was never that!). Despite whatever travails she'd suffered in the past, she was always ready to make a new human friend. When she was perky, she would enjoy sniffing her way through a nice level walk-no hills please! When her energy was low, she did the things she loved best-lolled in the sun and watched tv from the couch. Even with only a few teeth, she enjoyed every meal and treat.
Probably mostly chocolate lab, she embraced her GSP brother, sharing her bed with him, and welcomed our daughter's Aussie when she came for a six month visit! She showed us that trust and tolerance can make for a happy senior life. May we be so wise.
-Barbara & Keith
---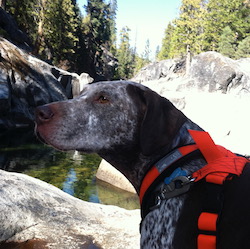 JAX (fka Jazzy) – passed away September 11, 2017
For 12 years she enriched our lives with her boundless energy and unconditional love. Although she was 50% GSP, she cared deeply about birds of all kinds— and adored people as all pit bulls do. Tragically, her older "brother", Boz, passed 5 days after Jax. We are heartbroken.
I hope that they are running together on a beach filled with birds and dog treats.
-Marie and Amy
---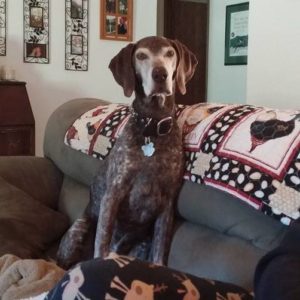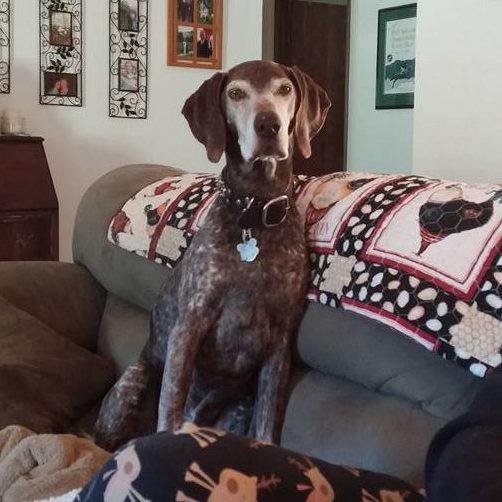 Scout – passed away October 28, 2017
We said goodbye to Scout this morning. He'd slowed down a bunch recently but was still eager to join us for chores every evening. Last night he had mustered the energy for a stroll in the pasture while Colby, Mickey and Woodie ran around like pointers do. He seemed to soak up the sunshine. This morning he could no longer rise…it was time… He came to me in my time of need and we had seven great years together. Godspeed my dear friend…give my love to Finn and Coconut…may you be reunited with your sound body and boisterous voice…until we meet again at the rainbow bridge.
-Catherine and Mac
---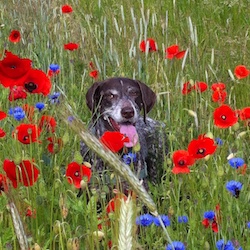 Dante (Kent in rescue) – passed away October 20, 2017
It is with great sorrow that I have to let you know that Dante (adopted as Kent) has gone over the rainbow bridge. He was the sweetest and most loving dog ever. A cuddly boy who loved his routines: Got up at 6 AM to go for a run in the garden, always the same counter-clockwise turn, come in and have his breakfast. Go for a walk with his dog friend always on the hunt for something. We never got to learn his manners when putting his leash on, he was crazy happy to go out for his walks and jumped around until the leash was on. Then sleep and slumber during the day and whenever getting the opportunity he went for a run in his garden. He loved digging for mice… and dad always got stuck in a hole with the lawnmower. At night around 3 am he would sneak under the duvet cover and keep me warm. In his younger years, we would start the day with a 45 minutes run. He loved to run. In his retirement age, we had to take it easier but we would still go for a 5k run now and then. 6 months ago he got back pain and he was started on anti-inflammatories. He responded really well but then last week we noticed that he was needy and out of breath on his morning walks. On Friday evening when I got home he could not get up and the vet came to our house. We all got to say our goodbye and he passed with his family around him. We miss him immensely.
Thank you for all the fantastic work you've done for the GSPs!
-Annika Olsson
---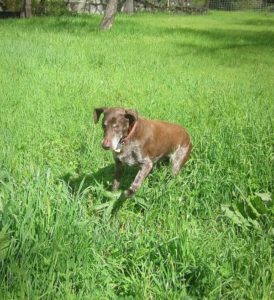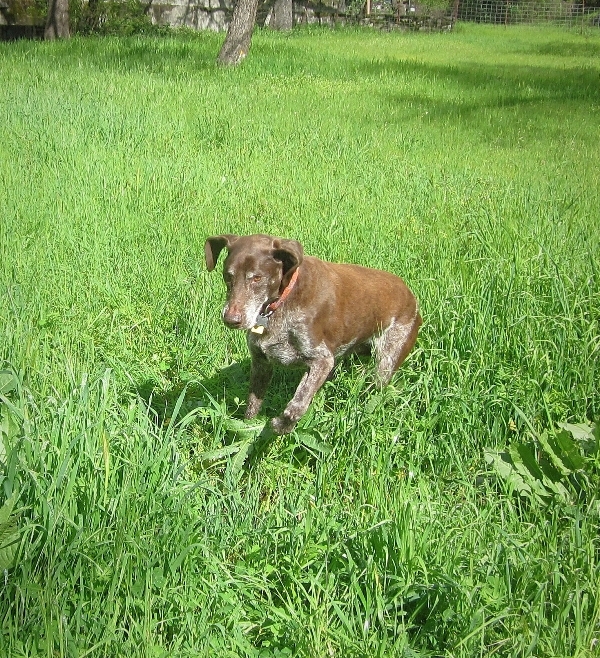 James – passed away October 4, 2017
Rest in Peace, James Von Miller. You were quite the character. I loved when you'd get a wild hair up your butt and start romping around like a goat. You were a big part of my life for over a year and I miss you. No more mountains to climb, sweet boy. Run free!
Love,
M
---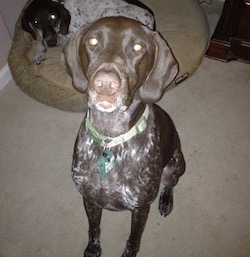 Fawn – passed away October 1, 2017
Fawn brought a lot of happiness to a lot of people. It started with Ron the day Fawn adopted him. In the 10+ years with Ron she was a great dog. Fawn was quite the squirrel hunter and a fantastic swimmer. As she aged Fawn just got sweeter though her nuzzling we affectionately referred to as the 'alligator death roll'. Fawn never had a health issue, not even so much as an ear infection, she was the model GSP and loved by everyone who met her. Unfortunately, she was diagnosed with cancer and had only a few months to live. Fawn left us on 10/1/17 and she's missed by her mom and dad, and furry brothers and sisters. We love you Fawny!!
-Ron & Jyl
---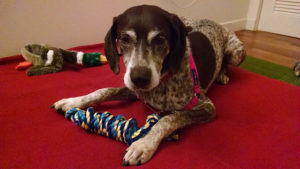 Addie – passed away September 2017
We love Addie so much and think about her every day. We love her personality, her silly antics, she was truly the best dog ever. She even got along well with Stan our cat after ~a year. She loved running around Bernal Heights and Fort Funston. We took her with us on so many adventures — Tahoe in the winter time, Mendocino when Albert and I got engaged, and road trips to LA to see my sister and my niece & nephew. We miss her every day.
-Imee and Albert
---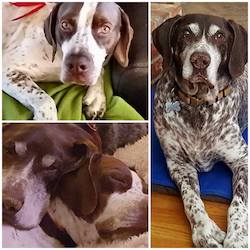 Duke (fka Duke2008) and Charlie (fka Farley) – passed away August 2017
We rescued Duke and Charlie in 2009. They brought such love and joy into our home. It saddens me to have to report that we lost them both last month 19 days apart. Duke passed away peacefully at the age of 14 from old age related complications. Charlie passed from mast cell cancer at the age of 9.5. We thought we had several months left with him but unfortunately the chemo stopped doing its job. We are devastated and miss them both terribly but we are so thankful to NorCal GSP for allowing them into our lives. They will always be in our hearts. Gone but never forgotten ❤ ❤
-Lorna & Steve Hardister
---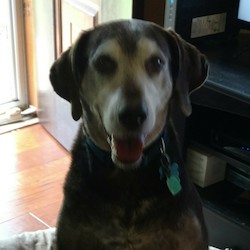 Austin (fka Franky) – passed away August 2017
This picture of Austin was taken on 7/25/2017, his 16th birthday. When he arrived at our house he was, of course, a little confused. He was used to a female household, and oh, boy! He had 'boys' to play with!! He soon had my husband and my 25 and 35 yr old sons right under his paw. I was raised with hound dogs. Hound dogs bark! We just let him be the hound dog he was. He would bark at a leaf if it startled him! 😊. But we loved to see him being a dog. We can only hope that we made him as happy as he looks in this picture. He was our big old floppy eared hound dog. And we loved him dearly. Thanks for letting me tell you about his time with us. I wish we had gotten him sooner. 16 yrs wouldn't have been long enough…
-Lois Vining
---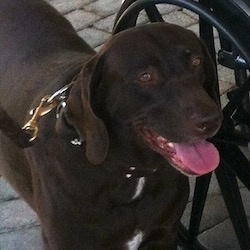 Charm – passed away September 7, 2017
Our sweet Charm has crossed over the rainbow bridge. She had lymphoma and had gotten to the point where she could barely eat and her breathing was getting more difficult. We are very, very sad but are also grateful for the gift of her presence in our lives. I think Charm has been the perfect dog. Sweet. Loves everyone and everything. Fun. Always ready for an adventure. We will miss her immensely.
-The James Family
---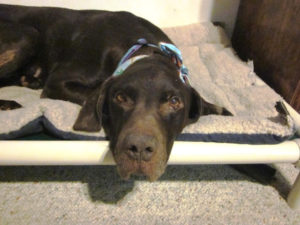 Rogue – passed away August 20, 2017
Rogue passed away at sunset outside on the grass while watching squirrels run across the back parking lot. He enjoyed a romp with plenty of cheese and kisses in the field before going to rainbow bridge.
---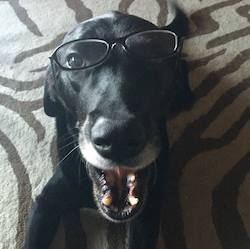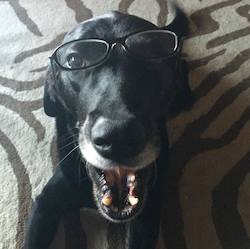 Hot Spot – passed away July 30, 2017
Back in August of 2007, I offered to foster a VERY pregnant GSP named Miley. By the time she got to our house, she came with nine 1-day-old puppies! And surprise—all the puppies were black. It was the day before school started (I teach middle school) and that litter was raised by a village of NorCal GSP Rescue volunteers. My daughter was seven at the time and she picked one of the puppies to keep. A word to the wise—if you foster a litter of puppies, at least one is staying! We kept Hot Spot. (How he got his name is a story for another time.) Sadly, our time with Hot Spot came to an end this week when he was diagnosed with a tumor that bled into his abdomen.
We are heartbroken and missing our sweet dude. During his nine years, he was our "Best Boy." He tolerated many, many foster dogs. I always introduced a new foster to Hot Spot first—he was a pro at doggie body language. Hot Spot and I competed in Rally obedience together. When he was young, I could feel the energy coming up the leash and could tell that he was barely keeping himself under control. When our trainer said we were going to compete off leash, I laughed. But we did it and Hot Spot ended up being ARCHMX Hot Spot RVX3 (AOE) RL3X3 (AOE) RL2X4 (AOE) RL1X5 (AOE) RA CGC.
More important than an alphabet soup of letters, Hot Spot was our buddy. He was ready for any adventure and willing to do anything we asked him to do. When we were at the emergency vet on Sunday, my daughter said fostering that litter of puppies was the best thing we ever did—the craziest thing, but the best thing. I have to agree.
Please give your woofies an extra hug tonight and I'd like to thank NorCal GSP Rescue. Without them, there wouldn't have been a Hot Spot.
-Cathy
---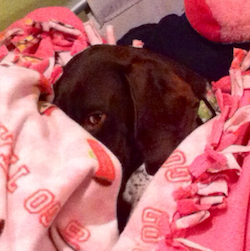 Bella – passed away July 8, 2017
Her name was Bella, but we called her Bell Bell. Our little girl Bella died from torsion. We are broken hearted and crushed. She was everything to us. She played every day around our pool, and at night she slept under our covers. She was obsessed with her ball. Ball playing started first thing in the morning ended at bedtime and then she slept with it in her mouth all night like a pacifier. If you were playing ball with her and she put it in your lap, she would peck at you until you threw it. She was adorable. I've had a lot of dogs, but never like her. She was the happiest dog I've ever seen. She had a full tail and a constant wiggle. Since I have Lupus, I am home 90% of the time so she was never alone. She was my very best friend. Our world revolves around her and her older brother. And to be completely honest, I absolutely prefer dogs to people.
-Kimberlee and Paul Pericoli
---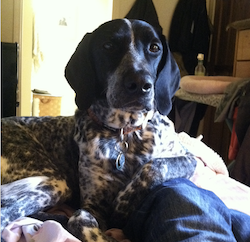 Pippie (fka Lexi) – passed away July 14, 2017
I am absolutely devastated – just two months after her toe was removed, and her pre-surgical ultrasound, x-ray, and EKG were 100% clear, this news was crushing. Pippie was euthanized at home today after a routine x-ray for arthritis on Tuesday revealed a large mass in her chest, placing heavy stress on her heart and spine. By today, she was in heart failure, and her heart was very weak. She had a peaceful, easy end, and I will miss her terribly. She was quite a character.
Thank you for being a friend to her, even if she wouldn't let you pet her! :) As quirky and nutty as Pippie was, she was and remains the greatest dog I ever met – through all of her health challenges, she remained true to her very special nature.
-Denise Salles
---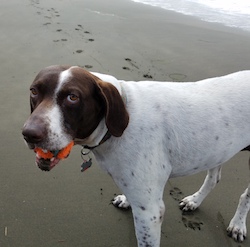 Bella (rescue name Bella2)- passed away June 17, 2017
It is with deep regret that I must let everyone know that Bella passed away in my arms on June 20, 2017 at the veterinarian's office of cancer. Bella was a great friend and I miss her a lot! She had battled cancer, had several operations to remove growths, but two days after the last operation we were told that she would need chemotherapy and that would only slow the spread. Our time together was way too short.
The first time I had seen a picture of Bella up for adoption I just fell in love with those eyes. My wife and I went to meet her at her foster home and we expected to be able to at least pet her but Bella barked at us the whole time and she kept her distance. Her foster mother Dalia did not expect us to call and make a second trip over the following weekend. This time we had a meeting at the park and played ball. Bella let her guard down and I was able to reach over and scratch her behind the ear and that was it we were best friends.
Bella loved to go play ball at the park, but she did not like it if other dogs were around. She would run out to get the ball, stop and look around for other dogs, if it was clear then her tail would wag and she would pick up the ball and return it to my feet. She loved to go for walks and hikes with us and was very good at the times when she could be off the leash by never going far away.
My wife Anna was very patient with Bella and taught her many tricks. One of the tricks they worked on was roll over which we thought Bella would not be able to learn. On our first GSP reunion picnic, to our surprise Bella did her first roll over on the soft grass, we could not believe it! We later found out that it was because Bella did not want to do it on the hard floors at home.
At night Bella would sometimes snort like a pig when she slept and I just thought that was so funny. If Bella needed to use the back yard at night, upon her return she would come to the side of the bed to wake one of us up so that we would cover her up in her blanket and tuck her back in.
We miss her very much and hope that she is able to play ball in dog heaven.
-Jim and Anna Pate
---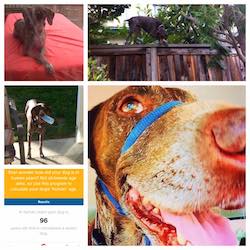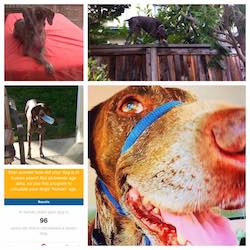 Daisy – passed away June 9, 2017
We said goodbye to Daisy, our 13 year old #GermanShortHairedPointer. We rescued her from @NorCalGSPRescue about 12 years ago as a companion to Hans, our other #GSP that we also rescued from the same.
D-Dog, Crazy-Daisy, Looong-Beak, Houdini-Dog… She answered to many names over the years and was the best #FamilyDog anyone could ask for.
Insanely athletic, able to escape from any crate, and always ready with a smile, nudge, and lick, she was the subject of many stories and fond memories.
Daisy was infamous at every kennel in the tri-city area and my favorite story was the employees at #PetSmart Hotel returning every morning to find our hound-dog running crazy down the isles or walking on top of the rooms that were 12′ tall while Hans snored on his dog bed. After a few morning of finding her taking laps, they finally put her in a glass enclosed room with a camera, where she was as good as a pup could be! I think she just wanted to see the people come & go, the cot and TV!
Nimble, we'd often hear people walking on the sidewalk by our side yard screaming as she would stalk them from the top of 9′ fence! At the Parkmont house, our back neighbor would often come home to find Daisy and her Beagle sleeping on her bed with muddy paw prints and blankets/clothes everywhere!
She passed quietly and peacefully surrounded by Carey-Ellen, Alexa, Axel, Hans, and in Austin's arms.
Some will say that you were just a dog, but you were truly a core part of our #Family. Pedigree puts you at 96 in human years and you had a full life in our #ForeverHome and you will live in our hearts forever.
We love you Daisy and although we have much sadness; are happy that you are at peace and chasing everything that moves in #DoggieHeaven with bright eyes and like the #Puppy you always were!
-Anthony & Carey
---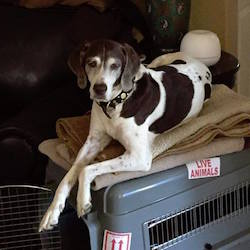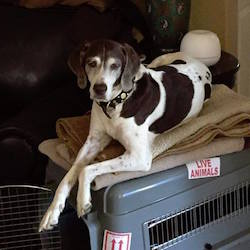 Shelby – passed away May 29, 2017
We should all be so lucky to go like Shelby. She was running in a field of grass like a puppy and with the puppy for 30 minutes, when she had a stroke and passed within minutes. She was 15 (we think) and had no arthritis pain. She was proof that if it fits, it sits. We will miss her so very much. Panzer will miss his surrogate mama. Thank you NORCAL for bringing her to us.
– Carol & Mike
---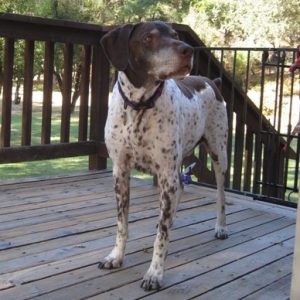 Maximus – passed away May 14, 2017
I think Maximus' quiet gentleness and his ability to cope so beautifully gave him such a long life…..he loved walking in the pioneer cemetery and perhaps the peacefulness there was appealing to his quiet, sweet self. I know he's waiting on the Rainbow Bridge, and this time, I know that at last he can see me.
– Sherry Miller
---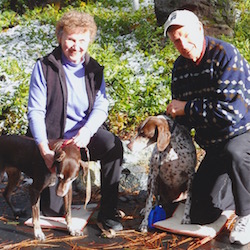 Casey (rescue name Cassie) – passed away May 6, 2017, and Tawny (rescue name Grace) – passed away February 2017
We are sending a gift in memory of Cassie (we renamed her Casey). She gave us so many years of joy. When she reached the age of 17 we called her "the wonder dog." Jim walked her almost every day and we fed her Science Diet dog food. She traveled the USA with us and our RV trailer and was a great traveler. Her favorite pranks were tearing up napkins and Kleenex and stealing bread from the counter! She loved her Kongs and to retrieve sticks. We will miss her so much.
The photo also shows Tawny (on the left), who sadly died three months before Casey. Tawny had many more health issues than Casey. We were fortunate to have her for her last 7 years. She was a very affectionate dog and preferred people to other dogs but did fine with Casey.
-Carol & Jim Floyd
---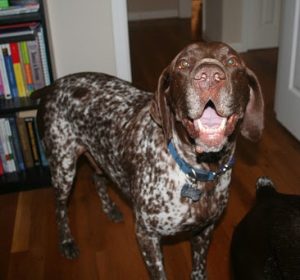 Clark – passed away January 14, 2017
We adopted Clark from NorCal GSP Rescue in 2008 at the age of 9. We will always remember our first moments with him. He came running into the kitchen at his foster home, and after a few introductory pets, flopped over on his side so we could give him rubs, groaning in happiness the entire time.
Only very recently did he start to slow down. For the last 8+ years, he was game for anything, whether it was just a stroll around the block or a three mile run. Clark was the perfect dog – calm and stately, but also silly and playful. He seemed to have every side to him, and all of them were perfect.
The last week of his life, he told us it was his time. That he was ready to say goodbye, that he was ready to rest. We wish he could have lived forever, and he will in our hearts. There will never be another Clark, our soul-dog.
– Cheryl & Chris
---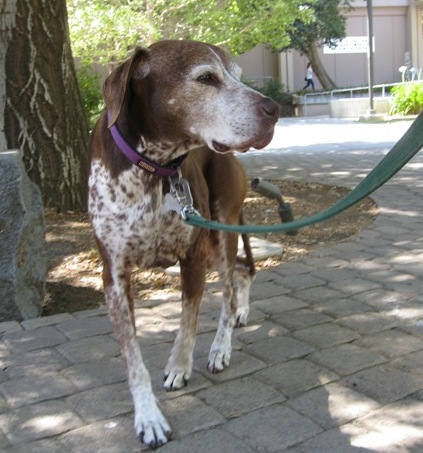 Dottie – passed away January 11, 2017
Dear Dottie,
We've been so sad since you left us. Our hearts are heavy and it's been hard to smile. How did you do it? You went through so much before coming into rescue, yet you kept smiling, your tail kept wagging, and your spirits were always high. Tell us your secret. What do we do?
From: Too Many Tears
Dear Too Many Tears:
Thank you so much for rescuing me. I'm so grateful to all of you. I got over the bad times by thinking good thoughts. I think about all the good things you did for me and the good times we had. You do the same. Think about how I warmed your heart when I wagged my tail and how you smiled when I did something cute. Open your home to another dog in need. There are so many dogs like me out there. Have a good life, have a happy heart and keep smiling!
---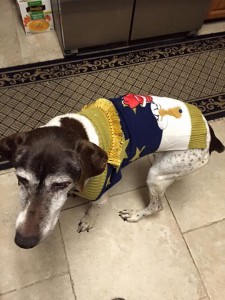 Vicki – passed away December 2016
Vicki was found as a stray by Animal Control. Repeated notifications to the last registered owner went unanswered. The trauma of being in the shelter had Vicki not able to stand. Examinations by the shelter vet did not reveal a reason for her mobility issues. She was classified as PTS (put to sleep).
Our rescue was notified and I wanted to foster her and see if we can figure out her issue. The transportation volunteer went into her kennel with a leash and Vicki jumped up and walked to the car! After a 2 hour ride to us; she came in and paced for 2 hours without stopping. Apparently she had suffered something call "kennel madness." She quickly gained weight and claimed her dog beds. When another lay in her dog bed, she barked at them, no matter what time it was. Rosie would jump up and run outside when Vicki barked, lol. Vicki tolerated other dogs but didn't initiate any touching; Shelby did! She was not demanding of attention; she would approach to get a head rub and would continue on her route. She did laps often; from the living room to the kitchen through the pantry to the dining room back to the living room. We called it Vicki's circuit. My mother in law was here recovering from a severe surgery, would get up and follow Vicki doing laps to get her exercise. It was so funny watching them both doing laps at the same slow speed too! After 13 months with us; her mobility in her hind quarters caused us to help her with the transition.
I highly recommend fostering or adopting a Senior, they are so mellow but have the funniest personalities. They are incredibly grateful for the comfort and love we offer them as many seemed to have never been allowed in the house and had regular meals.
— Carol and Mike
---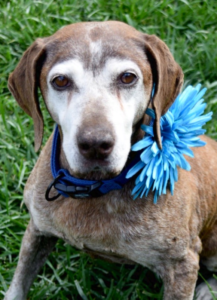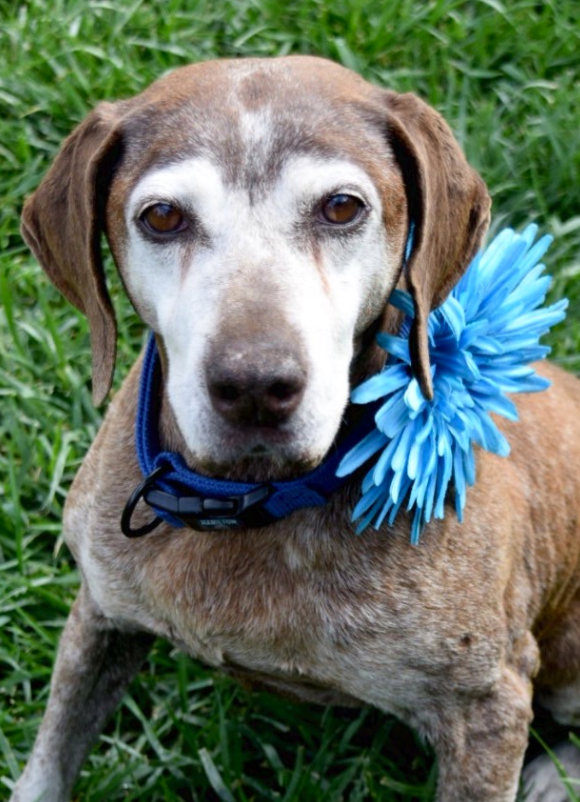 Danica – passed away November 2016
No matter her health setbacks, Dani was always happy and continued to think that despite her age, she could do anything her younger, faster, foster sisters could do. She loved to "play" frisbee, although her version was more like chasing and yelling at the younger dogs, regardless, she always had a blast.
Sometimes she pretended that she couldn't hear anything (usually when something outside smelled really good), but her ears miraculously recovered whenever she knew whipped cream was being put on my ice cream! She loved to follow her little sister Lady wherever she went. She happily slept the afternoons away particularly if she played hard in the morning. She picked out her favorite bed and she would sleep in it despite how many dogs were already sleeping in it. She reminded me of a sassy grandmother, she may not keep up all the time, but she was surely going to get what she wants.
-Megan
---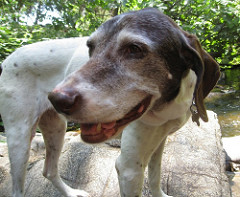 Rosie – passed away November 2016
Fostering is an exercise in emotions. Happy tears when a dog finds the furever home, training frustration, laughter at their goofy quirks, calmness from their touch and love, and tears when they leave for the Rainbow Bridge.
After almost 3 years with Rosie, she had a stroke and needed our help today. I knew it was coming, but I guess preparedness doesn't really ease the sadness.
RIP my lil old lady.
-Carol and Mike
---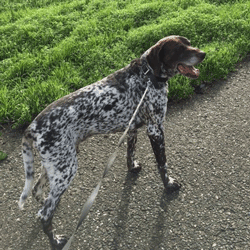 Rocket – passed away May 2016
Due to complications of old age, I had to help Rocket pass over the rainbow bridge at the age of 14. He was a wonderful pet and we spent so many happy years together running the beach. While all dogs are great, some are more special than others and Rocket was definitely special. He saw me through many of life's events, some good and some bad but he was always there. He is sorely missed. Thank you NorCal GSP for connecting me with such a wonderful companion who was beautiful both inside and out. I hope I served him as well as he served me. He is gone but will never be forgotten.
-Shelby Rogers
---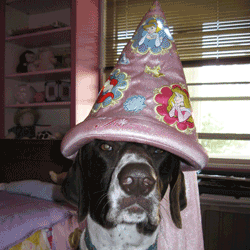 Koa (rescue name Tristan) – passed away April 24, 2016
We adopted Koa when he was two years old – a tall, barrel-chested 90 lb. GSP. That first night home, Koa carefully climbed into my lap. The next day we purchased a big dog bed and put an end to his lap dog days. That first weekend we carefully watched Koa to make sure he would be gentle with our five year old daughter. We were planting tomatoes with Koa resting nearby in the driveway. We caught our breath as we saw our daughter back up and stumble over the dog. Koa looked up and promptly put his head back down. That was it. We knew Koa was meant for us.
Nine years have passed as we watched our daughter grow and our dog get a little grey. Koa passed away on April 24, 2016 (cancer). During his final weeks, we allowed Koa up on the sofa so he could be our lap dog once again. Rest in peace, Koa.
-Jeanette & family
---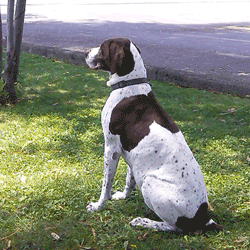 Buster (B.J.) – passed away March 2016
We lost Buster (B.J.) to cancer in March 2016. The seven years we had with him just weren't enough, and he's greatly missed. Buster was the happiest dog we've ever had, tail always wagging. He loved swimming, gopher hunting, counter surfing, exploring, and meeting new people. He could never pass an open car door or body of water without jumping in! He didn't like fireworks and the cat standing between him and the water bowl. I'm pretty sure the cat really misses terrorizing poor Buster. It's impossible to say good-bye to such a great friend. So, I'll just say we miss you, Buster, and we'll see each other again. Have fun and make a lot of new friends till we get there!
-Lyn and Bill
---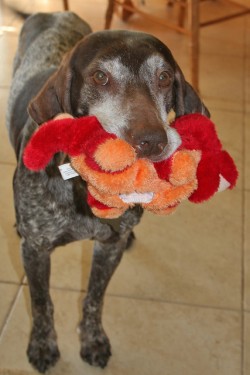 Minnie Mouse – passed away April 28, 2016
Minnie Mouse was not in our care long, but she was loved well by her foster home. Rest in peace sweet Minnie.
---
Finn – passed away April 22, 2016
Finn was the perfect dog who came along at the perfect time. He was the biggest lover and comedian who always knew the perfect moment to steal his brother Scout's toy. He was a great kitchen helper, picking up vegetable scraps (including brussels sprouts) and meticulously cleaning dirty pans. He was a great traveling buddy and a social butterfly. He knew when to call everyone together at meal time with his melodious "whoo whoo" (one of the things we already miss) and brought us together as our ring dog on our wedding day. Always ready for that deep ear rub, a cookie, no matter how tiny, or snuggling up like the 70 lb lap dog that you were. You never did convince the cats to play with you, but you sure tried… and even as your face greyed… you still got the zoomies. You are missed, but out of pain…we love you and we'll see you at the rainbow bridge.
-Catherine and Mac
---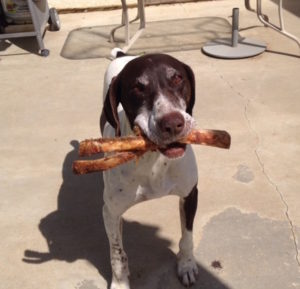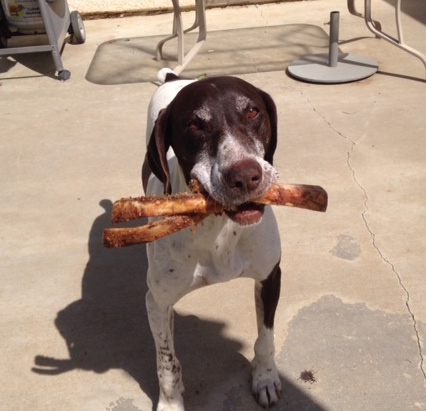 Meg – passed away April 2016
We rescued Meg and her daughter Jo in January of 2014. Meg then found her forever home with her foster home, Charlotte and Al, who have fostered and adopted many NorCal GSP Rescue dogs. Meg and Al bonded big time. She became his dog through and through and they had a wonderful few years together. In April 2016, Meg developed fluid in her lungs that made it more and more difficult to breathe. She went to the rainbow bridge in her own bed surrounded by those that loved her. Rest in peace, Meg.
---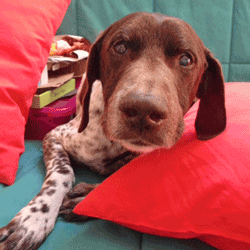 Otis (rescue name Enay) – passed away March 2016
It is with deep regret that we inform the league that our dear, sweet Otis passed away on March 31, 2016 at 9.9 years. Otis came to our family in January of 2008. My husband and daughter were skiing that day so I was home alone when Otie arrived. He ran in the door, jumped up and licked my face, ran to the back yard all in a matter of seconds. I fell in love with him the moment I saw him and he melted our hearts. I am certain he knew he'd been rescued. Otie had a heart murmur which led to congestive heart failure. In addition, he had a mass on his kidney that we chose not to remove because the idea of our dog running around without one kidney worried us. We fed him healthily, made sure his life was as normal as possible and enjoyed every day of his last 10 months. He was such a funny character. He could not catch a ball to save his life. He "demand" barked for a walk or a meal. He looked like a stallion when he ran. Neighbors would stop us in the street and comment on how beautiful he was. He never wanted to be apart from us. So much so that when we first rescued him he had such bad separation anxiety that we decided to foster another GSP to keep him company. Little did we know that Otie would fall in love with her (Gemma) and within one month, we'd adopted 2 dogs. Otis loved to cuddle, chase squirrels and neighborhood cats, POINT!, give you his paw, nibble on your nose and oversee his backyard. He did not have a mean bone in his body. When my twins were toddlers he'd let them pull on his ears and tail, dress him up…. He passed peacefully in our backyard on a sunny afternoon with my husband Rob, myself and his sister, Gemma. We will miss him endlessly.
-Danielle & & Rob Vogt
---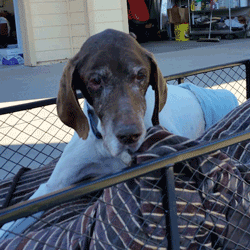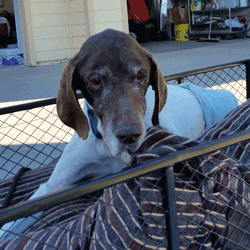 Prince – passed away March 2016
It is with a heavy heart our Prince went to rainbow bridge last night. He had been in reasonable condition and suddenly he developed fluid in his lungs. He was such an amazing dog we rescued in 2003, he was 17-1/2 years. I am so lost without him being here and all of his things are around to remind me. Run free my sweet Prince for you are without pain and you can use your rear legs again. There will be friends waiting to show you around. Until we meet again.
-Deborah & Richard Thomas
---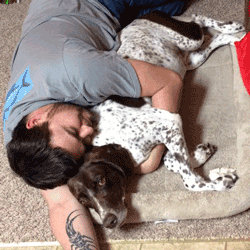 Lassen aka Buffy – passed away March 2016
I am contacting you with sad and heavy heart of Buffy passing, (Cancer) she was my best friend, and our story makes it harder to have lost her. She lived a very comfortable life going everywhere I went for the past few years. She followed me everywhere including the restroom at times, she was never far behind me, always my shadow as my wife so called her. She loved to float down the river with me in my drift-boat, fishing. She was able to make a full recovery because your efforts in healing her back up. Buffy was almost 15 years old. She live a long and full life. She was my best friend and I wanted to say thank you for reuniting her with me, and the great care given to her. She will be missed by my family and I and thank you keep up the good efforts because these GSP are more than dogs, they are our families.
-Ben Abbey
---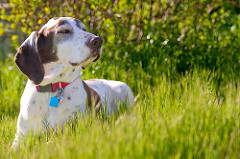 Spuds – passed away February 2016
We are sad to announce we lost our sweet handsome boy, Spuds. He was a very special boy. I passed him over when viewing his pictures several times. Then I found Coconut and he was being fostered at the same house as Spuds. So, we requested a visit and Spuds was a throw in. When we got to Catherine's property BeBe and Coconut took off full speed ahead. He wanted nothing to do with me. I then turned to meet Spuds. Within 30 seconds I was on the ground holding him and saying "I have to have him!" It was Love at first sight and handshake from this sweet special boy. He was very hard of hearing. BeBe was his eyes and ears. When we brought him home he went out back to explore. He had never seen a pool before and simply walked right into the deep end. He was like, "when did that get here?" He had never seen stairs before and I carried him up for the first couple of days. Before we knew it he was running up and down like it was nothing! He learned to walk around the pool and that it was there all along. He had the most adorable snaggle tooth that his lip would catch on. He was so mellow and regal. My life has forever been changed with "hims" in my life. He was 15 and ultimately had a tumor in his groin preventing him from pooping. He went out fast, hiding his sickness. He was brave and gave me a pitter patter sort of kickoff on my chest at the moment he passed.
-Lavonne and Frank
---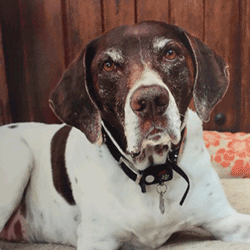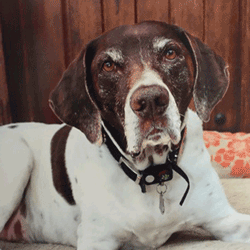 Mo – passed away January 15, 2016
I have some very sad news… My beloved German Shorthaired Pointer, Mo, passed away last Friday. I was absolutely heartbroken. Mo was my faithful companion and friend to many winery visitors, and he will be greatly missed.
Mo came to us at the age of 5 as a rescue through the NorCal GSP Rescue organization. That was 8 1/2 years ago. He had a long and happy life, but at the age of 13 1/2 his body just gave out. Someone once told me that Mo won the "doggie lottery" when he came to us. I say that WE are the ones that actually won the doggie lottery. Mo was the most amazing dog I have ever had.
Please raise a glass in Mo's memory. And if you are considering getting a dog, please take a look at the NorCal GSP website. There are some wonderful dogs in need of forever homes.
REST IN PEACE, MO 2002-2016
–Amy Kemp, Loma Prieta Winery
---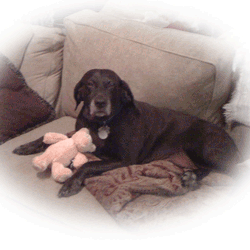 Gretchen – passed away January 1, 2016
Gretchen Gravely, GSP Adoption 2009 – It is with great sorrow that we have to let everyone at the GSP Rescue know that we lost our beloved Gretchen on January 1, 2016 at the age of 17. We adopted Gretchen as a senior dog (age 9) and have loved every minute she was with us. She was so playful when we first adopted her, loving to go for walks, play in the park and sleep on the couch while we watched television. She was a joy to be around and brought happiness and joy to use every day. As she aged beyond 15 years old, she developed COPD, Cushing's disease, cancer in her ear and her back left leg. Unfortunately, due to her age she also went almost completely blind due to cataracts and deaf to due to the cancer. Later she suffered from dementia and had several strokes but she still was a fighter, and enjoyed her walks until the end. Our vet was able to provide us medications that allowed her to continue to be active and enjoy her life, but she was never prescribed medication for pain, I believe her Cushing disease, may have allowed us the extra time we had with her. It was interesting that for her COPD that she took prescription meds plus Robitussin and Benadryl and when she became really congested that she loved chicken broth with a some cut chicken, it was her favorite and it worked just like it works for us. We were able to spend Christmas with her; however, she was not able to make it through the New Year's holiday season. We will remember her for the rest of our lives and will always be grateful to the Northern California GSP Rescue for bringing us together. I know many of the people who visit the GSP Rescue site are reluctant to adopt a senior dog, however we would clearly recommend that anyone who is considering an adoption, consider some of the senior ladies and fellas as an option. We were very fortunate to have had Gretchen enter our lives and will forever love her. We are sure we will again adopt more senior GSPs in the future, however for a while, we are interested in remembering all the love and good time we had with Gretchen. Thank you everyone at the Northern California GSP Rescue for all your assistance over the years. I am sure we will be contacting you again in near future.
-JoAnn & Mike Gravely
---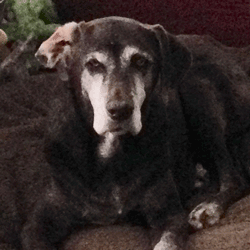 Roxi – passed away January 4, 2016
What can we say about our old girl Roxi other than you were so very kind, loving, sweet and accepting of others whether animal or human. The little romps you would do when walking out to get the mail and the little rocking jumps and howls when following the garden tractor were way beyond cute. Have fun romping, running in your new healthy body while enjoying the wonders of heaven. While tears fill our eyes we will always love and miss you. We take joy in your new freedom. We Love you our old girl.
-Charlotte & Al Johnson
---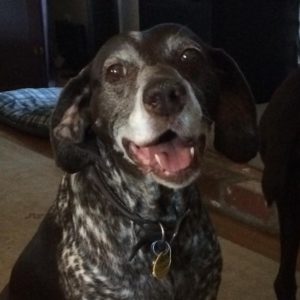 Case – passed away January 1, 2016
It is with heavy hearts that our Case Boy has passed onto the rainbow bridge today. He was as they all have been the bestest lovable child for Chris and I. As much as it hurts, the saving him in the beginning and making his life a dream come true helps with the pain of his loss. The pictures show him as he was, loving and giving and loving like mom the sun! RIP Dad's Boy ………
-Kelly Lawrence & Christi Woodwards
---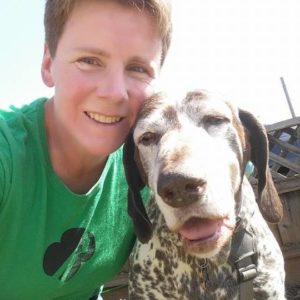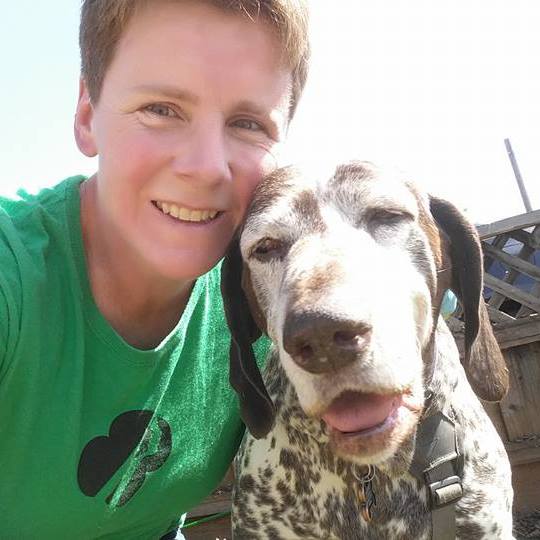 Cyrus – passed away September 2015
He chose me. His gorgeous gray face lept out at me when I was idly looking at adoptable dogs. We'd just lost our basset hound and really, truly, we weren't ready for another dog.
Until I saw Cyrus' face. Even now, thinking of that moment, I tear up. He was that beautiful, though he preferred the terms "handsome" or "majestic." The moment we met him, he wagged his stump of a tail so hard. I hugged him, scratched his back, and asked if I could be his mom.
He wasn't a young man when he came home to us. He wasn't spry or agile but he could clear a table and a counter when we weren't looking. Sometimes, he'd bring down the table's contents even when we were looking. Recognizing how unlikely it was that we could change his ways, I'd just pick up whatever he'd knocked over, scratch his butt, and hand him a treat.
He put on a few pounds this year, I blame all of that on me. Now that I know how short his time with us was, I have not a single regret about his weight gain or all those treats. Almost every time he ate one of those treats, we paused to admire how gently he accepted it and how gracefully he chewed it.
Cyrus was our gorgeous boy from August 10, 2014 until his body failed him on September 5, 2015. I don't know how his story began but I know how it ended — surrounded by love and living with a family who adored him.
We will always be grateful to NorCal GSP Rescue for bringing Cyrus into our lives. Though his days with us were short, they were full of love. And treats.
Rest in peace, my boy. We loved you well.
– Liz Doughty Tan, forever mom
---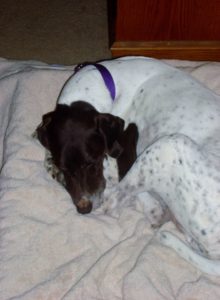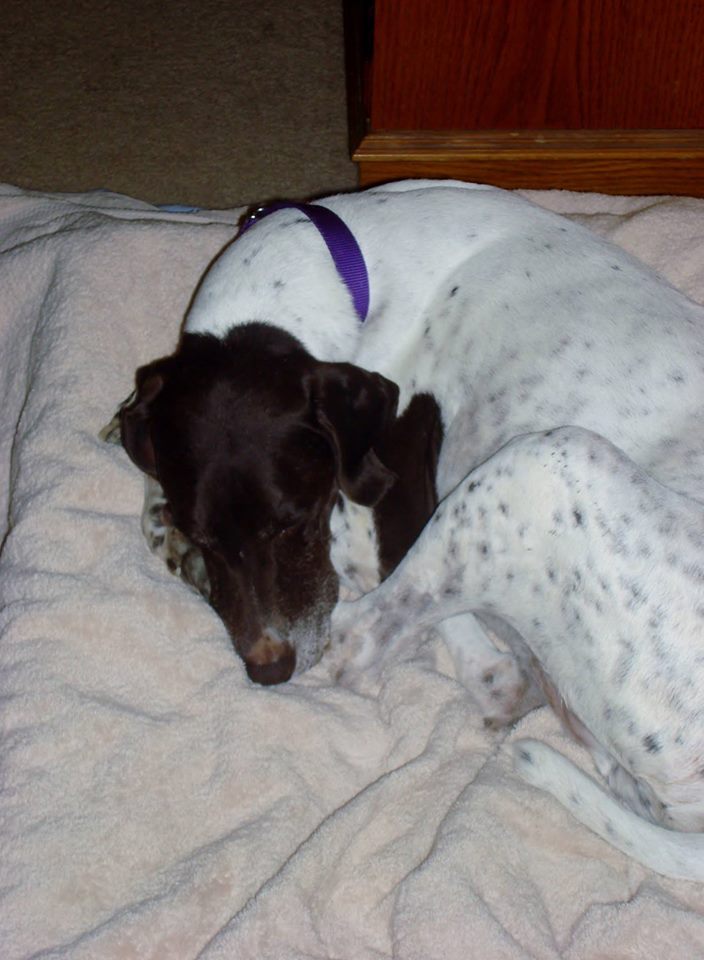 FlapJack – passed away August 2015
Flapjack spent about a month in foster care after we learned that he had aggressive cancer. We knew he didn't have much time left, but we wanted to make sure every moment of it was happy and full of love. He made the most of his time left, crossing items off his bucket list.
Flapjack passed away peacefully with his foster mom by his side. Rest in peace, sweet boy!
---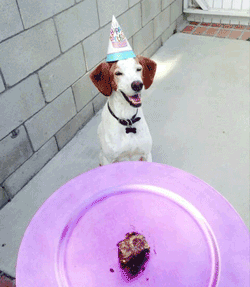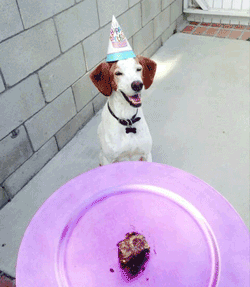 Tango – passed away June 2015
This is Jojo. His original name was Tango. He was an English Pointer adopted from GSP Rescue over 10 years ago. After contacting Wendy Hilton about our other GSP "Max" passing away, Wendy suggested we adopt Jojo, as he would be a perfect fit with our other pointer Rescue "Sadie/Doocy".
He was a very special guy. Never complained, never barked (unless he was playing), never ever growled, loved children… perfect!!!
This picture is of him celebrating his 11th birthday last month – May 1st, 2015. Until his last 2 weeks of his life, he never showed any signs of illness. I brought him to the vet due to his sudden loss of appetite. The vet did blood work and x-rays and found terminal cancer. He was suffering and would have died within the week. I made the most difficult decision to say goodbye.
R.I.P. -Sean & April Disbrow
---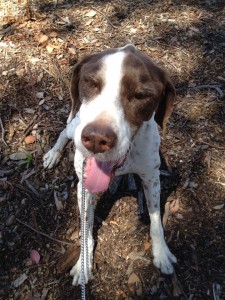 Fred – passed away June 2015
Fred was rescued from a shelter by NorCal GSP Rescue in April 2015 and he had a wonderful two months with his foster home. Although he was not with us long, this 14 year-old left quite the impression and was very loved by all who met him within the rescue. His foster mom says "he knew he was loved when it counted."
---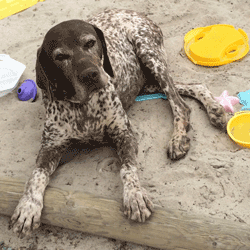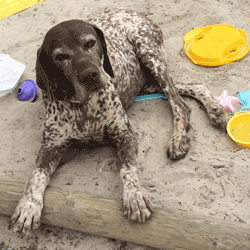 Einstein now Mason – passed away April 2015
I wanted to share with you that we just had to put to sleep our GSP that we adopted from your organization 7 years ago. His name with your organization was Einstein and we renamed him Mason when we adopted him. Just this last week we lost Mason but I know that we gave him the best life a GSP could dream of. He live on 6 acres with a big pond that he swam in daily, he hunted gophers and chased birds. We also have a female GSP and a female Rottweiler that were his sisters. His self-appointed job was to bark at anyone that might walk by even if they walked by EVERY SINGLE DAY for the last 7 years. The neighbors expected him to run out barking at them and if he didn't they would ask where he was. He loved to bird hunt, even though we did not adopt him for hunting, my husband took him out a handful of times to see if he knew what to do and BOY DID HE. He was at some point in his life before us someone's bird dog. Even though he loved to hunt birds he never touched a feather on any of my free-range chickens. He knew the difference. He was great with our children and we loved him very much. We think he was around 14 years old. I still can't believe he is gone. He was my constant companion, always with me when I would be out on the property.
-Heidi Schwalbe
---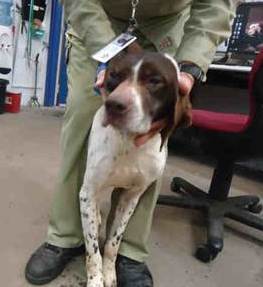 Otis – passed away March 2015
Otis was only with us a short time, but he left an impression on everyone he met, from his transporter, to his foster home, to his foster case manager. We are so grateful that we had the chance to know Otis and that he had a warm bed and a loving home at the end of his days.
---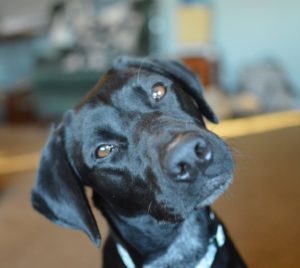 Mack – passed away February 2015
In memory of Mack – we miss your curious face and wish the world had given you more in your short time, with fond hugs and memories of our short time loving you.
Love, Claire, Art and Cassius
---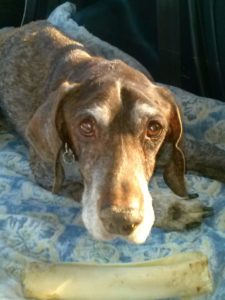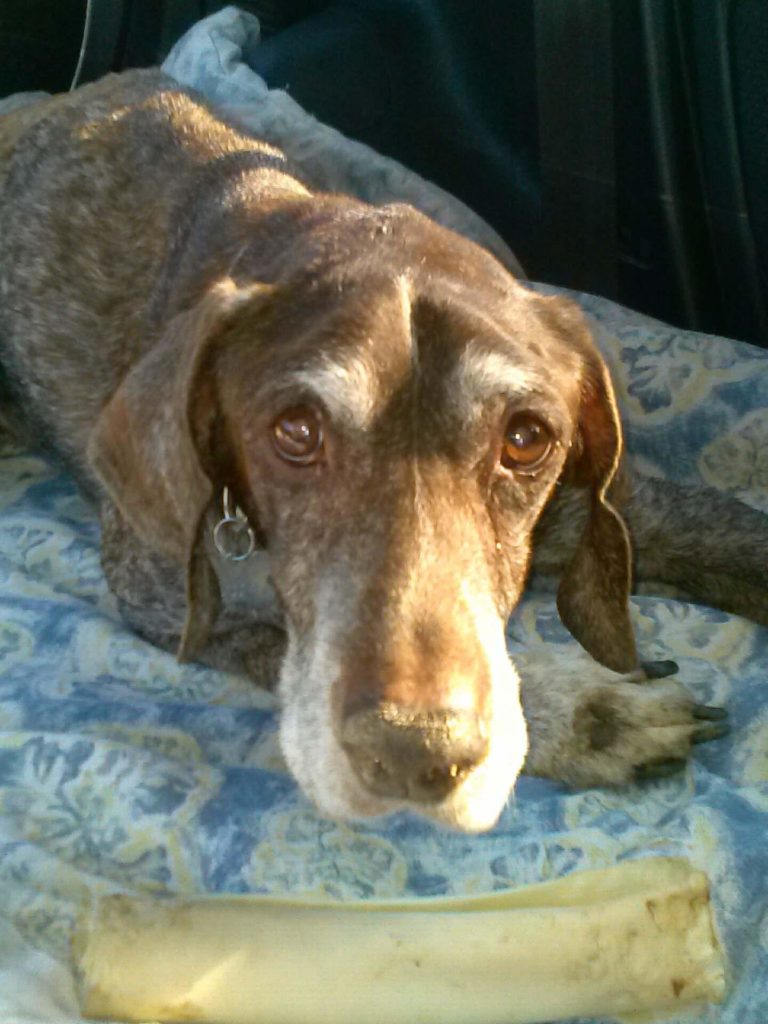 Quinn – passed away February 7, 2015
It's hard to believe that Quinn could have become such an important part of our lives in just a few short weeks. Although he was clearly not in great shape, he wagged his tail, looked at us with total trust and gamely followed us out of the shelter and into a new life. He loved his bed, his walks, his yard and his dinner – things every dog should have, but which he had been without. In return, he gave us his obvious adoration. He was a good dog and we are grateful for the time we shared.
-Barbara & Keith
---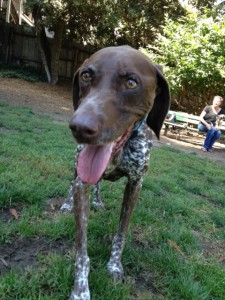 Rhett – passed away February 6, 2015
Rhett fought a valiant battle with a number of serious medical conditions, but in the end he continued to lose weight, he stopped enjoying all the things that shorthairs enjoy, and we knew it was time. We are glad that he spent his last five months with us getting love and care. His foster home described him as a Great Dog, who was super friendly to anyone, anywhere, and any other dogs. He loved sleeping on laps, even if it was to get his ears cleaned. His favorite activity was cornering the cat, despite getting his snout bloodied on several occasions. And he enjoyed walks through The City and dining al fresco at Polk St cafes.
Farewell, dear Rhett.
---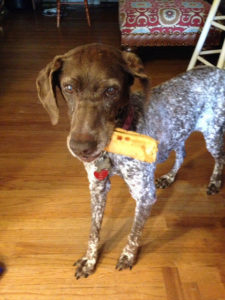 Lily – passed away December 2014
She has crossed over to Rainbow bridge. She passed away from cancer in one of her legs. We were blessed to have her.
– Tina Stidman
---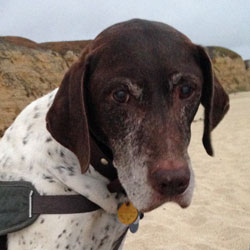 Bowdie – passed away November 4, 2014
In 4 years he taught me more than any other animal; both in medicine in how to care for senior pets, and in life. He was happy every single day, and made the most of every moment despite losing vision, hearing and mobility. He never had a bad day. He loved everyone, every animal (whether it was a cat, dog or squirrel), and every vegetable he ever met. I'm so thankful he was in my life.
-Jeralyn Terry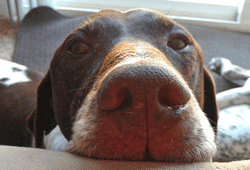 It's with a heavy heart that I tell you that our precious old man passed away yesterday. He passed away gently with the same smile on his face he always had. We will never forget his youthful exuberance and the love he brought to our home. It was truly a joy to open our home to that senior pooch. Thank you and everyone at NorCal GSP Rescue. He came into our lives as NorCal GSP Rescue #182 and left as my very best friend.
-Jonathan Fong
---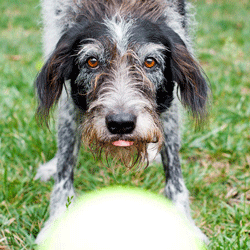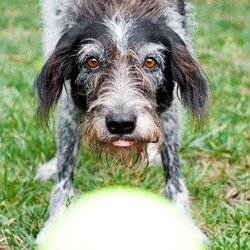 Elliott – passed away October 10, 2014
We wanted to let you know that Elliott passed away peacefully on Friday, October 10th. He was diagnosed with hemangioscarcoma in mid August. Our brave little guy recovered from a splenectomy beautifully and gave us two months of love on bonus time.
Looking back, Dan and I had no idea what we were getting ourselves into with a GWP. We, somehow, just knew that we wanted Elliott and only Elliott. Thank you for in trusting him in our care. What a fantastic journey we have had with him over the last 10+ years. So much love, fun and mischief all around. Two things he loved the most – a game of fetch and a trip to the beach. He was simply the best.
-With gratitude, Angela and Dan
---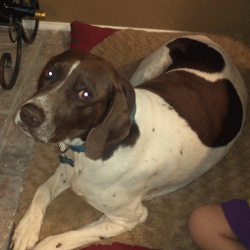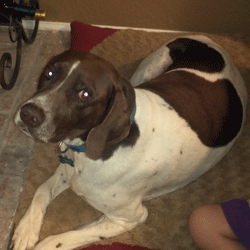 Maverick – passed away September 23, 2014
Our beloved Maverick crossed the Rainbow Bridge on September 23, 2014. I cradled his head, petting and stroking him. My husband and two girls pet him and showered him with kisses. All the while telling him how much we loved him and what a good, good boy he was as he softly fell asleep and passed on.
We had the good fortune of adopting Maverick just three short years ago. I still remember our first meeting. He was at a foster family's with two female GSPs, both younger than him. We met him solo and went for a walk and he was a natural with our family. The foster Dad commented on how well-behaved he was. When the foster Mom returned home with their two dogs, the older female grabbed Maverick's leash in her mouth and began leading him around. We were all laughing and commented that it was his sweet nature that allowed this.
Maverick filled our lives with so much joy, love and laughter. When we brought him home, he wouldn't walk into our house due to the hardwood floors. He slipped all over the place. So we had to buy small carpet circles. We called them his "islands" and placed them in a path on the floor. He would "leap" from island to island to make it around the house. A hardcore snuggler, if there was an inch of space between two of us on a bed, he would maneuver his 90lb body into it, resting his head on your chest or shoulder, and draping his legs across you. So cozy. He particularly loved snuggling with my husband and resting his head on his shoulder. So sweet! He and our girls loved each other deeply. He was generously patient with them. He's been dressed as a pirate, princess, the Mad Hatter, Bat-Dog, worn tutus and long wigs all with a debonair dash and an open tummy available for scratching. He would take turns tucking the girls in at night, moving from bed to bed for a long snuggle and then finally settling in with my husband and I. In his last months, he had taken to "perching" on a large ottoman in our living room. The girls would push this up to the couch and he would sneak his ample behind up onto it. So he could be on the couch, but not really….
He was our constant companion wherever we went. Yard work is a lonely affair lately as he would be with me everywhere, cutting the grass to weeding the garden. He loved the car, our morning walks, and visits to the water. He just wanted to be with us and we with him. It was a perfect combination.
His family was even larger than ours as he was a neighborhood fixture. Maverick would visit the four homes closest to us as part of his daily rounds. Each neighbor had a special treat for him and gave him lots of love and attention. Our immediate neighbor has a pear tree in his front yard. Daily, Maverick would steal a pear, or two, or three, from his tree and off the ground. He loved it and we'd smile as he'd stretch up on his hind legs to get that perfect pear a little higher up the tree. We all had a sniffle as we noted the pears now gathering on the ground.
We were all emotionally gutted as Maverick's passing came on so very suddenly. The vet, Dr. Schwartz at Sage Veterinary Clinic, was a rock. Thoroughly explaining what he surmised was a brain tumor and our limited options. His kindness and care affected us all deeply and provided us with the support we needed to make our difficult decision to say goodbye to Maverick.
Maverick, we hit the jackpot with you! Sweet, loving, affectionate and beyond devoted. We will miss you terribly. We know you are looking down on us with a pear in your mouth!
-The Hanna Family
---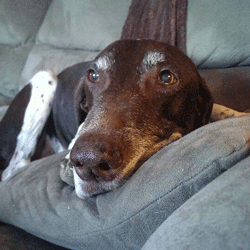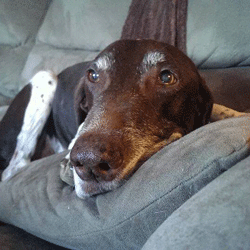 Coconut – passed away September 17, 2014
We wanted to let you know that Coconut passed over the Rainbow Bridge… the cancer in his gum got the best of him and he quit eating and wagging his tail… it was time… thank you all for everything you do for Nor Cal and welcoming us into the family.
Almost three years ago to the week, I was about to hand off my first foster success to his new human and Cathy asked, "Would you be able to take Coconut for a couple of weeks… he bounces too much for Maggie's elderly dog?" Conveniently, I picked up Coconut on my way home from dropping off Spuds. Coconut never let on that he was 11… he didn't believe in numbers. I discovered his interesting quirks… bolting out doors and gates, barking at unknown things under the deck and of course the panic-inducing (at least the first couple of times) hour-long romps through the fields across the street (he loved to run!!! and for you to chase him!!!) But soon I figured out that if I drove down the street and called to him from the car, he'd come running. Coconut made himself at home… at first on my bed and then claiming his corners of the couch (he could give Scout a "look" and he would begrudgingly give up his spot)… he knew he was home… we were just a little slow to catch on. He earned great nick names… Nutnut, Nutty Professor, Nutterbutter, NuttyNuttyCoconut, Nutty, and just plain Nut. He loved to climb the hay stack, hog the bed, steal empty toilette paper rolls, car rides (as co-pilot of course) and warm fires. He learned to love his feline siblings (and loved to steal their food). His tail wagged soooooo fast and he had the most expressive eyebrows and ears. He wiggled his way into our hearts and he will be missed!
-Catherine, Mac, Finn and Scout
---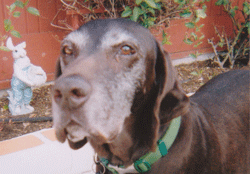 Rory – passed to Rainbow Bridge on September 4, 2014
I cradled him in my arms and kissed his sweet muzzle and soft ears as he passed on at the age of 14.
He had been having difficulty urinating and his vet examined him and took an xray. The plan was to do an ultrasound and consult with a specialist on our options. Sadly, they advised that he had an inoperable malignant prostate cancer.
After losing Charles, my 14 ½ year old rescued GSP, to old age, I wanted to find an older dog needing a forever home. Then I found Rory (then named Ollie) on the website. He was about 9 and had seizures. But we met and it was instant love for the both of us – he rested his head on my shoulder and rubbed his muzzle on my cheek!
When Rory arrived at his forever home he was amazed at looking out the windows and checking out every thing in the neighborhood. He left long snot marks on all the windows – one of his aunties called it "lace". He loved to ride in the car and went to daily doggy day care until I retired. Rory made friends with everyone he met – he was a sweet and gentle soul. Everyone loved him!
Rory found his new calling in life when his forever home had a back garden full of dwarf fruit trees – apples and pears galore. He became Farmer Rory and tended his garden faithfully and organically in all seasons. Rory harvested his apples and pears by bumping his body against the tree trunks, ripping branches off the trees or simply balancing on his back legs and grabbing a piece of fruit. One year he was caught climbing into the pear tree! He ate 99% of all the tomatoes and strawberries every year and no zucchini lasted to any size larger than a finger. The occasional snail and worm was also devoured.
He loved his doggie treats but was most fond of the cheese wrapped around his meds for seizures and his arthritis – he preferred good cheddar or fontina!
The sweet gentle soul in now laid to rest in his back yard deep in the raised flower bed in the shade of his pear tree. His casket has carved flower branches that look like pear tree blossoms.
Before he passed on that morning, he ate the last juicy pear from his tree!
The house and garden are empty without my sweet boy!
-Catherine Tumilty
---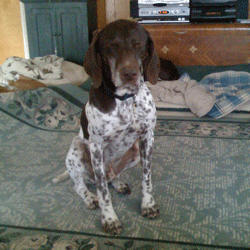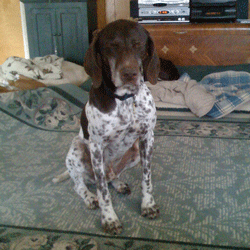 Brinkley – passed away September 2, 2014
It is with a sad and heavy heart that I must announce that Brinkley, my beloved GSP, has crossed over the Rainbow Bridge. We had to let him go and we will miss him. I rescued Brinkley about 6 years ago from the shelter and fostered him before a brief placement into a permanent home. When that didn't work out I decided he would stay with me. He was not in good health when I pulled him from the shelter but I got him back in shape and for an old guy he did alright. Seeing him swim in the pool was one of the most enjoyable things to see. He had his own sort of grace as he paddled around splashing the water all over and then biting at the splashes. He had the best time and provided us with great entertainment too.
Brinkley was estimated at 10 years old when I got him, which would make him about 16 now. He developed a cancerous tumor on his elbow about a year ago. Jyl kept him going with all sorts of great stuff, herbs, drugs, lasers, etc. You name it, we did it. I was determined to follow an alternate route to allow him the best quality of life. Brinkley was doing just great until recently when he suddenly could not bear any weight on the leg with the tumor. Being an old wobbly guy anyway he could not make it around well with three legs. By the next day he could not get up and was in considerable pain. He looked in my eyes and asked that I release him from the pain and I of course obliged his wish.
We will miss all miss him but I for one will miss him terribly. He literally lit up when ever he saw me. I used to say he worshiped the ground I walked on, he knew I saved his life and gave him second chance. As I sent him on his way, he peacefully slipped away, freed from the pain and off to the next adventure. I told him to look for all of our other furry friends (Audra, Snipe, Jake, Schmedley, TJ, Chelsea, Olivia, etc) and let them know we're doing ok and to send our love until we meet again.
People think we're crazy when we tell them we have six dogs and you might think with that many we don't notice one missing but I can tell you there is a big empty place in this house right now. Having six dogs is a lot of work but we loved it………..and then there were five.
-Ron & Jyl
---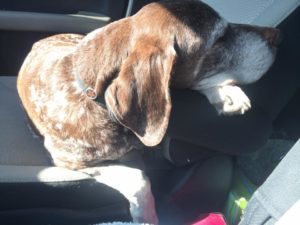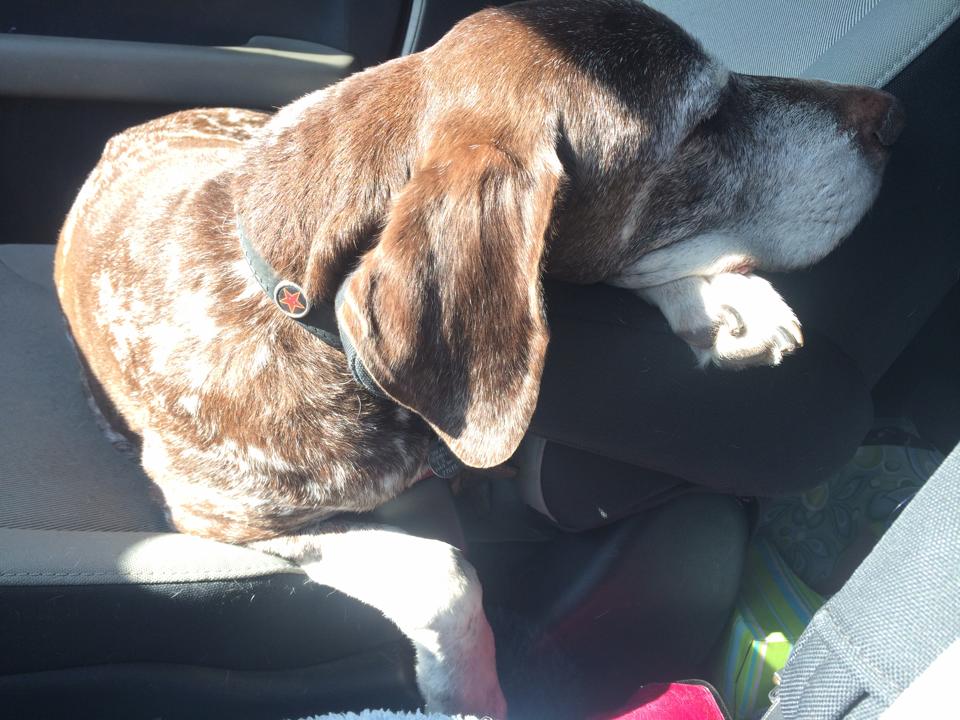 Dallas – passed away August 20, 2014
Dallas Novak was adopted on 2/2/02 when he was 3 or 4, and was with our family for 12 1/2 years more years. He was a special beastie, and will be wagging his tail in my heart for a long time. Thank you for all you do to find forever homes for these sweet dogs.
-Alessandra and family
---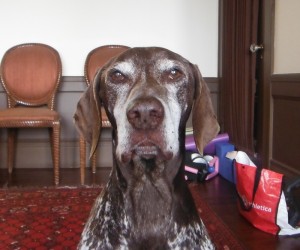 Ernesto – passed away August 15, 2014
Ernesto came to us (his third family at least) as a foster named Dougal. The small guy had Arthritis and could barely stand, was nearly blind, effectively deaf and had other medical issues, but always followed like a duckling when someone headed to the kitchen. Appetite wasn't ever a problem. He never bit, growled, or attacked.
We re-named him Ernesto (since he was deaf and wouldn't notice). Ernesto had a strange affinity for vigorous forehead and chin rubs that left little gray German Shorthair bits of beard all over our hands and clothes. He had some oddball characteristics that we've never seen before. Walks-Rather than stopping during a walk, he liked to pee while continuing to walk. Getting Around the House- He couldn't turn around, he would instead walk backwards. Good Manners?-He liked to use our Persian rugs as his own personal after-dinner napkins.
We loved him every moment of the two years and two months we shared together.
– Pam, foster mom and forever mom
---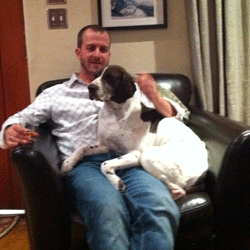 Ellie – passed away June 8, 2014
Sweet Ellie was one of those memorable dogs, from the time she came into rescue until the day she passed away in her loving forever home. When she first arrived, she was in terrible physical condition, with lumps, bumps, saggy parts, and terrible skin. She started out in one foster home, and over time and with care, she felt better and looked better. Then she moved to another foster home, and that's where she stayed – lucky Ellie was adopted by her foster family! They didn't mind Ellie's "vocalizing" and she fit right in with the other GSPs, enjoying hikes, walks, and hanging out. But at the beginning of this year, Ellie began a gradual decline, eating less, becoming less active, and her family made the decision that she should not suffer – so Ellie has gone to Rainbow Bridge. Goodbye, sweet girl.
---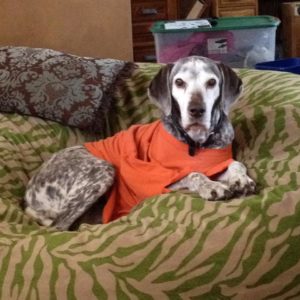 Molly – passed away May 13, 2014
Molly passed today from leukemia. I only enjoyed her for 6 months. I find peace with the fact she had more love in 6 months than her previous 14 years as a backyard only dog.
-Carol, foster mom and forever mom
---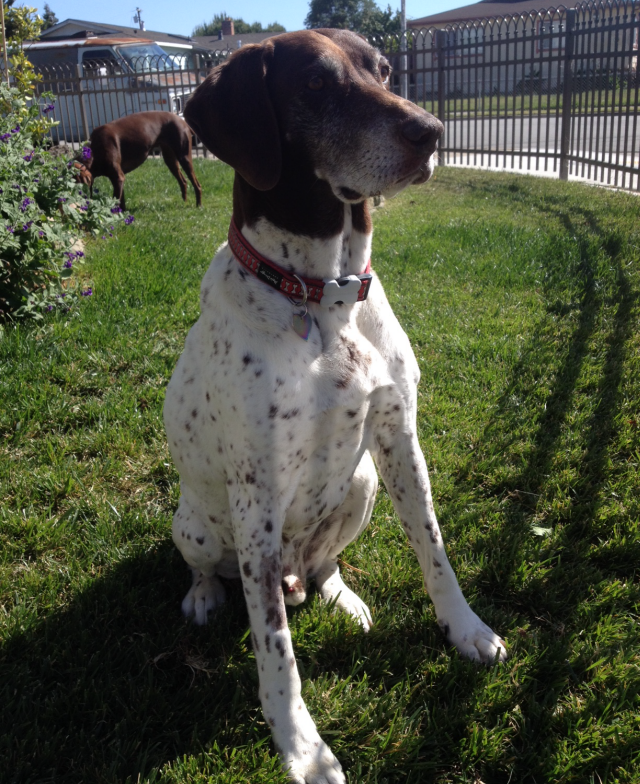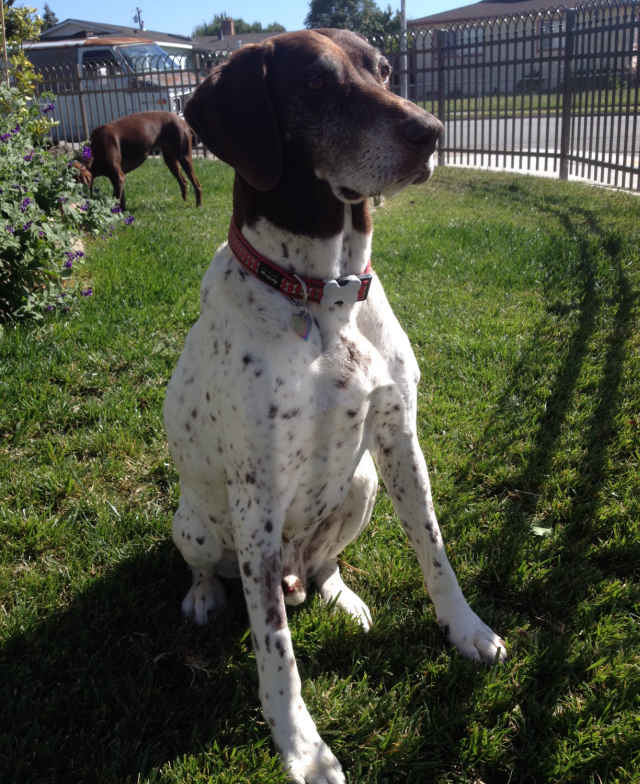 Webber – passed away May 12, 2014
It is with great sadness (and disbelief) that I say goodbye to my jolly, clumsy, always-loving dog Webber. Just two weeks ago he was diagnosed with gastric carcinoma (stomach cancer)–a cancer that unfortunately in dogs doesn't always show symptoms. I am running on empty right now, reeling from not having my buddy here with me. Gabby is quiet and subdued as well. I am grateful for the time I had with this loving, special boy.
-Eileen
---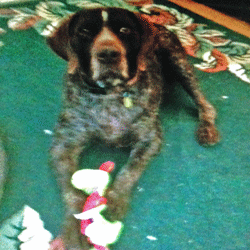 Huck – passed away December 2013
Huck was a great dog, very therapeutic for Al, he was very devoted and loving with the strong will to live and pull through so many surgeries. He was about 12 years old. He gave and gave to us! Loved rocks, silly boy. After we adopted him, he had his mouth done, and then major surgery on his back. UC Davis was sure he would never walk again but don't underestimate a shorthair. He got pneumonia and they said he would not make it, but he did and was walking – walking funny, but walking. At least he was out of most of his pain. This time, his leg swelled up and he decided he was too tired to keep going, but he tried for us. He was ready to leave us, we were not ready for him to go. The decision was best for him. We will have his medical bills for years but no regrets as he paid us back in love and therapy for Al. He will be missed!
-Charlotte and Al
---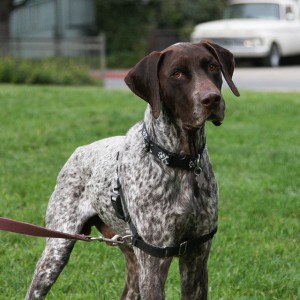 Luke – passed away December 2013
Luke,
You were the star of Thanksgiving 2013. I'm so glad I got to sneak you copious amounts of turkey. We had crazy fun with you and miss you dearly.
See you on the other side "Hollywood".
– Eddy and Lisa
---
Frida Kahlo – passed away July 3, 2013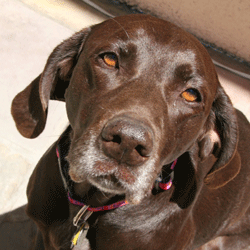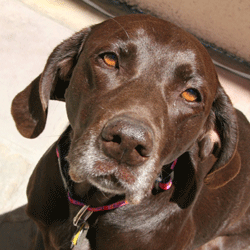 Frida Kahlo, my princess of perfection, came to live in her forever home, that is with me, in Oct, 2006 and changed my life in the most rewarding and delightful ways imaginable. Now there is a hole in my life and in my heart that cannot be filled or replaced.
Frida Kahlo, was incredibly smart, loyal, patient, sneaky, loving, gorgeous, stubborn, playful, uncomplaining, and much more. Frida loved to eat the crumbs from anywhere–but never dared to eat a non-food–eg a foil wrapper or a wrapper with the leftover scone or cheese or apple. Frida carefully dissected any spoonful of peanut butter or meat treat when suspect of any hidden medicinal tricks within and only enjoyed the bounty.
Frida Kahlo and I would visit off leash dog parks/beaches. She could spend literally minutes and minutes, statue-still, with her adorable long nose down a mole hole until gently pulled away. Not even the best of treats could move her from a gopher or other ground hole. At other dog parks, Frida was an ace flushing out a bunny/hare/jackrabbit, and then in GSP-hunting heaven while in wild pursuit, chasing her frightened victim (she never caught one and I was secretly glad.) Or when when we went to Fort Funston or other water designations, and my Frida is the only dog running in the hills –and nowhere near the water. Just beautiful.
As some of you may have also experienced, when Frida wanted you to keep petting her, she'd look up with those expressive eyes and 'paw' you, as if thinking, "no-one told you to stop petting me." It was magic.
Frida came to work with me for most of our 6 1/2 years together. She made colleagues and strangers everywhere adore her with her gentle spirit, undemanding disposition and soulful eyes. She had visitors at her side through out the day. I couldn't walk in the office building without a colleague asking "where's Frida?" how's Frida's?" She made everybody happy.
Frida taught me patience, and appreciation for consistency and routine, a new kind of nurturing, and selflessness in completely new ways.
I am still lost without her. I want to thank all who have supported me in her last year, when I learned of her diagnoses of degenerative myelopathy and then cancer, until her too-soon death of perhaps, 11 or 13 yrs young. I was so very lucky to have Frida Kahlo in my family. Thanks to NorCal GSP Rescue and the entire team for making her a possibility in my life.
-Wendy Jacobson
---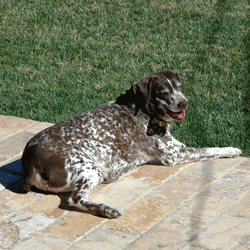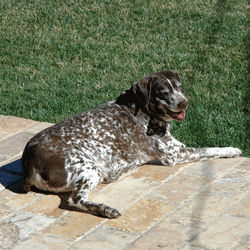 Bogie – passed away March 2013
Bogie, known as Rudy when he was in rescue, was adopted in 2003 as a young pup. His mom tells us:
This photo is one of my favorites of Bogie in his later years, about a year before he passed. I am not sure what to say about Bogie, brings tears to my eyes. He was very loved and he was a very special boy from the very beginning! He is still very much missed!!
-Kris Finch
---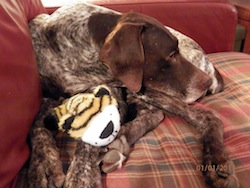 Tanner – passed away July 7, 2013
Today we put our sweet dog Tanner to sleep. He had a very rare and aggressive cancer called histocytic sarcoma which had metastasized in his lung and in his groin. We tried chemo but it did not make him feel very good so we decided to let the illness run its course instead of putting him through chemo. He hung on for a lot longer than we thought, having some bad days but also some very good days, filled with yummy food and trips to run off leash at the dog park. Every time we thought it was "time" he would rally and have a very "normal" day with all the energy that at German Shorthair Pointer should have. But ultimately, the tumor in his lung caused fluid to build and for him to cough at night. Although we are so sad to let him go, it gives us comfort to know that he is no longer in any pain or discomfort and is probably playing with his brothers Cody (Viszla) and Jasper (GSP) in Doggie Heaven right now.
Tanner was from NorCal GSP Rescue and was approximately 2 years old when we got him. We do not know what his history was before we adopted him but all we knew is that we had an untrained dog who had not lived inside before and who had pretty severe separation anxiety. The first night after adoption, we invited him to sleep on the bed with us. It was clear he had never slept on a bed before as he proceeded to fall off with a "thud!" on to the floor. Not to be deterred he jumped back up and proceeded to the middle of the bed and stayed there the rest of the night. The next morning we woke to find him standing on top of our dining room table with his head in a bowl we left on the table the night before (this gives you an idea of how untrained this boy was!). He then proceeded to run full speed around and around the dining room table (several times). My husband thought we had adopted a monster! However in the 11 years that we have had him as part of our family, he had blossomed into a very sweet, cuddly and very well-mannered boy who slowly lost his separation anxiety and was able to trust that his new family would not ever give him away. We knew we had won him over when he rolled over on this back to get his tummy rubbed!
We will miss this sweet mellow boy …the chow hound, the fearless, focused hunter that "stomped" on his prey (he did not have any finesse at all) who had that soft, pleading face that you could not say "no" to. At the dog park, Tanner had an "extra gear"…he could run with the fastest dogs and then turn on the extra gear and speed ahead. It was quite amazing to watch.
I am sure he is chasing squirrels, running free and eating as much grass as he wants to without hearing the word "no". And I am sure there is a bottomless cookie bowl and toys as far as the eyes can see.
Enjoy your new found freedom! R.I.P. sweet Tanner.
– Diane and Jim Coward
---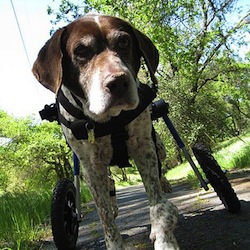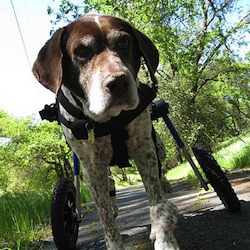 Vera – passed away May 6, 2013
We first met Vera in June 2011, and for almost 2 years, she lived a wonderful, happy life in her foster home. She had a great time with her foster brothers and sisters running around pointer paradise. Towards the end, she used a wheelchair to keep going as her back legs became too weak to support her. She wasn't ready to give up! We are so glad to have known Vera for as long as we did, and so grateful we could give her love and comfort in her senior years.
---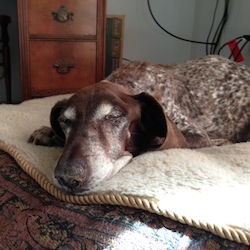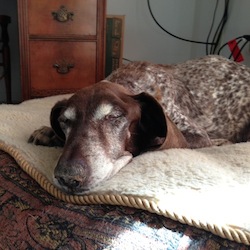 Beatrice – passed away May 4, 2013
Although Beatrice was not with us long, she made quite an impression. After being rescued from the shelter, she spent a week at her foster home soaking up the good life. Her foster family showered her with love, good food and gave her a all the comforts of a home. She was very special to her foster home for the short time that they knew her, and we are so grateful that beautiful Beatrice did not end her days on a cold shelter floor.
---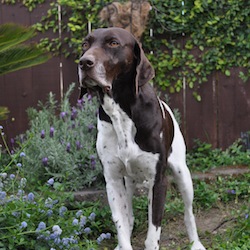 Ziggy – passed away April 12, 2013
Our sweet girl Ziggy has made her way to the Rainbow Bridge after battling kidney disease. She came into the rescue heart worm positive and was able to recover from the treatments. It was love at first sight when we met Ziggy. We knew she would be a great addition to our little family, and would be a wonderful doggy sister to our other GSP Zoe. Ziggy was always willing to share a snuggle and loved to be right by your side. She always enjoyed a ride in the car, trips to the park, rolling around in the living room with her bone, and running around the yard with Zoe. Known to many as "Zigger the digger", she was able to dig trench sized holes in little to no time and her incredible sense of smell always let us know when an unwelcome critter was around. Our time with Ziggy was way too short, but she enriched our lives in so many ways. Our sweet angel definitely earned her wings and she will be missed by all. We love you Ziggy Doo!
– Ryan and Katie
---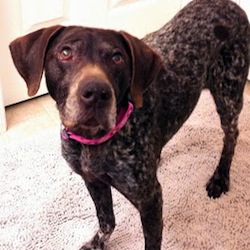 Olive – passed away March 6, 2013
We are saddened that sweet Olive has gone to Rainbow Bridge after losing her battle with pneumonia and numerous medical issues. Three days in the veterinary ICU were not able to stop her decline. Though she was only in rescue for two weeks, we are grateful for her foster homes that lavished her with love and attention, that the decline was rapid and she did not suffer, and that she did not have to spend her final days alone at the shelter.
---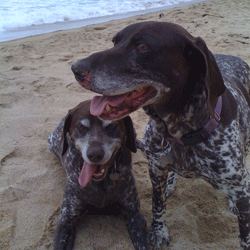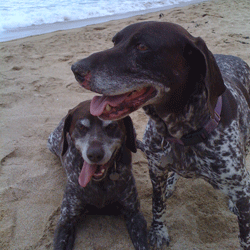 Shotzi – passed away February 2013
It's with great sadness that we announce the loss of our two GSP rescues over the last few months. We adopted Remington as a 1 year old pup in 1999. He faithfully served as my shadow for over 13 years until he just couldn't make it anymore. In 2007 we added Shotzi as a 10 year old companion for Remington. For 5 years they battled over the sunny spots in the yard. Shotzi succumbed to old age this February and joined Remington in the Land of Never Ending Tennis Balls.
-The Gaffneys
---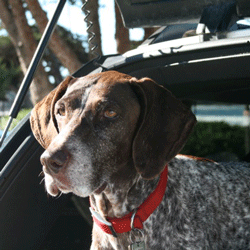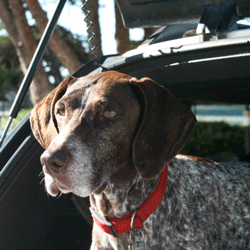 Cassie – passed away January 28, 2013
Cassie was born in 1999 and passed away recently at the age of 14. She was adopted from us in May of 2002, and had the best years of her life after that. She got to go for long walks on the beach and was doted on by her family. A stunning beauty, she was in the Brown Trout GSP Calendar twice – June in 2005 & 2008, showing off at the beach. Not bad for a rescue dog!
---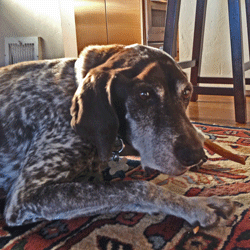 Samson – passed away January 2013
As soon as we saw the pictures of Sam, we knew he deserved a home where he could be loved and treasured. I have never seen a dog so appreciative of human touch. Sam would lean into you and rest his head in your lap for as long as you would let him- food would not even lure him away. He would look at you so thankfully when you would sit with him and scratch him. Sam had an unusual bowlegged stance, when people would see him approaching they would call out "howdy partner". He was the oldest dog we had in the house and he was the boss up until the very end. People tend to shy away from adopting the older dogs for fear of only having a year with them but if you take the chance like I did, it is all worth it. We will miss our little monkey!
---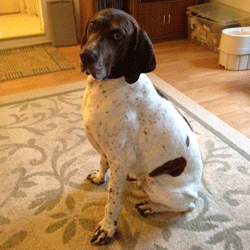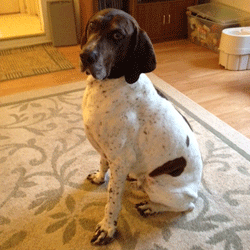 Mackey – passed away December 5, 2012
Mackey hit the jackpot when he came into rescue in 2005, and was adopted by his foster family just in time for Christmas. He had a good life and made it through surgeries, an arthritic hip, mast cell disease and metastatic carcinoma, but finally succumbed to kidney failure. His outlook was positive, with every day being a good day, another day to be entertaining, to eat, to go for a walk on the trails, to squeeze himself into small spaces. Farewell, dear Mackey.
---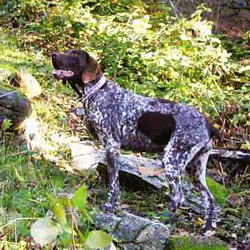 Sadie – passed away November 28, 2012
Sadie had a rough start in life, ending up in rescue when she was 8 or 9 years old. A difficult spay with hemorrhaging nearly took her life, but she recovered. She was adopted and then returned when the family had a baby and no longer had time for her. Was she ever going to have a true home? Yes! At the age of 9 or 10 she was adopted by a wonderful woman who had adopted from us before. Sadie had finally found her home. She enjoyed the company of the other dogs, and played older sister to the foster dogs. Her arthritis slowed her down a bit, but she always enjoyed her walks, especially along (or in!) the creek. Sadie had over four years of love, walks, and companionship. Goodbye, sweet Sadie.
---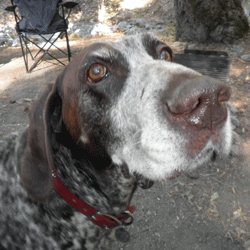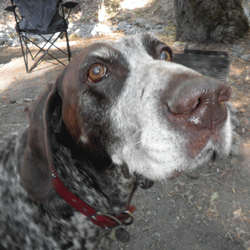 River – passed away June 13, 2012
River was at least 8 years old when he came into rescue. There's not a waiting list for older male dogs, so we hoped that the right adopter would come along. River did great with his foster dads, enjoying his time at the dog park, on errands, and just generally hanging out. Then one day his dads realized that River WAS part of the family, so they made it permanent and adopted him – it just took them a while to figure out that he was already in his forever home. River enjoyed five more years of the good life before it was his time to go.
---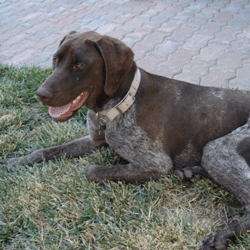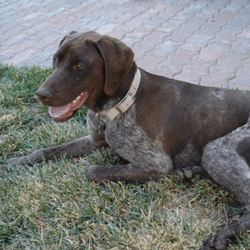 Jolie – passed away 2012
Jolie passed on before her time. She began having seizures after she was adopted, and her family tried everything the neurologist recommended. She needed more and more medication, and finally even that was no longer helping.
---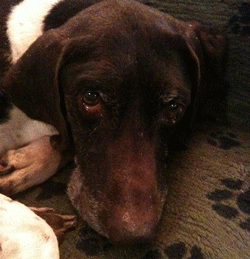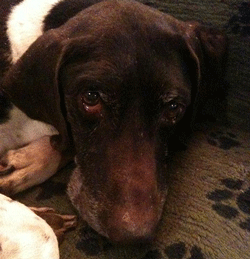 Trigger – passed away December 3, 2011
Trigger had been dropped off at the shelter and he came into our program terribly ill and on his last legs. Thanks to two wonderful foster homes, he spent his final days in the warmth and comfort of a home environment, with lots of love, care, and blankets.
---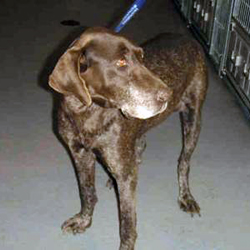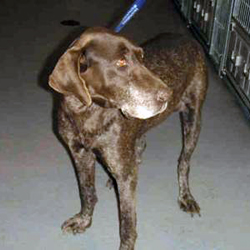 Claudia – passed away March 12, 2011
"And so she came to pass much too quickly. My hopes, my goal was to simply make her comfortable just long enough to enjoy at least one full day of love, of kindness, of the grass under her feet, the spoils of being "my" dog. To prove to her that, once she was out the shelter, I would make it better along with all those who were rooting for her. But it was not meant to be. Claudia's illness was relentless, nullifying her medications and the best of my intentions in a matter of days. And so, on a beautiful Saturday morning, I held her head in my hands and never stopped kissing her forehead as she peacefully slipped away. All the while telling her she was a beautiful dog and that my wish for her was that she should run like the wind without a care in the world.
Claudia must have been a fabulous dog in her day. Even in her failing health, she was strikingly beautiful. Her liver colored coat was spotted with—what looked like—snowflakes of white. Her eyes appeared golden in the sunlight. Her expression, her look was quintessential GSP. Especially when she stood perfectly still in the middle of the yard taking in the fresh air; her head tilted slightly upward toward the sky. She quickly assumed the rituals and routine of my "girls" (Emily [GSP], Molly [Cocker Spaniel], Sassy [Jack Russell mix]), politely enjoying an abundance of dog treats, the comforts of the couch, and the ever present touch and attention of someone who truly cared. And in those moments I knew she knew she was, without a doubt, my dog. My only wish was that it could have been for just a little while longer. Sweet dreams Claudia."
– Celia A., Claudia's (Foster) Mom
---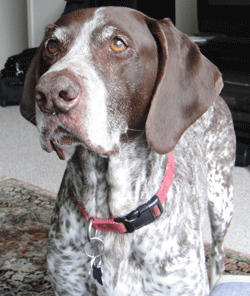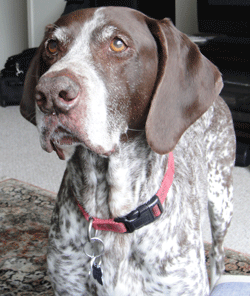 Moose – passed away in 2011
Moose and Uly the cat were the best of friends as far as dogs and cats go–Moose licked Uly's head clean, and Uly slept on Moose's bed and ate out of his bowl. They would counter surf as a team with Uly knocking food to the floor for Moose to eat. They were shameless together. All of which is just to say that we all miss Moose, even the cat, he meant so much to us and we're so glad to have adopted him, he was the most easy going and cheerful guy.
Moose passed away shortly after we moved to Chicago. I'm grateful that I was able to spend more time with him during his last several months.
-In loving memory of Moose, from Cait, Steve, and Uly
---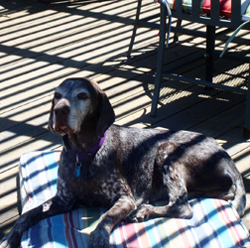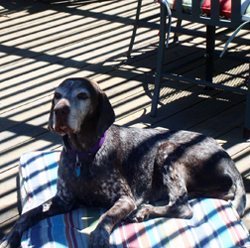 Mercy – passed away January 4, 2011
Mercy was rescued by NorCal GSP Rescue in Feb. 2010. Even though she suffered from advanced arthritis, Mercy was full of character and personality and made sure her body took her wherever she wanted to go! When it was mealtime, she seranaded everyone with a hilarious "Woo woo" and never met a morsel of food she didn't like. She spent her last 10 months hanging out with the other dogs in her foster homes, catching some rays by the pool and even swimming a lap or two. Unfortunately our sweet Merc took a turn for the worse as the New Year approached and was helped to the Rainbow Bridge on Jan. 4, 2011. This "sweet old bird" reminded us of why we love the oldies so much. They're just so pure of heart and deserve to live out the rest of their lives in comfort, not end their lives in a shelter. It was good to know you "Moosie". Rest in peace sweet girl.
---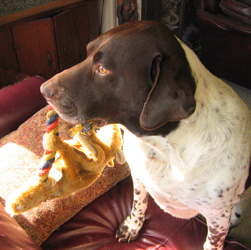 Oscar – April 2001- November 13, 2010
Oscar came into my life as a one-year old stray in May, 2002, having found his way into the San Francisco SPCA shelter. He quickly found his way to the center of my life and bed. He was a remarkable dog: intelligent, loving, friendly, attentive, clever, precocious. independent, alert, inquisitive and very focused, intuitive, playful, loyal, interested in people, squirrels and gophers; stuffed toys were a joy.
I know he had a good life. He knew he was loved. He had his own rights and needs that had to be respected and at the same time understood so much about me, and all people he met. Sadly he was diagnosed with an enlarged heart and tachycardia in January and lived well with medical treatment for another ten months, fully involved with his adventures. He left when his life was still full. As a friend observed: He was an unusual dog with capability of friendship and caring and sensitivity beyond any other I've known and loved.
– Rick Carrington
---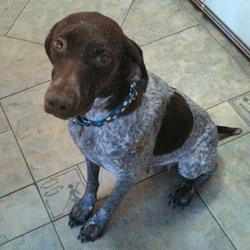 Tiki – passed away September 17, 2010
Sweet Tiki passed away in foster care after complications from her spay surgery – she declined very rapidly and could not be saved. Her foster family is heartbroken – they were considering adopting her.
---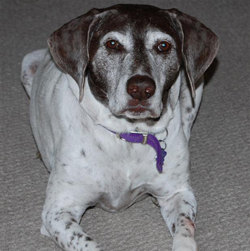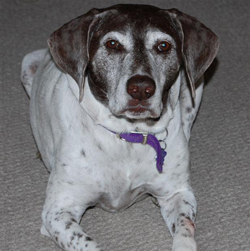 Bandit (formerly Bradley) – passed away April 15, 2010
Bandit came south to live with us as a 6-7yr old. It took a bit to figure out that he was pretty tightly wound. He seemed to internalize all his anxieties so the symptoms were much less noticeable than one would expect. We were a bit concerned when he first came home because he would never look anyone in the eye. I just wasn't used to that! The whole first year he was with us he would look next to you, not directly at you. And we used to call him "The World's Quietest Shorthair" because he NEVER barked! But what he did do was obsess over lights. He chased lights and shadows constantly, it sure kept him busy.
Then after about a year, he not only started looking us in the eye, but he found his voice and his light chasing became just a game, not an obsession. We had six wonderful years with him. He loved to go traveling in the RV and camping. He saw the sites all over the southwest, and enjoyed it all! He also loved to swim, and would jump off of the side of the pool to fetch a ball. He wouldn't play fetch on dry land, just out of the pool. He had his rules! But his very favorite game of all was hunting for rocks in a lake or river. He would do it for hours on end if we let him!
This past year has been a bit more difficult for him as he aged considerably and was diagnosed with Cushings. He still loved his daily walks, and still was always available for some shadow chasing if you were willing to play. He still had his voice, although it was a bit hoarse. And oh, he would stare in your eyes for as long as you wanted.
He will always be in our hearts . . .
---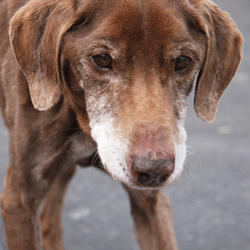 Candace – passed away March 27, 2010
Candace was probably at least 14 years old when she came into rescue. She was so terribly emaciated, yet still happy to be with you. Her foster people took wonderful care of her, she had a couple of months of being spoiled, and we are glad she didn't have to spend her last moments in the shelter.
---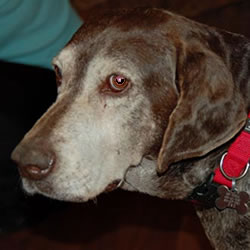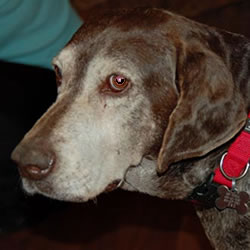 Oscar (Turbo) – passed away February 2010
Oscar(Turbo) crossed the Rainbow Bridge on Thursday, February 18, 2010. Oscar was a loving and loyal member of our family. Even though he was officially a foster dog, we knew when we got him that he was approximately 14 years old and that he may never be adopted.
When he was young, he must have been striking because even at 14 he was remarkably handsome.
He loved to be petted and demanded to be present in the same room as his human roomates. Until recently, he would sleep in our master bedroom located on the second floor with our 4 adopted GSP rescues. Even as his hips started to lose full use, he insisted on going up & down the stairs. He enjoyed every minute of life and would toss his toys in the air then catch them and squeak them like a puppy.
Even though he was too old to alter, he immediately fit in with our 4 boys. He loved his daily walks and was social butterfly with humans and dogs he met on these outings. Many people showed interest in adopting until they discovered his age.
Well, the two years and four days with this valiant, sweet and gentle friend was our gain. Oscar, you will always be in our hearts and you were indeed a member of our family. Thank you.
---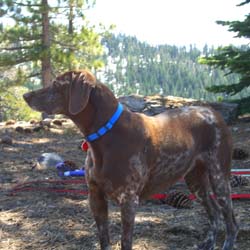 Gracie – passed away January 2009
"Gracie died in January 2009 and the hole in our hearts remains. She was our first GSP and easily the most intelligent and precocious.
Gracie had a full life – she got off leash exercise daily (except during the numerous orthopedic fixes where she had to stay on leash) and she loved to chase critters-rabbits, squirrels, deer, etc. She was so fast and clever that she would occasionally catch a critter. She was always willing to give the critter up, EXCEPT for the times she caught a pheasant. Now a pheasant was a PRIME catch and NO ONE could have her pheasant. She also had more than one encounter with a porcupine in the Sierras while cross country skiing. We felt sorry for the porcupine as we watched Gracie run around it while it tried to keep her at bay. We never hunted with Gracie but her instinctual hunting ability was amazing and her point was beautiful. We have a picture of Gracie pointing when she was about 4 weeks old.
Gracie had so many classic GSP traits – loyal, Velcro (follow from room to room), loving to family but standoffish with others, not allowing head touching, intelligent (show something once and learn it), insistent on getting what she wanted, and stoic. She had an Achilles tendon repair and had to wear an external fixator and she still insisted on going for a walk. In the end, even the osteosarcoma, which is supposed to be incredibly painful, did not stop Gracie for seven months, yet the vets all said she had only 2-6 weeks to live, primarily because of the pain.
Gracie was the reason we became involved in GSP rescue. She was so even tempered that she was wonderful to use to evaluate shelter dogs. When she first met the shelter dogs, she would allow them to do almost anything – she would take their frantic behavior and would look away, give calming signals and diffuse negative energy. If a shelter dog went after Gracie, it was almost always dog aggressive.
We miss Gracie so much and love her dearly. We wait for the time when she can be back in our lives. We hope she is frolicking at the Rainbow Bridge with her boxer pal, Icky."
– Karen & KC
---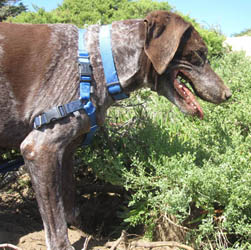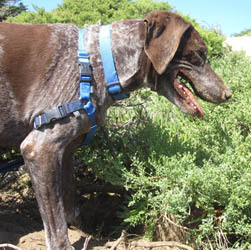 Polly – passed away October 31, 2009
Polly was a middle-aged female with some issues around love and trust when she came to me — a description which fit me pretty well, too. She was so sweet and silly (and sometimes sad) — wonderful with kids and cats, other dogs — everyone. We had far too little time together, yet still enough to make lots of happy memories. She was very much loved, and will be remembered and missed. –I like this photo of Polly because she's happy, having been digging for critters in the dunes at Ft. Funston (and uprooting the native plants — don't tell the native planters!).
– Lisa McGowan