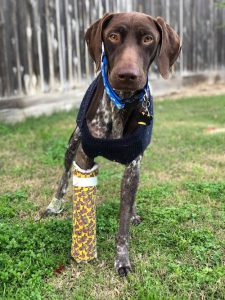 Mid-December, we were contacted by a shelter about a young GSP boy with a broken leg. Knowing time was of the essence to get his leg looked at and repaired, we were able to identify a foster home quickly and get him immediately to the vet. Jacob had surgery shortly thereafter to repair the break. Now he's healing and soaking up the good life at his foster home.
He'll need a number of weeks of cage rest and recovery, but his prognosis is good. More information will be coming as we learn more about his personality and how he does with other dogs.
| | | |
| --- | --- | --- |
| Status: Adoption pending | Location: Sacramento area, CA | Adoption $360.00 with a $50.00 refund upon completion of a positive-reinforcement training class from a trainer on our training list, or approved by us in advance. |
| Weight: 50 pounds | Age: 2 years | Kids: 6 and up |
| Other dogs: Being evaluated | Cats: Not known | Hunting: Unknown |

Help Jacob!
Jacob's veterinary bills total just over $3,400 so far. He has splint changes ahead of him, and depending on how he recovers, may need some rehab therapy. Please help Jacob by sponsoring him today and help get him back to being his energetic and playful self!
Thank you to Jacob's sponsors!
Danny A.
Eric & Alexia H.
Darren R.
Jared W.
Kimberlee & Paul P.
Heather W.
Vicki & Bruce R.
Won't you sponsor Jacob too?