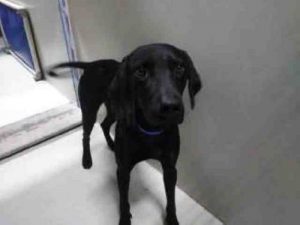 Jett is a 2 year-old GSP mix. Isn't he handsome?
If you are interested in adopting him, contact:
Kern County Animal Services – Bakersfield Shelter
3951 Fruitvale Avenue
Bakersfield, CA 93308
(661) 868-7100
Adoption Hours
Mon/Tues/Thurs/Fri/Sat: 10:00 AM – 4:00 PM
Wednesday: 2:00 PM – 7:00 PM
This is a shelter dog that may be in danger of being euthanized. Please contact the shelter directly for more information. You do not need to fill out our adoption questionnaire as you will be working directly with the shelter. Once a shelter dog has been adopted or placed into foster care, s/he will be removed from this listing section.
Location: Bakersfield, CA