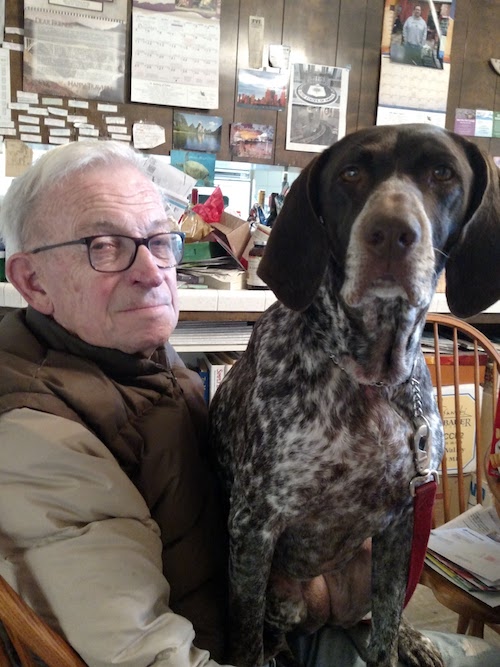 In honor of the passing of John T. Bonner, M.D., his family is suggesting donations to NorCal GSP Rescue so that other dogs can find homes that will love them as much as Dr. Bonner loved his German Shorthaired Pointers. Dr. Bonner had five GSPs during his lifetime, all well-loved by the entire family. He is pictured above with Liesl.

You can also Print and Mail Your Donation

In memory of John T. Bonner, MD – donated by Marvin and Eleanor Beil

In loving memory of our deceased friend and colleague John T. Bonner, MD – donated by Dr. John D & Barbara White
---
John T. Bonner, M.D., husband, father, and neurosurgeon passed away after the recurrence of a malignant brain tumor. Born on December 7, 1936, in Havre, Montana, John was raised in Butte, Montana by his mother, Isobel, after his father passed away in 1938. John's mother was a public school teacher who impressed upon her son the importance of education. Consequently, John was his high school valedictorian and Boys State representative. He then graduated maxima cum laude from Carroll College in Helena, Montana, before attending medical school on scholarship at the University of Chicago Pritzker School of Medicine. He did his surgical internship at Duke University and his neurosurgical residency at the University of Washington. From 1969 to 1972, he taught neurosurgery at the University of Missouri at Columbia. John came to Fresno in 1972 to enter private practice neurosurgery. He also worked as a medical consultant for the State of California, Disability Determination Service.
John loved being a neurosurgeon, and he was active in many medical organizations and activities. He was a longtime medical ethics consultant at Community Regional Medical Center and he was also a dedicated member of the St. Agnes Hospital Institutional Review Board. John served as President of the Fresno Madera Medical Society and was for many years a local delegate to the California Medical Association (CMA). He was President of the California Association of Neurological Surgeons (CANS), and President of the Western Neurosurgical Society (WNS). For his service, John was honored with the Fresno Madera Medical Society Lifetime Achievement Award and the California Association of Neurological Surgeons' Byron Cone Pevehouse Service Award, which is conferred upon a neurosurgeon in California who has served both the community of neurosurgery and medicine in general in an effective and distinguished manner.
John strived for excellence in everything he did and he appreciated the finer things in life, including travel, good wine, his BMW automobile, anything by Barbra Streisand, and his five German Shorthaired Pointers. John and his wife, Romona, particularly enjoyed their forty some year participation in a theme dinner party gourmet group. John was an avid follower of sports, and ran several marathons. And, he loved to travel. Even when his health was failing, John traveled recently to Montana, Hawaii, Chicago and Missouri.
John was preceded in death by his wife of 52 years, Romona, as well as his mother, Isobel, and father Thomas. He is survived by his three children, Kerry, Cheryl and David, and his German Shorthaired Pointer, Liesl.
The family would like to thank Dr. Thomas Hackett of Fresno, and Drs. Lawrence Shuer and Lawrence Recht of Stanford. John lived, and lived well, far longer because of the excellent care he received from his doctors and their staffs at Fresno's CCARE and Stanford Medical Center.