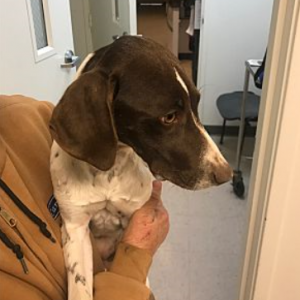 This is a courtesy posting for Top Dogs Rescue and Adoptions
Lisette came to us after the family that bought her took her to the vet after episodes of vomiting and she was diagnosed with megaesophogus, which basically is an abnormally large esophagus. They were unprepared to deal with this for her lifetime and surrendered her to rescue. Lisette's condition means that she needs to be fed sitting up for the rest of her life, but otherwise is a perfect little puppy. If she is not fed properly or gets into food she is at risk for aspirating which can cause a severe case of pnemounia. The rescue is looking for a dedicated owner to take on this sweet little girl and give her the life that she deserves. Home check is required, as well as a veterinary reference for any potential adopter. An xray showing her megaesophogus will be included, along with photos of her. To the right home there will be a minimal adoption fee. Please feel free to inquire and ask any questions about this sweet little puppy, as all she wants to do is please you.
Please contact Top Dogs Rescue and Adoption if you are interested in adopting Lisette:
Top Dogs Rescue and Adoption
Lucerne Valley, CA 92356
Contact Tooter Wakefield
Email jessicacarter848@gmail.com
Phone 760-684-0232
You do not need to fill out our adoption questionnaire since Lisette is not in our foster program and you will be working directly with her rescue.
Location: Lucerne Valley, CA
This listing is a referral or courtesy for other rescue organizations or families needing to find their dog a new home. Please note that we have not evaluated these dogs nor do we make any representation as to their health or temperament, nor have we validated any of the information provided by the parties.