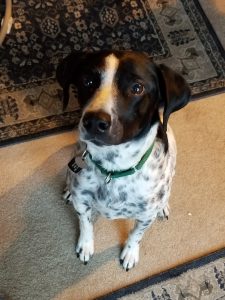 Lulu is a petite 4 year old GSP mix, weighing just 45lbs! She is incredibly smart and is at her happiest when she is constantly being taught new tricks, and when she has plenty of opportunity to exercise. She enjoys running, hikes, walks and a good game of ball! Afterwards she's happy lounging about in the sun and hanging out in the yard. She is such a loyal girl and wants to be wherever her people are for most of the day. She has great boundaries; she won't take any "people things" (other than food, if you leave it out), doesn't beg at the table, and is very vocal about what makes her nervous or upsets her so that we can always get her out of a bad situation before anything happens. She loves having "spots" around the house that are hers, like blankets and dog beds, and will go "relax" in her spot on command. She is an incredibly sensitive dog and doesn't require much correction – one stern word will have her sulking and looking for ways to please you the entire rest of the day.
Lulu unfortunately has been through a few homes already and this time is unable to handle a crawling child, she is too nervous although there have been no incidents. Lulu is dog reactive and has a strong prey drive. Lulu will require a home that understands she can't go to dog parks and needs to be a single dog household. Lulu is seeking a forever home is an active household, OK with teenage children, no cats and hopes to do daily activities like running or agility! The most important aspect of her ideal home is someone who enjoys dog training and can continue to challenge Lulu.
Lulu knows a lot of commands, tricks, is leash trained, crate trained and house trained.
Lulu is spayed, microchipped, current on vaccines and flea/tick treatment. She has no health issues. Lulu will come with her freedom harness, leash/collar, crate, food puzzles, and other items with her.
Rehoming fee of $100
You do not need to fill out our adoption questionnaire since Lulu is not in our foster program and you will be working directly with her owner. If you are interested in her please email a little bit about your family and what Lulu's life would be like in your home to Aleena at: aleenayunuba@gmail.com
Location:  Monterey, CA
This listing is a referral or courtesy for other rescue organizations or families needing to find their dog a new home. Please note that we have not evaluated these dogs nor do we make any representation as to their health or temperament, nor have we validated any of the information provided by the parties