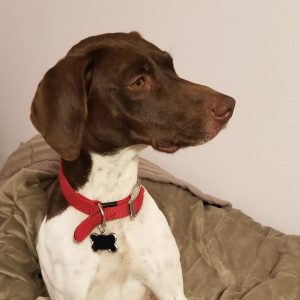 Mia is a 16 month old GSP, unfortunately she spent the first year of her life tied up outside. A kind family took her in but unfortunately she is not a good fit for their home.  So this young bundle of energy is looking for a forever home that has the time to train her wild side!  Here is what they have to say about her:
Mia is about a year and a half and LOVES to run! (Although she is still learning how to run side-by-side with a person) She will sprint back and forth across the yard either by herself or with the other dog – as long as you are out with her. If no person is outside, she will sit by the back door and whine, or just go lay down. She wants to be with and play with her pack of people. But beware, when you let her in the house, she sprints all around and will grab anything in sight and carry it around with her! She will chew up and swallow almost anything, so she is restricted to minimal toys. She has learned to dig out of the yard, so she will need a VERY secure yard or better yet not left unattended.
She lives with other male dogs, a 7 pounder and a 45 pounder, both of which she gets along great. They run and play very appropriately. She also lives with 4 cats. She does very well with them. They occupy the same spaces and can share the same bed. They go nose to nose and my cats will rub on her. She acts at times a little curious, but not much more.
She has a very hard time going potty while on leash. If there is no yard to set her free, I have had to resort to a long rope to let her roam about to potty, but I don't leave her alone for fear of her chewing off the line.
She is a cuddler. She actually enjoys being picked up like she was a little baby puppy – or like the princess that she is! She wants to be with her people. But, she has a lot of energy. Which she directs to being destructive to items in and around the home. She is just trying to keep busy, since we just can't exercise her the way she needs.
Mia is crate trained, house trained, spayed, microchipped and up to date on shots.
You do not need to fill out our adoption questionnaire since Mia is not in our foster program and you will be working directly with her owner. If you are interested in him please email Danielle at dtwhittey@gmail.com
Rehoming fee of $200 will be donated to rescue.
Location:  Placerville, CA
This listing is a referral or courtesy for other rescue organizations or families needing to find their dog a new home. Please note that we have not evaluated these dogs nor do we make any representation as to their health or temperament, nor have we validated any of the information provided by the parties.