Say hello to the Mountain Litter!
On 7/14, we saved a litter of nine GSP puppies with parvo from the shelter.
For one pup the illness had progressed too far and we lost him shortly after rescue. Rest in peace, Tehama. Your sweet soul will be remembered, even if we only knew you a short time.
The remaining eight puppies – Loa, Whitney, Matterhorn (Matti), Etna, McKinley, Kuna, Denali (male) and Everest (male) – recovered well and are available for adoption from August 14-18. Send in your adoption questionnaire by August 18th to be considered! Note in your application whether you have a preference for male or female and whether interested in any specific puppy. We will do our best to match your preferences, but will also be most focused on matching puppy personality with prospective home.
Note that we expect a high volume of inquiries (they are pretty cute!), so you'll only hear back if selected to move on to the next round. That helps our all-volunteer adoption team focus their time on placing these adorable pups in the perfect homes. 
If you wish to be considered for any of our current or future foster dogs in addition to the puppies, please make note of this when applying. This way, if you don't move on in the adoption process for the puppies, you will still be contacted by the adoption team after the phone screens for the puppies have been completed.
| | | |
| --- | --- | --- |
| Status: Adoption applications open until August 18th | Location: Northern California | Adoption $: 410.00 with a $50.00 refund upon completion of a positive-reinforcement training class from a trainer on our training list, or approved by us in advance. |
| Weight: 12-13 pounds | Age: 14 weeks | Kids: 8 and up |
| Other dogs: Good with other dogs | Cats: Yes | Hunting: No hunt testing/training |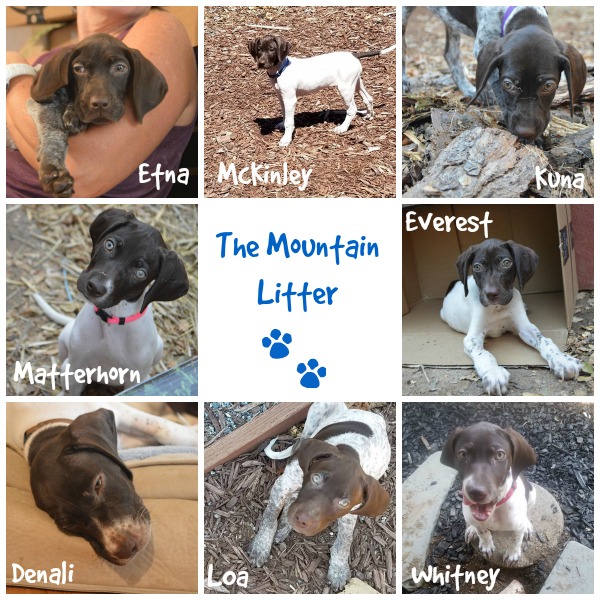 With your generous support we covered the cost of care for 7 of the puppies – Whitney, Loa, Denali, Etna, Kuna, McKinley and Matterhorn (Matti). Their vet care total was $19,552.56. Thank you from all of the pups for being there when they needed you most!
For Everest, the road was rockier than most. After spending 15 days in intensive care at the vet, his medical bills total $12,912.60. While that may seem like a lot, we know it was worth it to save this sweet pup's life. Please consider donating towards Everest's vet bills so that we can continue to provide him and the rest of the Mountain Litter puppies the care they need.
Thank you to puppies' sponsors!
Kenneth and Anna Zankel
Jo Ann Z.
Heidi R.
Kristy H.
Chris Whitney – in honor of my namesake!
Michael S.
Chrissy R.
Blaine C.
Bob R.
Byron A.
Carolyne C.
Raymond S.
Jessica B. – For those poor little puppies, my heart goes out to them. Consider it a gift for my gift, 14 yo GSP Oliver, still his loving and enthusiastic self.
Pamela B.
Ronald D.
Andrew H.
Suzanne R.
Paula P.
Cindy D.
Barry R.
Jane C.
Nick D.
Peggy S.
Carolyn K. – We are happy to help! We've received so much support for our sweet Nala! Prayers for the puppies!
Anna D.
Chris F. – From Chris and Chipper2 for Mountain Litter
From Deno, in memory of Suzie
Nicole M.
The Contrary Public Speaker
Marilyn A.
Tracie M.
Courtney T.
Sheridan L.
Lindsey S.
Carol S.
Carole P.
Todd D.
Ocie B.
Pat L.
Jody W.
Scott C.
Kristin S.
Tracy L. – sweet puppies, feel the love of the GSP village behind you!
Robert A.
Alexus F.
Sherry M.
Deborah H.
Emily S.
Eileen P.
Margaret W. – Get well soon, pups!
Renee C.
Alice C.
Jeanette M.
Anna B.
Bob and Angie A.
Barbara O. and Fariborz B.
Topetcher Architecture Inc.
Corissa V.
Laurie B.
Sherry D.
Hobie W.
Diane C.
Julianne S. – Keeping good thoughts for healthy happy puppies.
Barbara H.
Jordan S.
Erica C.
Lisa R.
Sandy R. – Prayers for a complete recovery
Jules S.
Chris S.
Paula O.
Mary T.
Anna-Kulina P.
Jessica S.
Kristin S.
Barbara B.
Leah D.
Armando M.
Patricia P.
Stephanie K.
Julie L.
Nancy B.
Katherine B.
Melanie C.
Carol S.
Nancy S.
Lisa S.
Kitty H.
Nancy B.
Perry T. – RIP TEHAMA
Brenda B.
Gabrielle V.
Eric and Alexia H.
Jon H.
Autumn T.
Laura M.
Dustin B. – Good Luck Puppies! Our GSP got Parvo as a fully vaccinated adult and pulled through. You can do it!
Tina T.
Melissa A.
Robert S.
Debbie B.
Cindy C.
Keren G.
Kimberly T.
Eric N.
Kim B.
Daniela D.
Linda M.
Dalia W.
Mari N.
Taryn B.
Meredith & Matthew Y.
Vicki R. – Love, the Rathkes and Rescue Lola
Christine B.
Cris V. – Thanks for taking care of those sweet pups!
Sheri J.
Amelia B.
Mark M.
Rebecca O. – In honor of Doc and Captain
Elizabeth H.
Marie G.
Jennifer S.
Don S.
Irina K.
Steve Y.
Maggie S.
Michelle R.
Kevin K.
Erin D.
Allie H.
Jeff S.
Lauren M.
Vicki and Bruce R.
Alex and Michelle – Sweet pups, get well soon!
From the Olsens in Spokane, WA – in honor of Peyton
Robert R.
Joy B. – Reading this story breaks my heart but hoping this will help the pups be in better care. <3
Timothy C.
Lynne B.
Bill & Sylvia H.
Charlotte K.
Mara F. & Deborah G.
Frankie J.
Patty C. – Go Everest!
Patti L.
Lesley L.
Andrew H.
Nick A.
Gabrielle V. – each of our Weimaraners wanted to help poor Everest. They love GSPs.
Jeff W.
Barry R.
Michelle R.
Patricia K. – Our Bennie (f.k.a. Buddie2) was rescued almost 10 years ago by NorCal GSP Rescue as an abandoned puppy with parvo. He is still with us and full of energy and love. Thank you for what you do!
Wendy J. – Thank you foster families & NorCal GSP Rescue for saving Everest and his adorable fluffy sweet tiny brothers & sisters.
Mary T. – To help with Everest. Thank you for all that you do!
Tracy K.
Lisa McK.
Nancy C.
Lynne B.
John L.
Renee S.
Ron K.
Melissa S. C.
Jennie Van H.
Annette D.
Donna & Paul E.
Joy B. – With love for Everest
Kathleen W. – This is for the puppies that came from Los Banos Shelter – Los Banos Volunteers for Animals
Liz E.
Mary & Alan B. and of course Luke, Pinto, Sophie, Laney, and Sarah
Rhonda & John S.
Nancy S.
Kerry W.
Mike N.
Tom D.
Sheri J. – for Everest :-)
Lana G.
Carol P. – for Everest!
Any funds raised beyond the amount needed for their hospital bill will be used to provide their routine vaccinations, puppy supplies, microchips, dewormers, spay/neuter, and any other necessary veterinary care and supplies. If any funds are left after all that, they will be used for the next urgent dog in need.