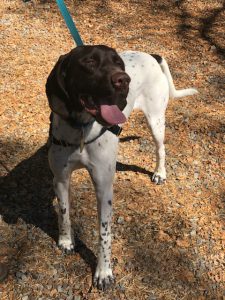 Hello Norman! This leggy 70-lb GSP stunner is looking for an active, loving forever home. Spending time with his people is pretty much his favorite thing ever, and the more the better! He would prefer to not be home on his own for long periods, but can handle a few hours. Norman does great with kids and adults alike. He'll even do a cute little lip curl when he's happy to see you! And did we mention his good looks? He's been described as a colt for his long legs and tendency to dance around, and also as doggy dumbo for his large beautiful ears!
Norman will thrive in a home where he's getting plenty of exercise and a healthy dose of structure. He's currently working on crate training and taking to it nicely, but will need to keep working at it. He also is working with a trainer on his leash pulling and is making progress.
The perfect home for Norman will:
– provide lots of exercise (at least 90 mins of aerobic exercise a day, not just walks)
– be willing to continue training with him, specifically to address leash reactivity and leash pulling (at least 2 1:1 sessions with a trainer will be required as a condition of adoption)
– have a flexible schedule so that he won't be left alone more than 2 hours for the first few months while he settles in
We think Norman can live with indoor cats, he's shown us he can be respectful of their space as long as they're dog savvy. He might chase cats outside. He also can potentially live with another dog, but does tend to have some reactivity to dogs while outside the home when on a leash. We're continuing to work on this with him and hoping he can also make strides with the proper training and structure.
If you're looking for a handsome young GSP to add some love and fun to your life, look no further than Norman!

| | | |
| --- | --- | --- |
| Status: Available | Location: Auburn area, CA | Adoption $: Sponsored by a Fairy Dogmother so that his new family can spend their funds on Norman's (required) training! |
| Weight: 70 pounds | Age: 2 years | Kids: 6 and up; younger might be considered |
| Other dogs: Yes with the right intros | Cats: Dog-savvy indoor only | Hunting: Unknown |
Thank you to Norman's sponsors!
Won't you sponsor Norman?