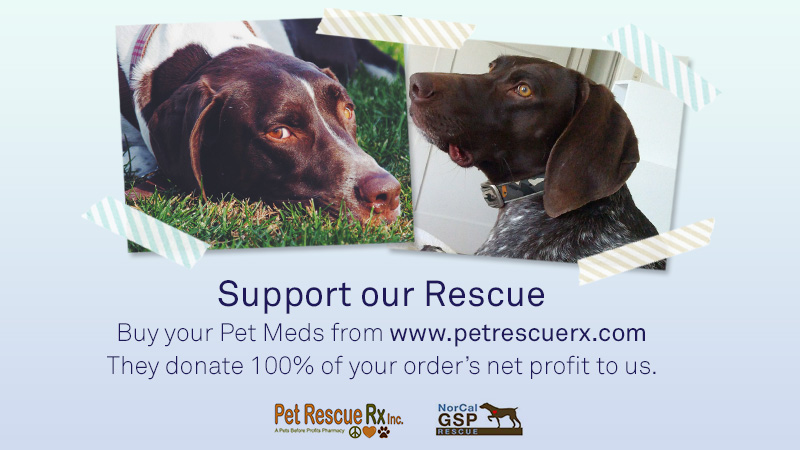 We are often asked about less expensive ways to purchase medications for your dog. Whether it's routine monthly products such as heartworm and flea/tick preventatives, specific medications, or pet products like Greenies, we have a great answer that saves you money AND helps our rescue dogs. Order from www.PetRescueRx.com, select NorCal GSP Rescue at checkout, and 100% of your order's net profit will be donated to us.
Pet Rescue Rx is the first ever online pharmacy for pet medications that donates ALL of their net profits to animal shelters and rescue groups. Their motto is "A Pets Before Profits Pharmacy." They carry the exact same FDA and EPA approved pet meds that your local veterinarian does, but at significant savings for you. They have all leading brands including Frontline Plus, K9 Advantix II, Advantage II, Dasuquin, Greenies and Heartgard. Fast and free shipping to your home is available on most orders. Their great customer service takes care of contacting your veterinarian to verify and approve your order.
Online pet medications is a $16 billion dollar industry. The founder of Pet Rescue Rx, Glenn Buckley, DVM, strongly believes a significant portion of that should go to helping shelter and rescue animals instead of into the pockets of big business or shareholders. We agree!
Check out their website www.PetRescueRx.com to learn more about who they are, their mission, and their competitive prices. The foster dogs thank you!