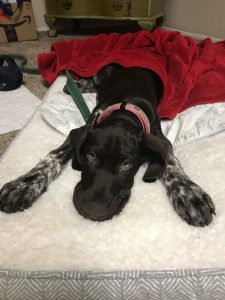 Pippa is a very young GSP puppy. We saved Pippa along with her sister Kate when they came down with parvo and needed urgent help.
While Pippa was discharged from intensive care at the vet within a few days and made a full recovery, unfortunately, Kate was just too weak and sick by the time she reached us. She passed a short time after we saved her.
If you can contribute towards the medical fund for Pippa or the memorial fund for her sister Kate, please consider donating below.
We're not yet accepting adoption apps for Pippa, and will provide more information once she's available. Please do not apply in advance.

Thank you to Kate and Pippa's sponsors!
Teryn H
Krystle H
Dede W
James S
Otilia F
Keren G
S and J Y
Joan I
Marie G
Patti L
Talita A
Antony O
Heidi R
Nancy S
The David Family (and Ariel)
Deno GSP
Annie H
Jennifer C
Eric & Alexia H
Wes D
Kelsey S
Jared W
Robert R