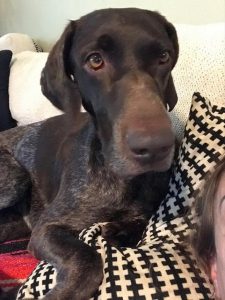 The Rubicon Trail is a historic Native American trail in "Gold Country", where our Rubicon spent the first part of her life.  Nicknamed Rubi, she is a golden gem.  At only two years old, this beautiful girl is going to be a rich asset for her future family.  She is super active, thrives on work, and wants to please.  The more Rubi can run and investigate with her nose, the happier she is.  After a day romping outdoors, maybe with a canine sibling, she wants only to curl up on the couch with her human and snuggle.  Rubi is scary-smart so an owner that will work her and train her, will endear her for life.  Rubi has the young energy and classic good looks that so many are clamoring for. Are you one of those GSP apprecionados?
Due to a lack of proper socialization early in life, Rubicon requires an adoptive home experienced with GSPs and willing to put in the time needed to continue her socialization and training. Training will also be required as a condition of adoption.
| | | |
| --- | --- | --- |
| Status: Adoption pending | Location: Sacramento, CA Area | Adoption $: $360.00 with a $50.00 refund upon completion of a positive-reinforcement training class from a trainer on our training list, or approved by us in advance. Training is required for dogs ages one to three years old. |
| Weight: 45 pounds | Age: 1-year-old | Kids: 16 years of age and older |
| Other dogs: Good with other dogs | Cats: Unknown | Hunting: No |
Thank you to Rubicon's sponsors!
Won't you sponsor Rubicon?