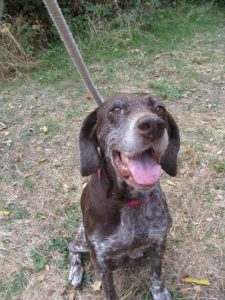 Meet our Super Starr! Sweet Starr was in pretty bad shape coming out of the shelter, but since receiving great medical care and lots of TLC, she's perked up quite a bit. She's getting along fine with her foster brother (also a GSP) and her foster family tells us that s

he is very responsive, doesn't wander off, comes when called, loves rawhide chews, and loves to sleep and cuddle. She's looking forward to meeting her new forever family, once she's all healed.  Could that family be yours?
Medical:  Starr does have several mammary tumors. Half of them have already been removed and the other half will be removed in mid-November. The biopsy indicated a mild grade malignancy. She is at risk for future cancer with possible new growths and return of current growths, but the metastatic risk appears to be low, as long as the masses are removed when they appear.  Due to her age, we opted not to do chemo. Starr is a very strong girl and we hope she has many good years ahead of her. 
Thanks to a Petfinder Foundation grant, Starr will come with a $100 Petco gift card when adopted so you can shop for everything she needs to get settled in at your home!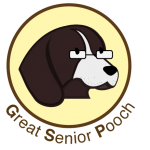 Starr is a Great Senior Pooch! If you're a prior adopter, take advantage of our frequent flyer benefits and bring Starr home for free! Just mention this offer to the adoption team when you apply.
| | | |
| --- | --- | --- |
| Status: Will be available end of November pending additional medical care | Location: Sacramento, CA | Adoption $: 255 OR if you're a prior adopter, bring home Starr for free! |
| Weight: 55 pounds | Age: 9 years | Kids: 6 and up |
| Other dogs: Ok | Cats: No | Hunting: Unknown |

Sponsor Starr!
Sweet Starr's medical bills total just over $1,400 so far after her first surgery to remove her malignant mammary tumors and the accompanying tests and medications. She has another mammary tumor removal surgery scheduled for mid-November, bringing the total cost of her care so far to well over $2,000. Please consider donating to her medical fund so we can continue to provide her the much-needed care she deserves!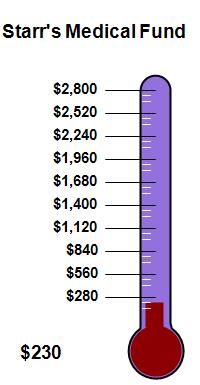 Thank you to Starr's sponsors!
Dalia W.
Deno GSP
Anonymous
Patty C.
Claire E.
Eric L.
Alexia & Eric H.
Won't you sponsor Starr too?