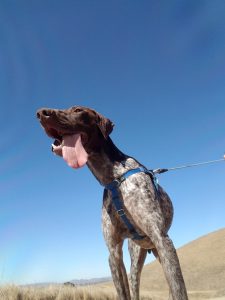 Sully is a beautiful and loveable 3 year old GSP boy. He is full of energy and full of love. This little guy is house trained, very good listener and loves to please. He's a true velcro GSP who loves to cuddle and follow you around. Sully will do well in a home that has another young pup who he can play with all day and keep him entertained, or an active home where he can go trail running and exploring the outdoors. Sully is a good outdoor partner, but expect a lot of socializing with this little social butterfly, as his recent foster recently said: "Sully is a little over affectionate with other trail go-ers, but otherwise he did really well." Who cares about making the best time, right? It's all about how many pets he can get. If you have lots of pets to give, Sully is your guy!
| | | |
| --- | --- | --- |
| Status: Adoption pending | Location: San Francisco Bay Area, CA | Adoption $:360.00 with a $50.00 refund upon completion of a positive-reinforcement training class from a trainer on our training list, or approved by us in advance. |
| Weight: 41 pounds | Age: 3 years | Kids: 6 and up |
| Other dogs: Yes | Cats: Unknown | Hunting:Unknown |
Thank you to Sully's sponsors!
Won't you sponsor Sully?