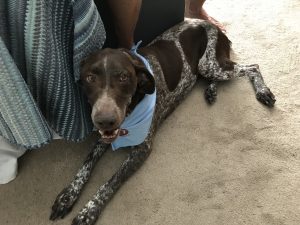 Suzy is a sweet 9-year-old female who ended up at the shelter as a stray and we couldn't feel luckier to have rescued this adorable girl. You would never know that she's been through so much already because she's so calm and gentle. Suzy loves to snuggle with people and sleep under blankets. She's recently had extensive surgery to be spayed and remove a number of lumps, and throughout it, she's been such a trooper!
Her foster dad describes her demeanor as always suggesting, "I am patiently waiting for you to snuggle with me again." She loves meeting people, yet is quiet and polite about it, never demanding attention. With other dogs, she is curious, friendly, polite and sometimes a little nervous. She loves being around people, but is definitely not a Velcro dog, as she is happy to stay in her bed while people wander into other rooms or even outside. She also is a good listener and every person she's met has loved her! Suzy is pretty much the ideal dog — could she be yours?!

| | | |
| --- | --- | --- |
| Status: Available | Location: San Francisco Bay Area, CA | Adoption $: $0 (the adoption fee has been sponsored by Suzy's Fairy Dogmother to help her find her home!) |
| Weight: 60 pounds | Age: 9 years | Kids: 6 and up |
| Other dogs: OK | Cats: Unknown | Hunting: Unknown |
Her bills thus far come to $4,610. If you would like to help with Suzy's expenses, she would be very grateful. No amount is too large or too small. Thank you!
8/8/18 update: cancer was found in two of the lumps that were removed, and Suzy was referred for an ultrasound to see if it had spread. The US showed a mass on her adrenal gland that is not currently causing any problems. It is in a location that cannot be biopsied or removed. The recommendations at this point are to continue to observe for any new or recurring lumps and to do a chest x-ray every 6 months. Suzy remains in great spirits hunting critters in the yard, being sweet and friendly, and hoping she'll find her forever home real soon.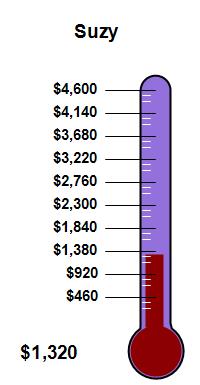 Thank you to Suzy's sponsors!
Erica D.
Eric & Alexia H. – Get well Suzy!
Dalia W.
Wendy B.
Lynda J.
Renee A.
Vince S.
Kristin S.
Dana W.
Mary H.
Thomas N.
Sheri J.
Diane C.
Faith R. – I'm glad she's getting great care.
Tina S.
Hope C.
Donna T.
Ray & Paula M.
Carol G. – Make her better.
MMM and Suzie
Lyn M.
Mari N.
Sherry M.
Katrina M.
Vicki & Bruce R.
Zoe F.
Won't you sponsor Suzy too?