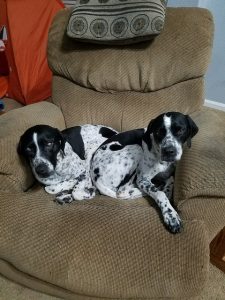 Thelma & Louise will steal your heart and are double the love!  They are sisters with a special bond.  Louise is the fearless one; but she is also the blind one.  She will happily charge across the yard in pursuit of the critter she has sniffed out but otherwise she sticks right to Thelma's heels.  Thelma is the caretaker, always there to help her sister navigate back in the dog door and around all the household furniture.
The two sisters' favorite pastime is to follow their foster dad around wherever he goes.  All he has to do is simply say their name and their tails go crazy!  When he comes home from work, the two of them are right there on his heels wagging their tails waiting to for his affection.
Most importantly, Thelma and Louise are extremely affectionate, learn very quickly, completely ignore the resident cats, and give the grumpy house dog her space.  Do you have room in your heart for double the love?
| | | |
| --- | --- | --- |
| Status: Available | Location: Sutter Buttes area, CA | Adoption $: $155.00  for both Thelma & Louise together |
| Weight: 41 pounds each | Age: 8 years | Kids: 6 and up |
| Other dogs: OK, though Thelma & Louise must be adopted together. | Cats: OK | Hunting: Unknown |
Thank you to Thelma and Louise's sponsors!
Nancy S.
Won't you sponsor Thelma and Louise too?