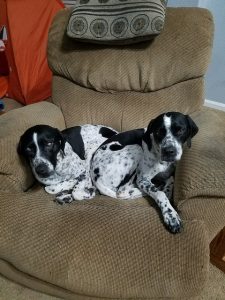 Thelma & Louise will steal your heart and are double the love!  They are sisters with a special bond.  Louise is the fearless one; but she is also the blind one.  She will happily charge across the yard in pursuit of the critter she has sniffed out but otherwise she sticks right to Thelma's heels.  Thelma is the caretaker, always there to help her sister navigate back in the dog door and around all the household furniture.
The two sisters' favorite pastime is to follow their foster dad around wherever he goes.  All he has to do is simply say their name and their tails go crazy!  When he comes home from work, the two of them are right there on his heels wagging their tails waiting to for his affection.
Most importantly, Thelma and Louise are extremely affectionate, learn very quickly, completely ignore the resident cats, and give the grumpy house dog her space.
Update June 15, 2018
When a persistent cough just wouldn't go away, it was time to do more testing to find out what was ailing Thelma. Unfortunately the news is not good, she has advanced cancer throughout her body and the vet says she only has a few months at best. Thelma is now in Fospice as a Forever Foster dog with her wonderful foster family. To make sure that Thelma is able to enjoy the remainder of her time with the one true constant in her life – Louise – Louise will not be available for adoption until Thelma has passed. Once Louise has adjusted to life without Thelma, she will once again be listed as available. For now, Louise is accepting applications for that day in the future. Thank you for your understanding and support.
| | | |
| --- | --- | --- |
| Status: Louise is on hold but accepting applications | Location: Sutter Buttes area, CA | Adoption $: $155.00 or free to prior adopter |
| Weight: 47 pounds | Age: 8 years | Kids: 6 and up |
| Other dogs: OK | Cats: OK | Hunting: Unknown |
Thank you to Thelma and Louise's sponsors!
Nancy S.
Cari & Mark W.
Eric & Alexia H. – Our hearts are with you – Camo and Buster(Brownie)
Korri O. – For Thelma and Louise ♥️
Mark T. & Rick B – In memory of our Sadie who crossed the rainbow bridge 5 years ago today
Melissa A.
Dalia W.
Diane C.
Chere McM.
Amber B.
Faith R. – Blessings to those lovely girls so adorable 😍.
Suzie GSP
Christine L.
Caylan B.
Noelle N. – GSP love
Jacquie S.
Carolyne C. – for Thelma and Louise!
Carol G.
Elizabeth L.
Dana W.
Sandra S.
Andrea M. – I hope Thelma is enjoying a good quality of life during hospice. I have been there twice. God bless you.
Maggie S.
Cheryl W.
Won't you sponsor Thelma and Louise too?