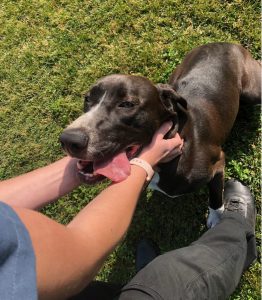 Welcome Wiggins the Wiggly GSP! This young handsome dude is brand new to our rescue and wow, he's already making waves. And how could he not with that adorable face and his tendency to be wiggly and fun? This guy is very affectionate and would happily recline in your lap if you let him. He also loves other dogs and loves to play! He wants to play a little too much with cats if you catch our drift, and likely has too strong a prey drive for any smaller critters. With some solid training and the right amount of exercise, this wiggly cutie pie is going to make a fantastic best friend!

| | | |
| --- | --- | --- |
| Status: Available | Location: San Francisco Bay Area, CA | Adoption $: 360.00 with a $50.00 refund upon completion of a positive-reinforcement training class from a trainer on our training list, or approved by us in advance. |
| Weight: 70 pounds | Age: 1.5 years | Kids: 6 and up |
| Other dogs: Yes | Cats: No | Hunting: Unknown |
Thank you to Wiggin's sponsors!
Won't you sponsor Wiggins?