---
Thank you to all our Guardian Angel donors!
We met our goal and unlocked the $3,000 Secret Santa bonus!!
We also earned over $7K in sign-up bonuses!!
Help the dogs and sign up today!
---

Be our hero! Become a Guardian Angel! With your recurring monthly donation, you'll make sure that funds are available to take care of our current and incoming foster GSPs all year long.
Your recurring gift of
$25/month – just $6 per week – provides the vaccinations a rescued GSP needs
$50/month provides a vet visit for a lucky dog
$100/month provides pain meds & joint supplements for a senior GSP
Your generosity means we can truly help those GSPs that have more extensive medical needs! No amount is too small or too large! 
Make a Guardian Angel Recurring Donation today – here's how:
Click a pre-set amount above, or Choose Your Amount from the pull-down menu and click the button.

Use your bank's online banking or bill pay system – send to NorCal GSP Rescue, PO Box 933, Menlo Park, CA 94026 and note Guardian Angel in the memo or account field.

Use our dedicated page on Network for Good or its related sites such as Causes on Facebook, Guidestar, & Capital One Giving Site.

Low tech? Mark your calendar and mail us a check each month yourself!
Have questions or need help? Email us and we'll do our best!
If at any time you would like that month's donation applied to sponsor a specific foster dog, just let us know and we'll add you to the web posting as that dog's sponsor. When that dog gets adopted, you select another dog to sponsor.
Give the gift of a second chance to a deserving GSP!
Become a part of this very special club
and provide life-saving care to GSPs in need!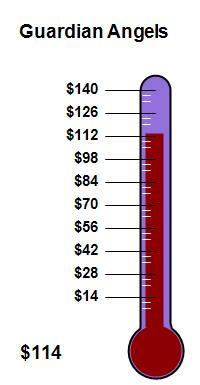 Huge thanks to:
Anonymous (multiple)
Catherine Acly & Mac MacNaughton
Daniel Aleman
Greer Alley
Sandy & Roy Amundson
Susan Andre & Mark Sawyer
Angie & Bob Anthony
Melissa Argue
Alicia Bailey
Barbara Bauer
Brad Beals
Jessie Bremer
Donna & Dan Burch
Anna Burkholder
Katherine Butler
Anne Caro
Carolita Carr – In memory of my late husband, Jim Carr
Jane Cavanaugh – In loving memory of sweet Savannah, my best GSP friend for 18 years
Steve Colson
Jordyan Corcoran – In memory of our Maggie girl
Diane & Jim Coward – with Bandit and Zynga
Paige Crutchley
Chesere Daniels
Erica Day
Nyki DiVecchio
Wesley Dong
Jessica Dunton
Claire Erskine
Mara Feeney
Wayne Fiskum
Jonathan Fong
Eddy & Lisa Francisco in memory of Luke
Albert Fu & Julie Tokunaga
Barbara Gale
Kim Gillilan – In memory of Fred and our two GSPs Buddy and Spot
Marie Glynn
Carol & Mike Graham
Joann & Mike Gravely
Joy Guidera
Natalie Gutierrez & Jim James
Kimberly Haas
Janette Hamlin
Laurie & Mark Hardwicke
Eric & Alexia Heckers
Andrew Hill
John Holmes
Marie & Larry Holt – In loving memory of our GSP Tyler and my parents who gave so generously to various charities
Lola Hupp-Wilkins
Wendy Jacobson
Sheri Jacobszoon
CJ Johnson
Chris Kafitz
Scott Keniston
Gina Klomp
Bart Koop – In loving memory of my girl Freyja
Patricia & Tom Kuehl
Kevin Kujawski
Lesley & Brian Lamb
Kelly Lawrence & Christi Woodwards
Kai & Jeff Lindland
C. Duff Lowes
Tracie Martin
Nick Melo
Nicole Mezo in memory of Duke
Heidi Munzinger
Steve Muto
Eric Nagel
Lory Nagel
Colleen & Jeff Nespor
Heidi Neilson
Floyd & Kiara Nelson
Erin & Tim Olsen
Cathy Olson
Eileen Parkinson
Kimberlee Pericoli
Paula Plackemeier
Michele Pogue
Rebecca Radtke
Kimberly Jones Raymond
Lindsay Roscoe
Chrissy & Paul Rojas
Vicki & Bruce Rosenthal
Lisa Rowe
Denise & Mike Sanders
Janelle & Doug Schneider in loving memory of GSPs Otto, Ilse and alum Liesel, and in honor of alums Gerde and Oskar
John & Rhonda Schulke in loving memory of Franz
John Shott in honor of Zoe & Heidi Munzinger
Colleen Seal
Janie Schryer
Melinda Schwartz
Suzanne Shaheen
Jacquie Siemens
Sue Simon and James Cribb – Sonoma Dog Camp
Stormsong GSPs
Trisha Struck
Joyce & Jeff Sturm
Jeralyn Terry
Bryn & Scott Thenell
Marie Trexler
Scott Tuma
Catherine Tumility
Erin Ulrich
Gabrielle Vitale
Aaron Volle
Dana Walker
Mark & Cari Walling
Cheryl Warner
Jeff Warner
Audrey Watson
Chuck & Josh Weber
Nannette Wilkinson
Diana Wueger
Anna and Kenneth Zankel