---
The No-Prong Pledge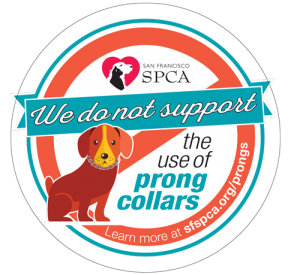 Because we care about dogs, our organization pledges to not use or support the use of prong collars. We understand that prong collars can inflict injury, harm an owner's relationship with their pet, and lead to behavior problems. We will help spread the word to our community about the advantages of choosing positive reinforcement-based training equipment and methods.
Training
Training classes are an excellent way to bond with your GSP, right after adoption and throughout the years! It's also a great way to help with the adjustment process and catch any concerns before they become problems. The following are trainers that we recommend. These trainers use only positive reinforcement methods and techniques. For more trainer options, check the Pet Professional Guild's search.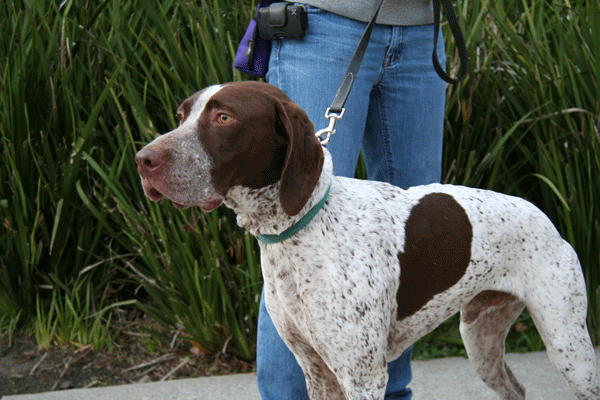 If you need help in finding a trainer near you, contact us (be sure to include your zip code), and we will assist you.
Looking for online/virtual training resources during the COVID-19 pandemic? Check out these trainers offering video or phone training sessions and classes:
SAN FRANCISCO & PENINSULA/SOUTH BAY
Wendy Hilton
(NorCal GSP Rescue Founder)
Just Rewards, LLC
Classes: SF Peninsula; Private training: SF Peninsula and Coastside
(650) 302-1862
wendy@justrewardsk9.com
www.justrewardsK9.com
Peninsula Humane Society
San Mateo
(650) 340-7022 x667
training@phs-spca.org
www.peninsulahumanesociety.org
San Francisco SPCA
San Francisco
(415) 522-3509
www.sfspca.org/behavior-training/dog-training
Paula Benton
Paula Benton Dog Training
San Francisco
(415) 525-9528
paulabentonsemail@gmail.com
http://www.paulabentondogtraining.com/Training_Classes.html
Margaret Daul
Family Dog Trainer
Menlo Park, Atherton, Belmont, Burlingame, Palo Alto, San Carlos, Portola Valley and Stanford
(650) 326-2065
info@familydogtrainer.com
http://www.familydogtrainer.com/
Stacy Braslau-Schneck
Stacy's Wag 'N' Train
San Jose
stacy@wagntrain.com
www.wagntrain.com
Cecilia Sternzon
Canine Higher Learning
South Bay Area, Milpitas, San Jose
(408) 656-4386
dogtopia@earthlink.net
http://www.caninehigherlearning.com/
Kaajal Tiwary (KaTi)
D is for Dog
South Bay Area, including San Jose, Willow Glen, Santa Clara, Sunnyvale, Campbell, Saratoga, Los Gatos, Los Altos, Cupertino, Mountain View, Palo Alto, Menlo Park, and Milpitas
650-538-3011
info@dfordogtraining.com
http://www.dfordogtraining.com/
Nannette Morgan
Pawsitive Pals Training
Santa Clara County, including Morgan Hill, Campbell, Cupertino, Gilroy, Los Gatos, Milpitas, San Jose, San Martin, Santa Clara, Saratoga, Sunnyvale
(408) 806-2021
morgan@pawsitivepals.net
http://www.pawsitivepals.net/
Fetch Sam
San Jose
650-504-2058
susanne@fetchsam.com
http://fetchsam.com/
Town and Country Dog Training
San Jose and Surrounding Areas
415-595-6299
classes@townandcountrydtc.org
http://www.townandcountrydtc.org/
The Hound Haven
Peggy McCarty
Santa Clara, San Jose, Los Gatos, Sunnyvale, Campbell, Saratoga, Mountain View, Cupertino, Los Altos, Los Altos Hills, Palo Alto
650-224-7707
peggy@thehoundhaven.com
http://www.thehoundhaven.com/
All Creatures Matter, LLC
Terri McClellan
San Jose and surrounding Bay Area
303-995-0152
terri@acmdogtraining.com
https://acmdogtraining.com/
A Canine Affinity
Melissa Dallier
Milpitas Area
646-247-7559
https://www.acanineaffinity.com/
Fearless Fido
Alex Lezcano CTC, CSATf
Specializes in fear-based aggression
SF Bay Area
650-787-7324
https://www.fearlessfido.com/
Julie Bond
P.E.T.S. (Pet Education & Training Services)
Classes available via http://www.adobedogs.org/
http://www.juliebondanimalbehaviorist.com/
Jump'n Java Agility
Half Moon Bay
http://javadogtrainingcenter.com/
A Dog's Day
Palo Alto to South San Jose
(408) 826-2372
info@adogsday.net
http://www.adogsday.net/
SmartyPup!
San Francisco
Puppy classes and socialization
https://www.smartypup.com/
Zoom Room
Belmont
(650) 517-3899
https://zoomroom.com/location/belmont/
Sirius Dog Training
Multiple Bay Area Locations
1(800) 419-8748
www.siriuspup.com
EAST BAY
Christine Salazar
Dodger's Paws
Pleasanton, Livermore, Dublin and surrounding East Bay areas
(925) 980-2872
christine@dodgerspaws.com
http://www.dodgerspaws.com/
Lea Orloski
Canine Centric
Martinez, Richmond, El Cerrito, Albany, Berkeley, Oakland
(510) 706-5877
caninecentric@gmail.com
www.caninecentric.net
Vicki Ronchette
Braveheart Dog Training
San Leandro, Castro Valley, Hayward, Oakland, Alameda, Berkeley
braveheartdogs@gmail.com
http://braveheartdogtraining.com/
Sara Scott
Dog Training with Sarah
East Bay
http://www.dogtrainingwithsara.com/
Kathryn Horn
Paws and Cues
Oakland south to San Leandro and East to Livermore along the 580 corridor
(510) 638-PAWS (7297)
kathryn@pawsandcues.com
http://pawsandcues.com/
Sandi Thompson
Bravo! Pup
North Berkeley, Alameda Point, Alameda, Rockridge, Piedmont, Oakland, El Cerrito
510-621-3630
info@bravopup.com
https://www.bravopup.com/
Tailored Dog Training
Clayton, Concord, Walnut Creek, Pleasant Hill, Pacheco, Martinez, Lafayette, Alamo, Danville, San Ramon, Orinda, and Oakland
(925) 727-2787
ally.tailoreddogtraining@gmail.com
Keri Lyall
Located in Martinez, service area is the 680 corridor from Martinez to San Ramon
(925) 698-1145 *Prefers Text
KeriJaneK9@gmail.com
Tania Lanfer
Cannon Dog Training
Serving Area: Berkeley, Oakland, Piedmont, Montclair, Emeryville, Temescal, Dimond, North Oakland, and Alameda
(415) 317-8985
taniacannondog@gmail.com
www.cannondogtraining.com
Who's Training Who
Debbie DeMello
925-586-3157
whostrainingwho@gmail.com
https://www.whos-training-who.com/
Paws 4 Learning
Cheryl Johnson Collett, CTC
510-209-9122
paws4learning@sbcglobal.net
http://paws4learning.com/
Animal Rescue Foundation
Walnut Creek
(925) 256-1273
https://www.arflife.org/training
Sirius Dog Training
Multiple Bay Area Locations
1(800) 419-8748
www.siriuspup.com
SACRAMENTO AREA
Kelly Lee
DogKind LLC
Davis area
(530) 350-9663
info@dogkindtraining.com
http://www.dogkindtraining.com
Micaela Young
Happy Lead Dog Training
Fear Free Certified Professional & AKC CGC/Tricks Evaluator
Davis area
https://happyleaddogtraining.vistaprintdigital.com/
Kay Gramm-Palmieri
Kay's Dog Training and Socialization Club
Roseville area
(916) 880-8165
KaysCGC@gmail.com
http://karengramm.wixsite.com/dogs
Kathryn Baines
Golden Rule Dog Training
Roseville area: Elverta, Roseville, and Sacramento Foothills
(916) 300-9415
www.grdogtraining.com
Jaime Hulan (Petsmart Trainer)
Petsmart
Natomas area
(916) 928-0314
Nancy Abplanalp
Thinking Dogs
Davis area
(530) 400-3270
http://www.thinkingdogs.net/
Sierra Dogs
Placerville
530.503.5183
eden@Sierra-Dogs.com
http://www.sierra-dogs.com/
Obedient Pups Professional Dog Training
Pam Francis-Tuss, CPDT-KA
Greater Sacramento area
916-601-3688
pamtuss@comcast.net
https://www.obedientpups.com/
Ruff Translation
Juniper Zen
Fairfield, Vacaville, Winters, and Napa areas
408-843-8473
rufftranslation@gmail.com
http://www.rufftranslation.com/
The Right Steps
Cindy Smith
Sacramento, El Dorado and Placer Counties
916-966-6883
therightsteps@comcast.net
http://www.therightsteps.com/
Intuitive Dog Training
Aaron Wood
Placer and Sacramento Counties
916-340-5598
http://www.intuitivedog.com/
Anna the Dog Trainer
Shingle Springs, CA
415-819-9451
anna@annathedogtrainer.com
https://www.annathedogtrainer.com/
Cheryl McMillan
Redding, CA
shastavalleygsp@att.net
Jody Ambrose
Train with Trust
Sacramento plus remote/Skype consults
(707) 836-3898
jody@trainwithtrust.com
http://www.trainwithtrust.com/service/dogs/
Sacramento SPCA
Sacramento
(916) 383-7387, ext. 9148
behavior@sspca.org
https://www.sspca.org/training-classes
Heidi Hurdy
Sirius
Sacramento area
1-800-419-8748
double.duty.dogs@gmail.com
http://www.siriuspup.com/
Daack Pack Dog Training and Behavior
Allison Daack, CPDT-KA, Certified Fear Free Pro, APDT, CGC
Sacramento area
(916) 878-0588
daack_pack@yahoo.com
https://www.daackpack.com
Jodi's Dogs: Reward-Based Behavior Analysis and Training
Jodi Cassell
Sacramento area
(510) 219-9125
jodisdogs@gmail.com
Understanding Dog Training
Kayla Block
South Placer Co (Roseville to Auburn), West El Dorado Co, Sacramento Co
702-375-0007
https://www.understandingdogtraining.com/
Tim Steele
Behavior Matters
https://www.behaviormatters.academy/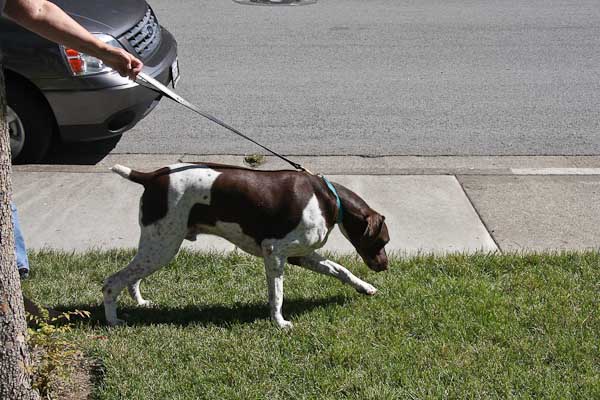 ---
Behavior Issues
Don't wait until you're ready to give up on your dog! Get help early. This is especially important if your dog has significant behavioral challenges, such as aggression, separation anxiety, or fearfulness. We strongly recommend working with a trainer who has experience in the type of issue your dog is having. The right professional will evaluate your dog to identify exactly what's going on, and provide a customized step-by-step plan. He or she will determine what tools will be helpful – those tools might include harnesses, muzzles (to keep everyone safe), medications, toys, hi-tech gadgets, etc.
Not sure where to start? Contact us and we will help you find a professional near you.
---
Information & Resources
Here are some resources to help you with your active dog! If you have additional resources you'd like to recommend, please let us know and we'll check them out.
---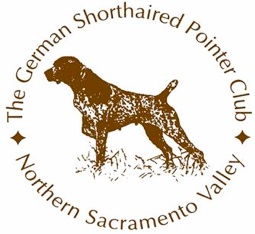 The German Shorthaired Pointer Club of Northern Sacramento Valley offers a variety of activities for GSPs and their owners. The club is based in Sacramento and has members across northern California and western Nevada. Its purpose is  to help promote fellowship, cooperation, and friendship amongst those involved with this sporting breed. It provides opportunities for owners to enhance their skills, has training facilities at Mather Regional Park available for members, and conducts AKC sanctioned Field Trials, Hunt Tests, and Dog Shows throughout the year. It encourages high standards in breeding, training, and performance of the German Shorthaired Pointer in all endeavors, to include field, hunting, show, obedience, tracking, agility, and rally, and is constantly striving to keep the breed forever a truly versatile dog. Rescue GSPs may participate in all activities (except conformation), and the club graciously offers our new adopters a free one-year trial membership.
---

Smilin Dogs:  Smilin Dogs offers off-leash hiking daycare on a private 750 acre coastal-range property geared towards the medium and large-sized energetic dog, as well as facility-based daycare and boarding. Transportation is available to/from your home or work.  Smilin Dogs serves the mid-Peninsula area of the SF Bay Area.
---
Exercise
We cannot stress enough how important exercise is for your GSP. Both physical and mental stimulation are needed so that your GSP does not invent clever ways to stay busy.
While each dog is different, and exercise needs vary with the age of the dog, we'd suggest you plan on the following:
     Young GSP:  60 – 90 minutes of aerobic activity daily
     Middle-aged GSP:  45 to 60 minutes of aerobic activity daily
     Senior GSP:  30 to 60 minutes of walking, 1 – 3 times daily
Remember, this is every day, rain or shine, 365 days a year. We believe that a tired dog is a good dog.