Lost GSPs
Here's what to do if your GSP is lost or stolen:
File a lost dog report with local shelters
Contact your microchip company to report the dog as missing
Post flyers in the neighborhood and with local veterinarians and pet stores
Put an ad in the local paper–usually free
Visit your local shelters IN PERSON DAILY to see if your dog ends up at a shelter
Post a free ad on craigslist.org
Use Sherlock Bones
Post on – https://www.facebook.com/OliverAlert
Post on – http://www.findtoto.com/
Contact us with all the relevant information and a photo, and we will post the dog in this section and on our Facebook page
---
Blue – Stolen GSP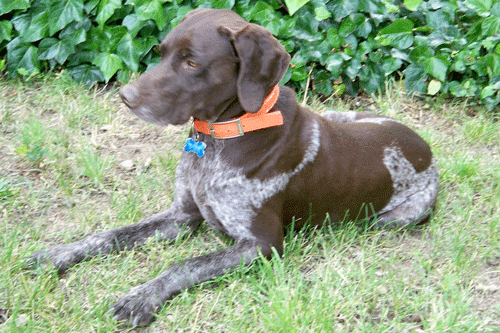 Blue was stolen on Feb. 10, 2013 from his owner's car while they were at church in the Agua Caliente area. A person was seen wearing a gray hooded sweatshirt and blue jeans, with the hood concealing their face. The dog is a neutered male GSP with a brown head and brown and gray patches on his body. He has a microchip, and a 3 inch scar on his left hind leg. He is very obedient. His collar was removed, and ditched on the side of the road. His family misses him very much, and hopes to get him back.
Blue is sick, and underweight, and has a very sensitive stomach. Any information leading to his recovery is greatly appreciated and a REWARD is offered for his safe return. If seen, please email or call Cheri at (707) 480-7919, Tom at (707)815-8036 or contact the Sonoma County Sheriff at (707) 565-2121 or Animal Control at (707) 565-7100.
Missing since February 10, 2013.
---
Jake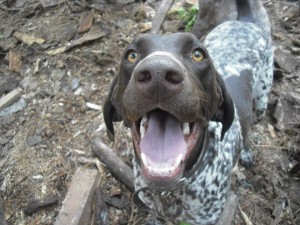 Jake is a 3 year old neutered male GSP. He stands rather tall and has a nice long cropped tail. His liver spots are darker in color. He went missing on Friday 5/18 from the Sonora/Lower Twain Harte area at Longeway/Lucky Strike/Good Shepherd Roads. Jake's collar came off and he is not microchipped. He does not travel well as he sufers from excessive salivation and vomiting with car/truck rides.
Contact Michele at 209-352-2355 or Sam at 209-352-6769 or our home at 209-586-7591 if he has been seen or found.
Missing since May 18, 2012
---
Shasta – Shasta is still missing, it's been over a year now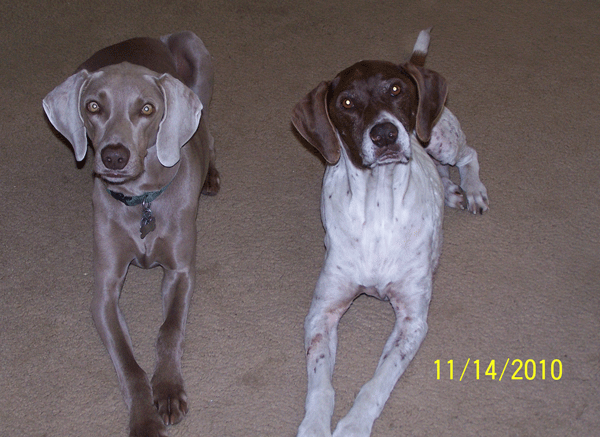 Shasta is an 11+ year-old neutered male last seen in Elverta, CA when he escaped from his fenced yard after a gate was left open.  His family misses him terribly and has this to say:
We have had him since he was 8 weeks old, he belong here with us. He has cancer and skin issues that need regular vet care, we are worried about him and want him home so he can get the care he needs. He is not just a dog to our family he is a big part of our family, we just want him home with us. He was not wearing his collar at the time he went missing but he is microchipped so if you have him go have him scanned you will know he is ours. All we want is him to be home with us, our family is devastated and very heartbroken, please do the right thing and return him…we will not stop looking for him as he belongs with his family. Please call (916) 798-6707 at anytime 24/7 if you have information on him.
$5,000 REWARD – NO QUESTIONS ASKED, just return him and you will get the reward. We just want him home safely.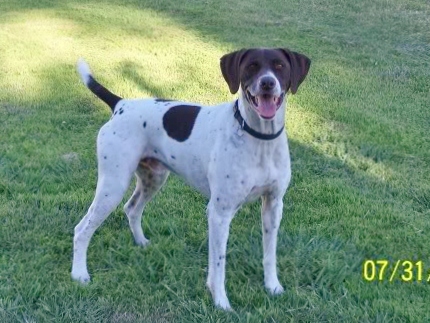 Missing since: February 15, 2012
---
Pete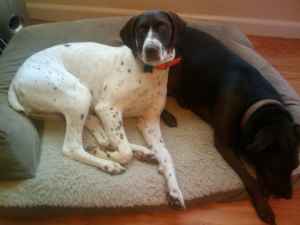 Pete is a 3 year old, 60-pound. spayed female GSP with a docked tail. She has a liver mask and a white lightly ticked body. She is larger for the breed but slender and in great shape. She disappeared from her backyard in Sacramento near Don Julio and Elkhorn Blvd. between 4:30 pm and 8 pm on Saturday, April 23rd without a trace. She was wearing a blaze orange remmington collar with a blue bone shaped tag with her name and my phone number on it. Unfortunately, she is not microchipped. She is skittish of people she doesn't know but an absolute sweetheart and would warm up quickly. We've had a few reported sightings of her but none were confirmed so we're unsure if they were, in fact, her. The first was Friday, April 29th between Watt Ave. and Walerga on Don Julio Blvd. around 2 pm. A neighbor said he saw her running around the neighborhood. The next sighting was May 5th on Elkhorn Blvd. near Rio Linda High School. The caller said she saw Pete with a homeless man on bicycle around 3pm. The next sighting was May 7th and this individual said she believed she saw Pete once more with a homeless man on a bike in downtown Rio Linda between 3 pm and 5 pm. The last sighting we've received was May 11th. Once again this caller said she saw our girl with a homeless man in front of a store near Del Paso Blvd. and El Camino Blvd. around 6pm.
If seen, please call Sarah at (530) 713-6843 or (916) 515-7925 with ANY information!
Missing since: April 23, 2011
---
Red Bluff GSP
No picture available.
Red Bluff GSP – Missing GSP from Red Bluff, CA. Intact male, about 8-9 years. Missing since October 21st. Will be easy for owner to identify. Solid head, liver & tic. Hopefully we will be getting a flyer with picture soon. Owner/Guardian is Mel Hong. Telephone number (925) 200-9835
Missing since: October, 2008
---
Found GSPs
Here's what to do if you find a GSP:
Take the dog to the nearest veterinarian or shelter to be scanned for a microchip (if the dog has no ID)
File a found report with your local shelter (this also starts the clock on the mandated hold period before rehoming is permitted)
Put up signs around the neighborhood including a picture of the dog
Put a found ad in your local newspaper–they're usually free
Post a free ad on craigslist.org
Contact us with all the relevant information and a photo, and we will post the dog in this section and on our Facebook page
---
 Found female GSP near Strathmore, CA
Found June 5, 2013 near Strathmore off of Highway 65. Extremely thin, was probably on her own for a while. If you believe this is your GSP, please contact ddslrowell@ocsnet.net or call 559-288-5142.
---