If you are considering surrendering your German Shorthaired Pointer (GSP), we urge you to reconsider, and to explore all the options available to you before you come to that difficult decision.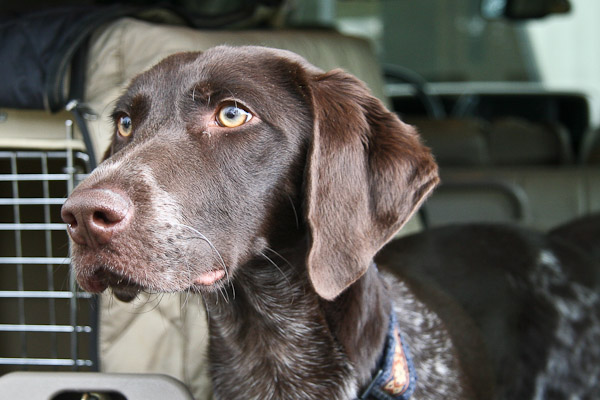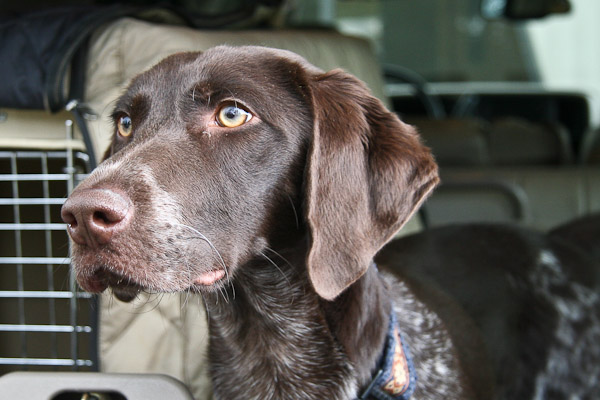 You've come to the sad decision to give up your dog. Now what?
Contact the person you obtained the dog from. Reputable breeders, shelters, and rescue groups will take back dogs that have been adopted from them.
Ask if family or friends will take the dog.
Rehome via our owner referral process.
Always screen potential adopters, meet the entire family and visit their home. Don't post on craigslist and do collect a rehoming fee (this discourages people looking for free dogs for fighting or medical research).
Rehoming with us – to qualify, your GSP must:
Be a purebred German Shorthaired Pointer, or mix that is mostly GSP
Be spayed or neutered at the time of rehoming
Not have shown aggression towards humans or other dogs
Live in California or an adjacent area. Other areas? Contact National GSP Rescue.
Your dog will be posted on our website and social media channels.
---
To post your German Shorthaired Pointer (GSP) with us:
1) Upload photos of your GSP.
Include face, full body front, full body side. No prong, choke, or electronic collars; flat collar or harness is ok. It's helpful if the dog's name is in the file name. Upload one at a time. Tips: a few headshots and activities your dog likes, or just lounging around, are nice. Think of them as your dog's dating profile pictures!
IMPORTANT: Photos must be included to be considered for assistance with rehoming your dog. If the images do not upload, please email them to us.
2) Complete the rehoming questionnaire.
If you have trouble with the form or images, contact us.
Our rehoming team will be in touch with you within 5 business days for next steps.
3) Interview potential adopters
Potential adopters will contact you directly. You screen them to find the best match. We recommend that you meet the whole family, do a home visit, and collect a rehoming fee. We keep your listing posted until the dog gets adopted or you ask us to take it down.
---
Tips for rehoming a pet
Tips from Petfinder on Giving Up Your Pet and Finding Your Pet a Home. Article from Best Friends Animal Society on rehoming a pet.
Taking your dog to a shelter
If for any reason you do take your GSP to a shelter, please send a brief e-mail to us letting us know where you took the dog.
If you must take your dog to a shelter, you can give your dog a GREATLY, HUGELY, IMMENSELY, TREMENDOUSLY better chance at being adopted if s/he is spayed/neutered. Why?
Many shelters do not place unaltered dogs up for adoption because they just don't have room.
Most shelters don't have spay/neuter clinics, so in order to alter the dog, they need to pay for the service at a vet. This is often more than the shelter fee to adopt a dog. Since shelters don't have enough funds to alter all incoming dogs, they choose the ones that will be easiest to place. GSPs are not easy to place.
If a shelter does have a spay/neuter clinic, space is at a premium in the adoptable area for shelter dogs being altered before going to their new home, so incoming dogs that are already altered have a higher priority getting a spot in the adoptable area.
Shelters with vet staff (but not spay/neuter clinics) do not have the equipment or space to handle dogs over 50 pounds, so adult GSPs left there would not be eligible for spay/neuter which then puts them at a lower priority than the smaller or already altered dogs.
Home Foreclosure and Pets
Read more here for tips if you are facing home foreclosure. Never leave pets behind when you vacate your home.