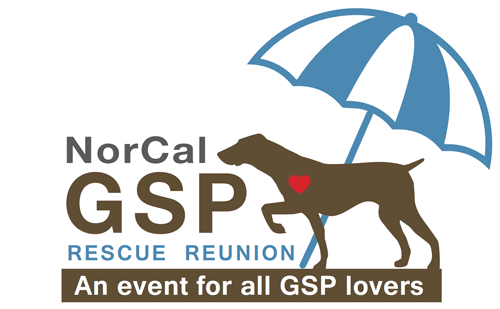 When: Saturday, September 28, 2019, from 1 – 4 PM
Where: Amador Valley Community Park, Pleasanton, CA
Join us for food, fun, games, and prizes!
It's time for the annual GSP Meet-Up and Rescue Reunion! Join us for a casual gathering open to all GSP lovers. Bring your picnic lunch and relax for a fun afternoon. So many GSPs all in one place! Don't worry, there will be the crowd favorites of hot dog bobbing, Pick-A-Prize Drawing, GSP merchandise, group photo, and new this year – a silent auction! The Pick-A-Prize drawing includes an online option below for those who can't be present to win or want to get a head start.
Bring blankets or chairs along with your picnic lunch (please note food and drinks will not be provided this year in keeping with the more casual theme). Sunscreen and hats are a good idea and toss a sweater in your car in case it gets chilly. Note: All dogs must be on leashes or long leads during the entire event, and this is a prong, choke and shock-collar free event.
Note our new location for 2019 at Amador Valley Community Park in Pleasanton (East Bay area), conveniently located near freeway access. There's plenty of free parking. We'll be near the Group Picnic Area – you'll find us near the picnic tables and in the adjacent grassy area playing with our GSPs!
This event is open to all GSP lovers!
---
PRIZES! PRIZES! PRIZES!

We have some awesome prizes just waiting for you in our Pick-A-Prize Drawing! Get your tickets at the Rescue Reunion. Buy tickets just for the prizes that appeal to you! Tickets are only $2 each ($10 for Special Hot Pink Tickets), so get lots. You do not need to be present to win. We will mail the items to the winners (except for the prizes as noted, where you will need to make arrangements to pick them up in the Sacramento area or designate someone attending the reunion to be your go-fer).
Online ticket purchases now closed, but you can still get your tickets at the event!
---
Special Hot Pink Ticket $10 each



Disneyland – Five One-Day Park Hopper Tickets – value up to $995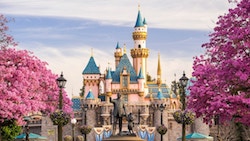 Take the whole family to the Happiest Place on Earth! This prize includes five (5) 1-day Park Hopper tickets for admission to a magical experience at both Disneyland Park and Disney California Adventure Park on the same day, including the new Star Wars Galaxy's Edge (Anaheim, California).
Details:
Valid through November 19, 2020
Cannot be upgraded or applied toward a package
No replacements for lost or expired tickets
May not be sold or exchanged for profit
Not valid from December 25-31 of any year or for events requiring separate admission
Sponsor: NorCal GSP Rescue volunteers
---
Field Work with Your GSP – value $108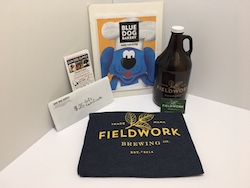 Enjoy a day of Field Work in your new t-shirt and growler full of brew! Choose from numerous IPAs, Brown Ales, Stouts, Porters, and many more! Field Work Brewery Locations: Sacramento, San Mateo, Berkeley, Napa, Monterey, San Ramon. For your favorite pooch, you will receive a case of Blue Dog Bakery Treats and a gift certificate for Gun Dog Supply. Package includes:
Field Work Brewing Empty Growler, $25 Gift Certificate to fill your growler, XL T-Shirt
1 Case (6 boxes) Blue Dog Bakery Treats
$25 Gift Certificate for Gun Dog Supply (Note: Expires: 9/28/20)
Sponsors: Gun Dog Supply, Blue Dog Bakery, Anna Burkholder
---
Paco Collar & Leash Set – value $300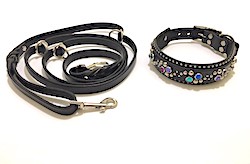 Your dog will be the talk of the town in this gorgeous Paco Royal Glow Deluxe collar and leash set. Paco collars and leashes are sturdy and come with a lifetime warranty that covers most repairs at no extra charge. In this set you will receive this spectacular 1" medium 15-17" collar and matching Ring Lead-er Leash. This 6′ 9″ leash features two snaps, a handle, and three sets of moveable rings so you can truly create the leash of your dreams.
Sponsor: private donor
---
GSP Christmas Tree Skirt – value $125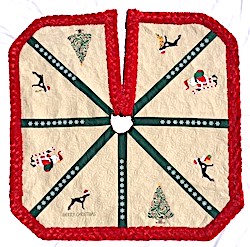 Santa Paws is Coming to Town! This exquisite, hand sewn, and embroidered Christmas tree skirt will be the talk of the holidays! The tree skirt measures 52" x 52" and just might be the showpiece of your holiday decor. Care instructions: spot clean only.
Sponsor: Rebecca Anderson
---
Stanford Football Game – value $250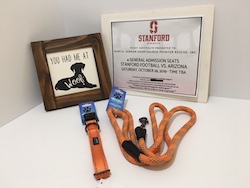 Fall is here! So is college football! Enjoy four (4) tickets to see Stanford University take on Arizona on Saturday, October 26, 2019. You will also receive a matching Max and Neo 6-foot reflective rope leash and large collar as well as this lovely rustic, handmade "You Had Me at Woof" sign, 8.25" x 8.25" and ready to hang on your wall!
4 General Admission Seats to Stanford vs. Arizona football game, October 26, 2019, Time TBD
–Redeem in advance online (cannot be redeemed on game day)
–Cannot be exchanged for another game
Sponsors: Stanford Athletics, Max & Neo, Debra Kirk
---
Loma Prieta Wine Tasting & Bark Box Package – value $205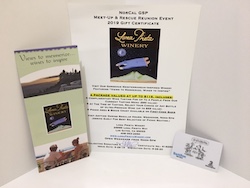 Spend the day at Loma Prieta Winery with a certificate for a tasting for 4, along with a bottle of any ultra-premium wine of your choice to take home. Well-deserving of the descriptor "boutique," Loma Prieta makes fewer than 3000 cases yearly, yet has single-handedly become the largest producer of Pinotage in North America. Set at 2600 feet on Loma Prieta Way in Los Gatos, California, the winery is named after the flat-topped mountain that towers to the southeast. Enjoy the expansive and dog-friendly patio area! For your pup: you'll receive a 3-month Bark Box subscription to keep your favorite fur kid busy.
Redeem wine tasting before September 28, 2020
Sponsors: Loma Prieta Winery, BarkBox
---
Fandango Olive Oil and Treats for your Pooch – value $150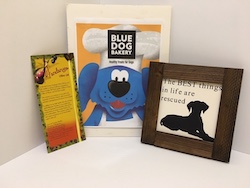 Enjoy a $100 gift certificate for a variety pack of certified organic Fandango Olive Oils! Fandango Olive oil is grown on a small family farm in Paso Robles, in the sunny hills of California's Central Coast. All of their oils are certified organic by CCOF and certified "extra virgin" by the California Olive Oil Council. You will also receive a case (6 boxes) of Blue Dog Bakery Treats for your dogs and an adorable, rustic handmade "the best things in life are rescued" sign, 8.25" x 8.25" ready to hang on your wall.
Sponsors: Fandango Olive Oil, Blue Dog Bakery, Debra Kirk
---
Wild, Wooly, Woofy! – value $175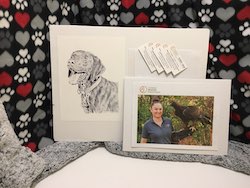 Isn't that a mouthful? A trio of beautiful gifts for you!
You'll enjoy a day at the Lindsay Wildlife Experience in Walnut Creek with 4 passes so you can  take the entire family! Then cozy up with your favorite pooch with this adorable fleece dog paw and heart blanket. Last but not least, you'll receive a certificate for a custom black and white pencil sketch of your pooch by Osborn Graphics! 
Your package includes:
4 Passes to the Lindsay Wildlife Experience in Walnut Creek: No expiration or black out
Hand Sewn fleece dog blanket, 72" x 60" Blanket Washing Instructions: Wash in cold water, dry on medium heat.
$75 Gift Certificate for Sue Osborn Graphics: Custom 11" x 14" Black and White Pencil Sketch of 1 or 2 pets in one photo. See example sketch. Expiration: 9/28/20
Sponsors: Rebecca Anderson, Emily Stone, Anna Burkholder, Sue Osborn – also check out her Etsy shop – if you commission a portrait of your pet, Sue will donate 15% of the proceeds to NorCal GSP Rescue!
---
Total Wine & More and More – value $540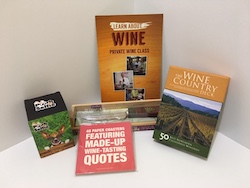 Always wanted to learn more about wine? You and 19 of your family and friends will enjoy a tasting class at Total Wine and More. You can then continue your wine adventures on a picnic road trip with this beautiful set of cards, "The Wine Country Deck," which features 50 Northern California wineries, including tasting notes, directions, and tour information; bring your favorite wine pairing cheeses to slice with this lovely Wine Art cheese knife, and keep your picnic blanket dry with this fun set of 48 Made-Up Wine Tasting Quotes coasters. Plan your tour to include dog-friendly wineries and take your Pooch Selfie Smartphone attachment to capture your favorite moments with your fur-kid.
Wine Class Details:
Valid through September 28, 2020
Minimum attendance is 14
Four weeks lead time from request date to event date
Not valid on holiday weekends or during the last 7 weeks of the year
Sponsors: Total Wine & More, private sponsors
---
Sacramento Republic Soccer – value $176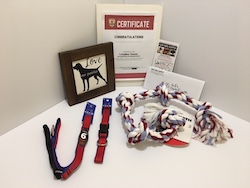 Enjoy a professional soccer match in Sacramento for 4 people, game of your choice in 2020! While you enjoy the game, your favorite pooch will enjoy the Mammoth Flossy Chews rope toy and be very stylish in their new Lupine Club leash and collar. You'll also receive a $25 gift certificate for Gun Dog Supply and this adorable rustic, handmade "Love My Pointer" sign, 8.25" x 8.25", ready to hang on your wall.
Details:
4 endline tickets to 2020 Regular Season Match Sac Republic Soccer Game, Expires: September 1, 2020

Gun Dog Supply $25 Gift Certificate Expires: 9/28/20

Lupine Club Collar and Leash, size Large: 6-foot leash and 12-20" collar
Sponsors: Sacramento Republic Soccer, Gun Dog Supply, Lupine Pet, Debra Kirk
---
WAG Hotel Redwood City – value $271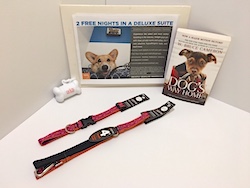 Treat your pooch to a two-night stay at Redwood city WAG Hotel in a Deluxe Suite. Your pet will be stylish with an alpenglow Lupine leash and collar, adorned with a new pet waste bag dispenser. While your dog is on vacation, you will have some quiet reading time to enjoy your new book, "A Dog's Way Home."
WAG Hotel Redwood City, 2-Night Stay in a Deluxe Suite Details:
Valid at the Redwood City WAG Hotel only, reservations required, valid for 1 dog.

Expiration and limitations: Expires July 10, 2020; not redeemable during holiday or peak periods
Sponsors: Redwood City WAG Hotel, Lupine Pet, private sponsors
---
Chilly Dogs Day Out – value $142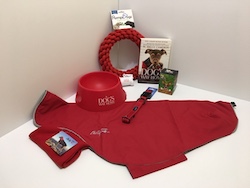 Enjoy a winter day outside with your favorite dog wearing this gorgeous, size large Chilly Dogs raincoat! You will be all set for an outdoor playdate with a RompiDogz rope toy, Silipint Aqua-Fur-Dog Bowl, Max and Neo collar (size large) and pet waste bag leash attachment. Snap a few pet-selfies with your Pooch Selfies Smartphone attachment to remember the day. After your return home, you can settle in with "A Dogs Way Home" for a long-winters read.
Sponsors: Chilly Dogs, Max & Neo, private sponsors
---
Tom Gore Vineyards Case of Wine and More – value $262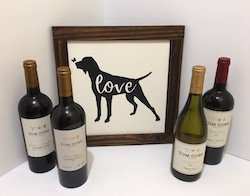 Are you ready for this? A case of Tom Gore wines! Tom Gore Vineyards tells the story of Tom Gore – a second-generation grape farmer and dog lover with a passion for coaxing vines – and a farmer's role in crafting wines for great flavor. You will be all set for the holidays with this wonderful variety of reds and whites, something for everyone!
You will receive 3 bottles each of the following (a full case!):
2015 Chardonnay

2012 Field Blend, Alexander Valley

2014 Cabernet Sauvignon

2014 Cabernet Sauvignon, Alexander Valley
You will also receive this gorgeous, rustic handmade wooden GSP sign, 14.5″ x 14.5," ready to hang on your wall and enjoy! 
Sponsor: Tom Gore Vineyards, Debra Kirk
NOTE: Rescue Reunion or Sacramento area pick up only (we cannot ship this item)
---
PIER 39 & Wine – value $232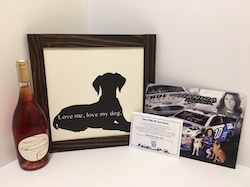 Take your favorite person to Pier 39 in San Francisco for a day with many adventures in store. Your Pier 39 Gift Pack includes:
Two Aquarium of the Bay Tickets
Two San Francisco Carousel Ride Tickets
Two 7D Experience Tickets
Two Blue & Gold Fleet Bay Cruise Adventure Tickets
One PIER Passport to Savings with Coupon for 1-Hour Parking Validation for PIER 39's Parking Garage
Expires 12/31/20, attraction tickets subject to availability, not for resale.
After a full day in San Francisco, enjoy a refreshing glass of 2018 Napa Valley Rose' from Somnium Wine. Proprietor Danica Patrick named her vineyard "Somnium," as it means "dream" in Latin. The 24-acre estate property sits on Howell Mountain in Napa; the 6-acre vineyard is certified organic and is comprised of Cabernet Sauvignon, Cabernet Franc, and Petit Verdot grapes. In addition you'll receive this Danica Patrick Hero Card featuring Code 3 Associates, a non-profit organization dedicated to providing professional animal disaster response and resources to communities, as well as providing professional training to individuals and agencies involved in animal related law enforcement and emergency response. 
You'll also get this beautiful rustic handmade "Love me, Love my dog" sign, 14.5" x 14.5," ready for you to hang on your wall.
Sponsors: PIER 39, Somnium Wine, Debra Kirk
NOTE: Rescue Reunion or Sacramento area pick up only (we cannot ship this item)
---
---
Participant gift sponsored by:  NorCal GSP Rescue volunteers
Game prizes sponsored by:  The BARK – The Ultimate Dog Magazine
Individual sponsors:  Anna Burkholder, Carol Ezovski, Barbara Gale
---
The small print: to comply with state and federal regulations, you may request one drawing ticket at no charge.