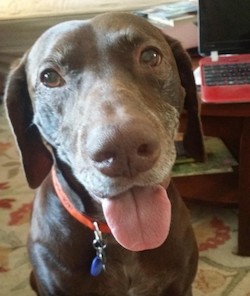 Today we said goodbye to our sweet dog Bandit. It's never easy saying goodbye and this was especially hard because from the first day I met Bandit, we had a strong connection immediately and he has been very special to me for the last almost 6 years. At our first meeting, he came up and sniffed me and then brought me a toy so that we could play fetch (something he loved to do until the day he went to the hospital).
When we adopted Bandit (at 6 years old), he was a bit of a mess. He had just been cured of very bad mange and had no (to little) hair around his eyes, on his chin, and under his belly. He also had a very bad ear infection. We knew he was going to take a little work but we didn't know just how much work! After we cleared the ear infection up we found out that he had a lot of allergies! So we started to treat that and then he started to have seizures! After an MRI, body scan, spinal tap…it was determined that he just had late-onset epilepsy. Of all our rescues…he has been the one with the most pills-16 a day!
He had internal bleeding from cancer that had also spread to his lungs … but in true GSP fashion, he never let on that he was sick until it was really bad. Within 16 hours of taking him to the vet, he could no longer stand and his red blood cell count was at 19%.
Even though he went through a lot in his life, he was always the sweetest, happiest, loving dog who loved a good adventure every day (even if it meant just driving out to the mailbox!). He was also a master negotiator…he would "talk" to you if he wanted something and he always knew when to "apologize" for taking the oven mitt off the counter. And he was also a great big brother to his sister GSP, Zinga, teaching her how to play and also teaching her a lot of bad habits and how to get away with them!
Bandit's last months were filled with fun adventures running on the beach and participating in the Polar Plunge, running in the snow at our house in the country and taking a "boys trip" out to eastern Oregon. He especially loved climbing into my lap to nap or pawing his way under the covers to get warm and cozy at night.
And that's how he passed … on the couch under his blanket with his head on my lap. RIP Bandit. Run pain-free and see you at Rainbow Bridge.
-Diane & Jim Coward