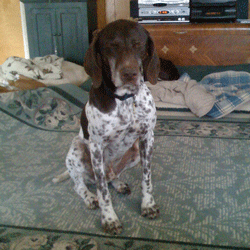 It is with a sad and heavy heart that I must announce that Brinkley, my beloved GSP, has crossed over the Rainbow Bridge. We had to let him go and we will miss him. I rescued Brinkley about 6 years ago from the shelter and fostered him before a brief placement into a permanent home. When that didn't work out I decided he would stay with me. He was not in good health when I pulled him from the shelter but I got him back in shape and for an old guy he did alright. Seeing him swim in the pool was one of the most enjoyable things to see. He had his own sort of grace as he paddled around splashing the water all over and then biting at the splashes. He had the best time and provided us with great entertainment too.
Brinkley was estimated at 10 years old when I got him, which would make him about 16 now. He developed a cancerous tumor on his elbow about a year ago. Jyl kept him going with all sorts of great stuff, herbs, drugs, lasers, etc. You name it, we did it. I was determined to follow an alternate route to allow him the best quality of life. Brinkley was doing just great until recently when he suddenly could not bear any weight on the leg with the tumor. Being an old wobbly guy anyway he could not make it around well with three legs. By the next day he could not get up and was in considerable pain. He looked in my eyes and asked that I release him from the pain and I of course obliged his wish.
We will miss all miss him but I for one will miss him terribly. He literally lit up when ever he saw me. I used to say he worshiped the ground I walked on, he knew I saved his life and gave him second chance. As I sent him on his way, he peacefully slipped away, freed from the pain and off to the next adventure. I told him to look for all of our other furry friends (Audra, Snipe, Jake, Schmedley, TJ, Chelsea, Olivia, etc) and let them know we're doing ok and to send our love until we meet again.
People think we're crazy when we tell them we have six dogs and you might think with that many we don't notice one missing but I can tell you there is a big empty place in this house right now. Having six dogs is a lot of work but we loved it………..and then there were five.
-Ron & Jyl