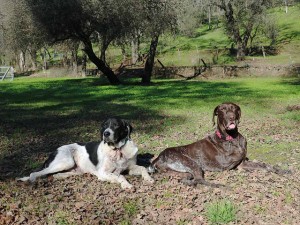 Sweet Courtney came into rescue with a big cancerous mass on her leg. 
Treatment required amputating her leg, but that did not alter Courtney's enthusiasm and zest for life–or her passion for chasing squirrels. 
She romped with Lucas, her foster sibling, until he was adopted. But guess what? Courtney has now gone to the same forever home. She and Lucas have been reunited to rumble and play Pointer games until mom comes home. Thanks Marlene for fostering!
Adopted July 2016