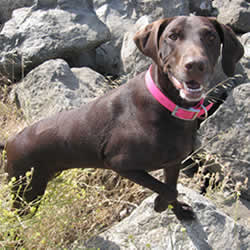 Eleanor was adopted from our shelter postings.
"We just wanted to let you know about another happy ending as a result of the NorCal GSP Rescue. While we did not adopt Eleanor from the NorCal GSP Rescue, we did find her on the website under the "Urgent Listings."
We had been looking for another GSP to add to our family and (since we were going to be in Sacramento for the day) decided to check out the solid liver girl at the Sacramento Shelter who needed a home. Her description said she was sweet and boy were they right! We fell in love immediately. Eleanor really needed a home and wanted to be loved. We brought Gordon (our GSP we rescued after we found him on Pet Finder) to meet her and they got along very well so we filled at the paperwork and would pick Eleanor up later that week after she was fixed.
Unfortunately Eleanor tested positive for heart worms. She has been with us since April 11 and has now completed her heart worm treatment. She also received treatment for Giardia exposure and skin infections as well as gained 7 pounds. She and Gordon are so excited to be able to play together after almost 2 months of being separated during her treatment.
We are so happy we found our girl on the GSP website and would love to adopt more in the future.
Thanks a million,
Cody, Emily, Gordon, and Eleanor Worden"
Adopted: June 2009