Fig Newton is as sweet as his name!
Fig Newton is a 4-year-old young male GSP/pit mix. He's a sweet, happy guy who has all the traits you'd want in a dog. He loves to cuddle so much that he is even willing to skip a walk or playtime here and there if it means more time cuddled up next to his person. He also will get the zoomies and bound around the house and yard, providing endless entertainment. And on top of all that, he is so smart and loves to learn! He takes right to any training cues and you can just see his mind working. He'd love a home where he can continue that learning and also have a chance to show off all the skills he's learned, such as the hour-long down stay he has mastered, and many others!
Newton isn't all perfection, though. The world outside of his safe home and yard can be a lot for him. It is really overstimulating, especially when he sees other dogs. He has been learning the skills to handle these situations, but still has a lot of room to grow. He needs a home that will work on that continued training with him to reduce his reactivity to other dogs, and also that will provide him a safe, less stimulating home environment where he can take a break from the crazy outside world.
Newton is for sure a lot of dog – too smart for his own good and bound to get himself in trouble without some solid structure. But he is so eager to get it right, and with the right stability and love, he will be such a rewarding buddy. If you are an experienced home without other dogs, Fig Newton would love to meet you!
Please note, for the right home, Newton is available for adoption out of the state of California.
| | | |
| --- | --- | --- |
| Status: Available | Location: San Francisco Bay Area, CA | Adoption $: Sponsored by a fairy dogmother, including 3 1:1 training sessions post-adoption with a positive reinforcement trainer approved by rescue. |
| Weight: 55 pounds | Age: 4 years | Kids: Teenage and up |
| Other dogs: No | Cats: Possibly with a dog savvy cat with their own space, does seem to want to chase | Hunting: Unknown |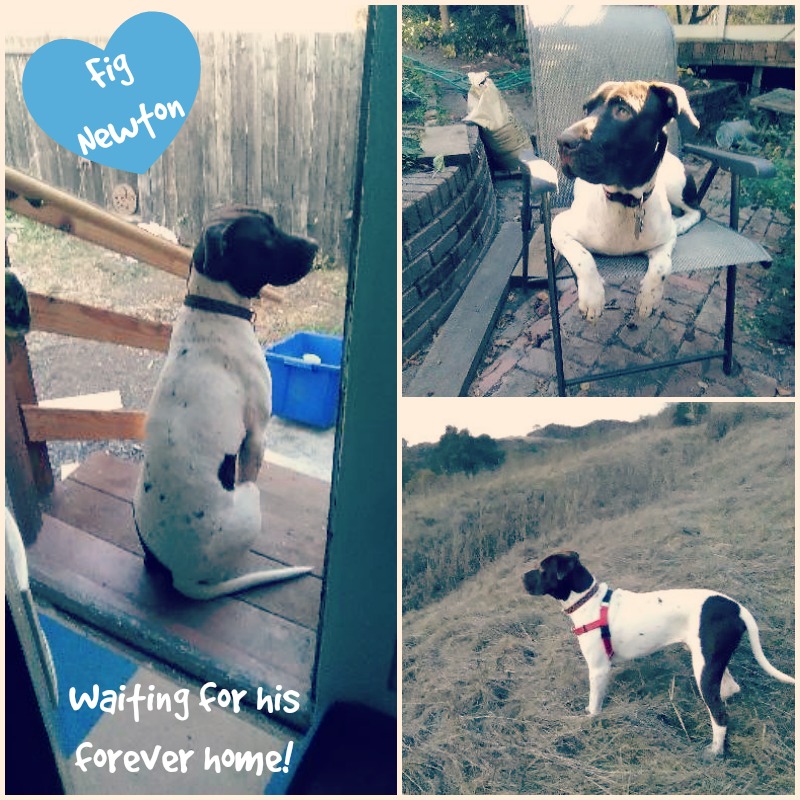 Thank you to Newton's sponsors!
Cheryl W.
Won't you sponsor Newton too?